Erie's 40 Under 40: Class of 2022
40 Young Innovators, Entrepreneurs, and Leaders Shaping the Future of Erie
It's so hard to find good help these days — or so they say. But not you. And certainly not us.
We could fill binders with the number of nominations that pour in for Erie's 40 Under 40 annually, proof that there is a surplus of good help these days where our community is concerned. In fact, it's become increasingly difficult choosing just 40 candidates for our final list. Despite doubts early on in the Reader's lifespan, finding 40 worthy candidates each year is clearly no longer an issue (if it ever was).
Case in point — this is now our 10th class of Erie's 40 Under 40, and we are still astounded by the unique impacts Erie's young adults are making on our town and in their respective professions, which run the gamut from counselor to councilwoman, baker to tailor, filmmaker to podcaster, and almost everything and anything in between.
It's perhaps appropriate that 10th anniversaries are traditionally commemorated with tin — it's flexible enough to bend without breaking, resilient enough to stand up to heat without melting. These are attributes that serve us both as individuals and as a community, and they're exemplified by the honorees you're about to meet in these pages.
 Do you know someone who you would like to see in the 2023 class? Our online nominations are now open!
Written by: Jonathan Burdick (JB), Erin Phillips (EP), Ben Speggen (BS), Matt Swanseger (MS), Cara Suppa (CS), Amy VanScoter (AVS), Nick Warren (NW), and Jim Wertz (JW)
Photos by: Jessica Hunter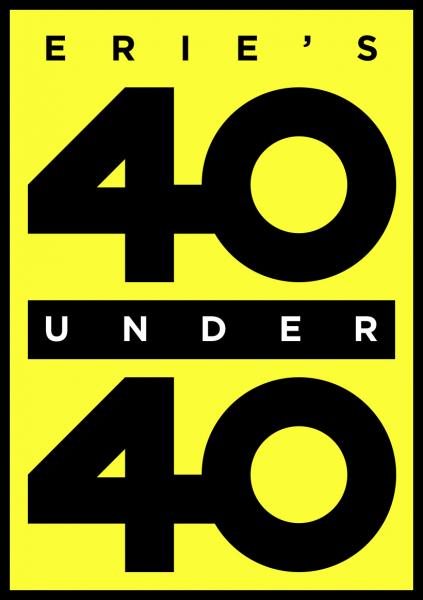 Presenting Erie's 40 Under 40,
Class of 2022,