Erie's Consignment District
Whether your shopping on a budget or looking for a one-of-a-kind outfit, consignment shops may be the place for you. Kristen Rajczak takes a look at the growing success of Erie's consignment shops.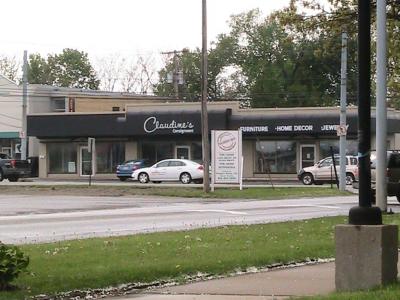 Claudine Thiem first thought of opening a consignment store after a disappointing garage sale. Her children were 5 and 3 at the time, and she had a lot of clothing and other children's items to sell. However, the offers she got from browsers were for much less than she had hoped.
"I was frustrated by the fact that I had taken the time to launder and hang everything nicely and people wanted to give me a quarter," Thiem said.
A lifelong thrift and secondhand shopper, Thiem decided to open a children's consignment store to help other young parents avoid such disappointment—and maybe even make back some money in the process. Five-and-a-half years and three locations later, her store, Milestones Quality Children's Consignment, is always "chock full." In fact, Thiem found her first consignment store so successful, she opened a furniture consignment store called Claudine's Consignment February 1.
Consignment stores take in clothing and other items people would like the store to sell for them. The traditional consignment model then gives the consigner a cut of the profits from sale of the items. Consignment stores differ from thrift stores in that they hand-pick the items they will sell, whereas thrift stores are often stocked with donated items of all kinds. 
In addition to Claudine's, two other consignment stores have opened in Erie within the last six months. Now, at least five are located within a few miles of each other in northwest Millcreek. Sabrina Fischer opened the Sassy Peacock, a women's consignment boutique, in 2008. This year, she opened the Peacock Furniture Galleria next door to the Sassy Peacock's Pittsburgh Avenue location. Krista Hanson opened Haute Tottie in December 2010, offering high-end consigned clothing as well.
Like Thiem, Fischer opened the Sassy Peacock because of her personal experiences.
"I saw the need for Erie to have an upscale, ladies consignment boutique from shopping on my own and, quite frankly, being disappointed at what I was finding," Fischer said. "I didn't want to shop at thrift stores. I have nothing against thrift stores, but I needed somewhere I could go in that was well organized, clean and didn't smell."
This approach sets consignment stores further apart from most thrift stores. Fischer, Thiem and Hanson all design their stores to look like regular retail stores. The Sassy Peacock and Haute Tottie channel upscale boutiques with brightly-colored, circular racks of clothes organized by size and type. The Peacock Furniture Galleria and Claudine's Consignment set up their furniture in vignettes, just as a retail store would. Through these displays, it's evident that the stores' owners choose quality merchandise.
"Everything in the store is something I would wear," Hanson said.
For Hanson and Fischer, quality doesn't just mean clothing in good condition. Both Haute Tottie and the Sassy Peacock only accept name brands, including stores like Talbots and Banana Republic. However, they emphasize higher-end brands like DKNY and Calvin Klein—and that shoppers will find such brands for 25 to 50 percent of their retail price.
"Our saying is 'resale goes upscale,'" Hanson said. "We wanted to give people more opportunity without having to get in a car and drive to Pittsburgh or Buffalo or Cleveland to shop."
About 50 percent of Haute Tottie's merchandise comes from consigners in the Erie area. Hanson also uses connections with other consignment stores and shops on her own for other items that the store sells. She said Haute Tottie does 50/50 consignment, meaning the consigner splits the profit with the store. Hanson works with consigners to decide on a price for each item, and sometimes will even turn items away. The clothing may not be a good fit for the store, or she's worried it just won't sell. In some cases, Hanson said she helps consigners sell the item on e-Bay.
At the Sassy Peacock, Fischer said about 95 percent of her merchandise is consigned. She takes great pride in what she chooses to sell.
"I love it when people come in and say, 'This is used clothing? Really?'" she said. "They're shocked. I love it because we're really picky about what we take and we want it to look like they went to a retail store."
While Hanson's 50/50 consignment is a common business model, Fischer gives her consigners a few options. First, they can just consign the item, which means they won't be paid until the item sells. Second, the consigner can choose to take cash up front for their items. They can also ask for store credit. Fischer said she started out using the usual consignment model, but moved to the three options after "figuring out" the business of consignment shops.
But, the business of consigning isn't just about making money. It's a surprising intersection of popular movements, in addition to being a movement itself. Consignment stores have thrived across the country for decades and are becoming more common the northeastern United States. The owners of these Erie examples mentioned the closely tied reasons consigners often visit their stores. They may be concerned with saving money, keeping up with fashion trends, finding unique pieces, going green or a combination of these.
Hanson used to live part of the time in Aspen, Colo., where "going green" is not a trend, but a way of life. She shopped consignment often while spending time there, and Haute Tottie began as an expansion of a closet cleanout business she opened in Aspen.
Hanson said her store carries more eclectic items than fashionistas on a budget would find at chain stores like TJMaxx or Marshalls that boast low-prices for designer clothes.
"We look for unique items, more artsy sometimes," Hanson said. "What I look for is even handmade items or things from Europe that are very different or something you can't buy normally."
Thiem said her clientele at Claudine's Consignment ranges from older people looking to downsize their furniture after retirement to young adults in their 20s.
"They think it's more chic to tell people they got this for such a great deal and it's unique," she said, adding that she occasionally refurbishes items from thrift stores to sell as unique pieces at Claudine's. "You can't order it. Everything that comes in is sort of one of kind."
Fischer emphasized the effectiveness of shopping consignment.
"If you're looking for a shirt or you lost three sizes and you need a whole wardrobe, we're here to help," she said. "We have all different brands, like at a mall, but all in one place. You don't have to go to 50 stores to see what's available."
All three women mentioned that consignment is a form of recycling and with the green trend tending to have cache among upscale groups, their brand-name merchandise has even more power.
Thiem said she has accounts at the Sassy Peacock as well as other consignment shops around Erie, even calling consignment's various ends a "philosophy" to live by. She sees potential for continued growth in the consignment businesses she, Fischer and Hanson have built.
"It's a good thing," Thiem said. "I'm hoping we can even work together to market ourselves as a destination."