Erie's King of the Hoboes
Reliving the legacy of Leon Ray Livingston  
September 27, 2017 at 4:00 PM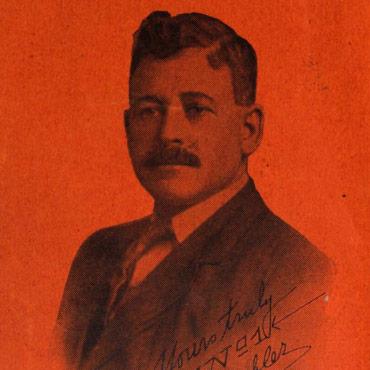 In the years following the Civil War, a system of transcontinental railways exploded across the United States, connecting eastern terminals to the remote rails of the west. This expansion and the speed at which one could now travel was accompanied by a curious widespread phenomenon, producing a figure mythologized in American folklore: the wandering tramp.
Professor Francis Wayland, Dean of the Yale School of Law, was disgusted with the amount of young people seduced by tramping. He wrote in 1877 that the tramp was no more than a "lazy, shiftless, sauntering or swaggering, ill-conditioned, irreclaimable, incorrigible, cowardly, utterly depraved savage … [who] fears not God, neither regards man."
At the same time, there was a young boy living in California who decades later, residing in Erie, would have scoffed at Wayland's assessment. This man would be remembered by many names: A-No. 1. The Rambler. The Gentleman Tramp. King of the Hoboes.
But at that age, he was still just Leon Ray Livingston.
Young Leon was born in San Francisco on August 24, 1872 to loving parents who were "respected and well-to-do residents" in their community. Yet, as much as he wished to please them, he was a poor student, often lost in his daydreams and constantly scolded by his teachers.
On his eleventh birthday, he was kicked out of school for "ill-behavior." He considered on his walk home how his father might react. The shame was unbearable. So, he quickly scraped together some money, grabbed his rifle, and caught a riverboat headed to Sacramento.
This was the beginning of his life as a tramp.
From there, he hopped trains, sailed, and walked through New Orleans, then Guatemala, Venezuela, Colombia, Brazil, Mexico, and finally back to Florida.
When he finally returned home, he discovered that his parents had both died. "A broken heart," he later wrote.
With no earthly connections remaining, he returned to the rails. Over the next three decades, Livingston claimed to travel over half of a million miles while spending only $7.61 in fares. He worked odd jobs. He learned to carve wooden sculptures to trade for food. He read and wrote to keep his mind sharp. His journeys took him to every corner of the United States, as well as throughout parts of Europe.
All along his travels, he inscribed his moniker — A-No. 1 — wherever he went and helped spread a system of signs and symbols called the Hobo Code.

As the years passed, his moniker — given to him by a mentor who told him he was A-No. 1 in everything he did — gained recognition and young tramps would seek him out. One such tramp was a teenage Jack London, long before he ever wrote The Call of the Wild, White Fang, or his own hoboing classic The Road. Their adventures were the subject of Livingston's 1917 book From Coast to Coast with Jack London.
Many fraudulently claimed to be the real A-No. 1, so Livingston always carried with him two crisp fifty dollar bills and a scrapbook as proof of his identity. The scrapbook (the current whereabouts of which are unknown) was filled with artifacts of his travels: newspaper clippings, letters, personalized signatures from London, as well as Theodore Roosevelt, William Howard Taft, Woodrow Wilson, Thomas Edison, and Admiral George Dewey.
His reputation was that of a gentleman and he always dressed the part. He bathed and shaved regularly and always wore a clean suit in public. He also didn't swear, smoke, or drink.
By his mid-thirties, he was appearing in newspapers. This was partially due his own clever self-promotion. He made sure, after securing accommodations, to seek out local newspaper reporters wherever he went.
In 1906, one Montana newspaper referred to him as "a king among tramps" and "'Professor' Livingston." The article relayed how he was thrown in jail overnight for vagrancy, but was subsequently released after charming the police chief with a sculpture, whittled from a potato.
A Halletsville, Texas newspaper in 1910 called him "the most distinguished tramp in the world." When the reporter asked Livingston why he didn't pursue a more ordinary lifestyle, he replied, "I don't want to because I'm satisfied with my life. I am having a good time and I see everything there is to see in this world. Tramping is my business and I do it honestly. I have never stolen anything in my life, except for rides on the trains."
One small town he frequented was Cambridge Springs, Pennsylvania. It was, he wrote, an "idyllic … [and] most charming summer resort" and "a royal jewel amid the foothills of the Alleghenies." He praised its "gushing springs" and settled on it as his de facto headquarters, "a brief respite from the hardships of the road." His reputation also turned Cambridge Springs into a "veritable 'Mecca' to chronic hoboes" who were seeking out fellowship with the famous tramp, he wrote.
While there, he began self-publishing his stories. He could earn some income, while simultaneously curating his own folklore. Each book opens with a dire warning concerning "the dark side to a tramp's life" and despite promising only "exact truths," the inconsistencies, exaggerations, and downright embellishments are apparent. The writing itself is clunky — he was no Jack London — but the stories are engaging romanticized adventures.
By 1914 though, Leon — now 42 — had married and settled down with a 21-year-old Erie woman named Mary Trohoske. Years earlier, he had met a railroad car inspector on a freezing Erie day. The man had treated him kindly and even let him warm up in his office. Livingston returned the favor months later by shipping him a box of oranges from Florida.
The next time he passed through Erie, the inspector invited him over for dinner. There, Leon met the man's then 19-year-old eldest daughter Mary — referred to affectionately as Mayme. Their souls were intertwined, he wrote. He changed his plans and decided to stay in Erie to finish his next book, paying a month upfront at the Reed House Hotel on Perry Square.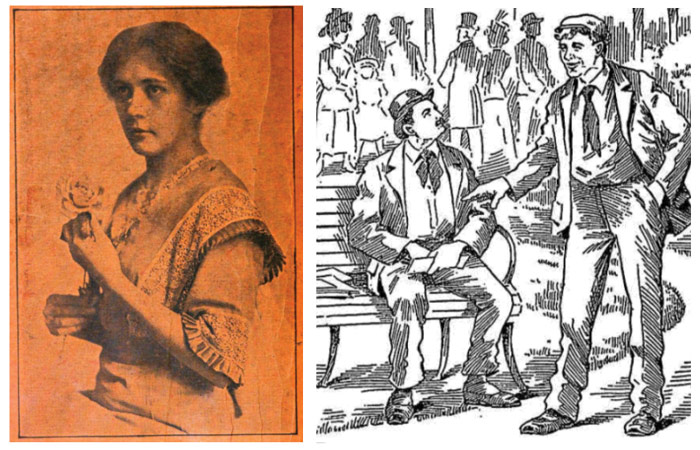 They soon married and their daughter Francis Ruth was born shortly after. For the first time in his adult life, Leon stayed put — although he claimed he did so out of curiosity and "to help in a time of war."
They moved into a home on W. 23rd Street near Ainsworth Field, then still called Athletic Field. He was hired at Burke Electric Company and later Erie Forge & Steel, while continuing to publish his stories on the side. He'd get an occasional speaking gig where he could lecture increasingly cautionary tales — and likely sell some books while he was at it.
In 1917, they had a son, Kenneth Lloyd. Around this time, they bought a house on W. 9th Street, about a block south of present day Strong Vincent Middle School.
Throughout the 1920s, it appears he lived a rather ordinary life: raising children, working, writing, and lecturing. With the onset of the Great Depression though, the aging Livingston embraced his role as a speaker, capitalizing on the rise of desperate young rail-riders. Ever the self-promoter, he frequented churches and schools from New York to Iowa, warning children to resist the wanderlust and advising parents to watch their children closely.
In an interview with the Titusville Herald, he argued that his lectures were "not to make money but to warn parents and boys … that it does not pay to lead an idle life of wandering around, bumming one's living." A newspaper in New Castle said in 1931 that his speech was one that "should be heard by every child, man and woman in the United States."
Recanting the romanticized tone of his books for one that was more alarmist, similar to the Yale professor decades earlier, Livingston warned parents of "vagabonds who not only spread foul, if not deadly diseases, but educate harmless young runaways in the dynamiting of safes, robbing of banks, burglarizing of post offices and school houses and the murdering of folks who gave them passage in their automobiles."
Then, in 1933, his son Kenneth tragically died. In 1936, his daughter Ruth left the nest and married an Erie man named Edward Buckham.
Some accounts have suggested that around this time, Livingston took to the rails again, no longer able to resist his own wanderlust. These same accounts suggest he died in a train wreck outside of Houston, Texas. The reality is a bit less romantic. On the morning of April 5, 1944, Livingston died of heart failure at his Erie home on Chestnut Street, his wife Mary by his side. He was 71.
In the years since his death, the public's memories of A-No. 1 have mostly faded. Jack London's The Road has risen to classic status, whereas Livingston's many books have always remained on the periphery, mostly unread.
In 1973, the film Emperor of the North was released, starring Lee Marvin as A-No. 1, Keith Carradine as Cigaret (London's moniker), and Ernest Borgnine as the antagonist conductor. It was based both on Livingston's From Coast to Coast as well as London's The Road — but if the film renewed any interest in Erie's King of the Hoboes, that interest was fleeting. He remains an obscure figure, even in Erie and Cambridge Springs.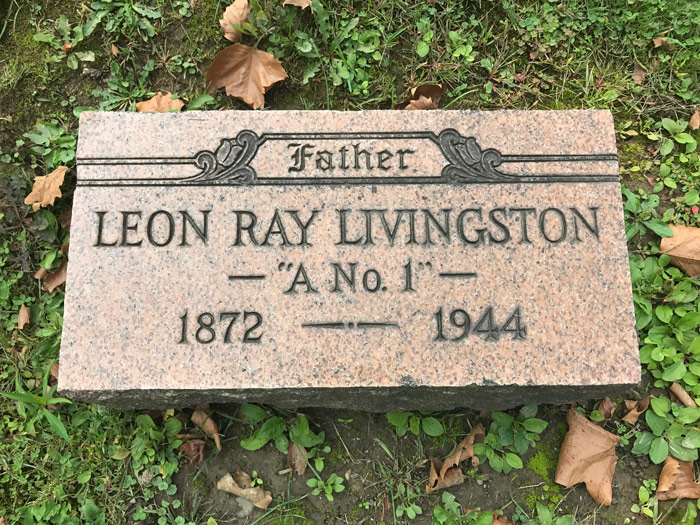 Livingston is buried in Laurel Hill Cemetery off Sterrettania Road in Millcreek. His headstone sits back from the path unassumingly, adjacent to his son Kenneth. The marker reads simply:
Father
Leon Ray Livingston
"A-No. 1"
1872 — 1944
There, the Rambler finally rests.
Jonathan Burdick runs the historical blog Rust & Dirt, follow them on Twitter at @RustDirt, and on instagram @Rustanddirt.