Final shows at the old BT
Experimental D.C. group plays one of the final shows at the old Basement Transmissions building.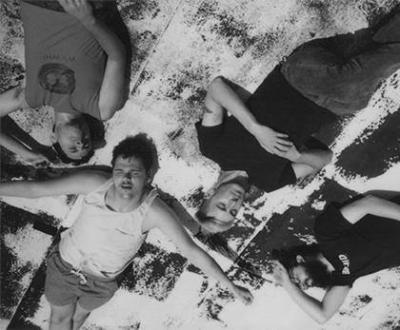 Wednesday, June 25 marked one of the last shows at Basement Transmissions' state street location. While the move to the old Roadhouse building from 1501 State St. is one of the most exciting things to happen for Erie's all-ages scene in years, I must admit that it is bittersweet knowing that I will never go to another show in the original building again. I would probably be a way different person today if Basement Transmissions never opened its doors three year ago. I met some of my best friends in that building and have enough stories and memories to write a book. Although this sense of comfort and belonging will soon transform into nostalgia, I am eager to continuing making friends and memories as the all ages scene undergoes this highly anticipated transformation.
Mckenzie Sprague, who goes by the moniker Optimistic Apocalypse, opened the show up with an acoustic set that I unfortunately missed. Having seen her perform many times before, however, I can say that she is very consistent and I would be surprised to hear of her not delivering a fantastic performance.  I don't know anyone else in Erie who can sing like her. I talked to others who had caught her set and confirmed my assumptions. I was bummed when I showed up to find that she had already played.
I did get there in time to see most of Jack Stauber's acoustic set, however. Jack sings in a local alternative band Joose, but this particular evening, he ran his acoustic guitar through a looper pedal, creating songs with incredible dynamics. One minute, a song would sound gloomy and quiet, and the next, it would shift to jaunty and energetic.
Listening to him play is kind of like watching an adventure movie – he is able to capture a large variety of emotions while maintaining a distinct sound, which all sort of comes together to feel like you have just been told an exciting comprehensive story.
Next up were local shoegazers Barlow, who after being zapped by a faulty microphone, decided to forgo vocals for this performance. Barlow delivers a warm and fuzzy indie sound that is the perfect crossover of bands like My Bloody Valentine and Dinosaur Jr. Their set was cut short after one song, however, due to a broken bass string. They were pretty distraught when this happened and understandably convinced that some force in the universe must have been determined to keep them playing that night. It was a bummer, but the song they did play sounded great. I almost wish they would have kept playing with just guitar and drums, but it is understandable why they wouldn't want to continue at that point.
Br'er, an experimental group from Washington, D.C., played that final set of the night. The first thing I noticed about this band was their set up. They had tons of keyboards and samplers and all sorts of gizmos that I wouldn't even be able to guess what they did or how they worked. They also had a drum set that included about eight miniature gongs suspended in the front. I have only recently begun to delve into this style so I don't have much to go by, but they reminded me a lot of Animal Collective with their incredibly structured walls of noise and feedback cresendoing into a contrasting calmness making for a fierce performance.
There were probably only about fifteen to twenty people at the show, but they were all some of my best friends and everyone just enjoyed being in each other's company. It might go against popular opinion, but this show made me realize I would rather go to a show on a weekday with fifteen people who are there simply to enjoy hanging out and listening to music than some packed overpriced show with a bunch of famous bands on it any day.  Despite the unfortunate technical difficulties and my own tardiness, I couldn't have asked for a more pleasant and lighthearted  evening to say farewell to the building where I spent the majority of my adolescence. Rest In Peace Basement Transmissions: 1501 State Street.
Will Taylor can be contacted at wTaylor@ErieReader.com.
---