Firebirds Comes to Erie
Ben Speggen set out looking for wood-fire cooking. See what he found at Firebirds.
April 27, 2011 at 12:00 AM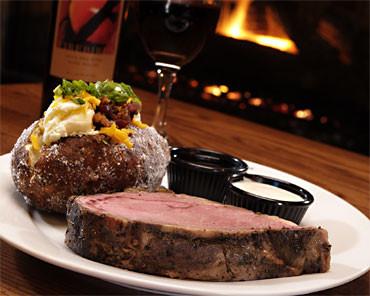 With summer on the horizon, I'm looking forward to food cooked over an open flame. Nothing tastes quite as good as when fire and food meet directly, releasing pure aromas that baking and pan-frying just can't capture.
For those—me included—unwilling to brave our unseasonably cool spring and head outside to cook in what can range from 35 and gusty to 60 and pouring buckets to even the occasional snow shower, there's a simple answer to that craving for grilled food now located at the Millcreek Mall: Firebirds.
Firebirds, with an open kitchen and dishes prepared over open flame, offers the open-air cooking without the potential of losing a cap in the winds or getting caught in a downpour.
The creation of Dennis Thompson, Firebirds opened to the public in Erie April 18, and the Erie Firebirds marks the franchise's 18th location but first in Pennsylvania. For those thinking, 'why not Philadelphia or Pittsburgh, or even the great metropolis of Allentown'—the city that edged out Erie for third largest in the keystone state—Erie makes perfect sense since Thompson is co-founder of Lone Star Steakhouse and Saloon and Fox and Hound, two already successful franchises in Erie, thus completing his trifecta in the Gem City. 
But unlike Lone Star, which—as one might gather from the name alone—focuses primarily on beef, Firebirds offers a diverse menu with something to please even the most peculiar palates. And unlike Fox and Hound, which caters to the pub-style crowd, Firebirds, with backlit bottles at the bar and higher-end drink concoctions, looks to draw from more of a metropolitan crowd.
I recently had the pleasure of sitting down to a meal at Firebirds to see what all the hype was about.
As my dinner guest and I walked through the restaurant, we couldn't help but notice the dark woods, bold colors, and stone columns that made for a warm and inviting atmosphere without sacrificing the class. It's particularly easy to say 'warm' since we were seated near the open fire that our entrees would soon cook over. Watching the kitchen can make or break a restaurant since such exposure can be intimating, but in this case, it came as a pleasant surprise since the openness of the kitchen helped balance the chic, hip feeling coming from the bar as well as the center piece of the room—an entire wall of wine bottles.
As with any restaurant, certain dishes come recommended. When we asked what appetizer we should start with, our server quickly recommended Lobster Spinach Queso. And as a lover of all things cheese, she had me at queso regardless of the shellfish and greens. But the lobster added a nice change to the typical spinach and cheese or the popular spinach and artichoke dips. Weighing in at $10 for only a small dish with too many chips, I'm hard pressed to say I would get it again based on the portion.
But I'm also hard pressed to say I'd get an appetizer since the entrée portions are well worth the money.
Sure, with steaks sizzling over the flame only 10 feet from us, you'd think we'd be tempted to order a slab of beef and call it a meal, but we decided to see what else Firebirds had cooking up. We again asked for recommendations, which our server happily offered.
I tried, as highly recommended to seafood-enthusiasts, the Pecan Crusted Trout, while my guest tried the Buffalo Meatloaf—something unlikely boasted by other restaurants. The restaurant offers other seafood, such as salmon, prepared various ways as well as other beef and chicken options. And for those looking strictly for greens, Firebirds features various salads, ranging in portions as well as toppings.
The trout was fresh, flaky, and not overcooked—something that all too often happens to fish. The pecan flavor paired nicely with the cilantro peach salsa atop it, giving the dish a sweet yet tangy appeal that was sugary yet clean and fresh without masking the subtle flavors of the fish. The trout came with tortilla slaw—a side dish completely new to me and well worth the risk of trying, as it was appealing in both presentation and taste.
My guest enjoyed the Buffalo Meatloaf, saying it was quite different in a pleasantly surprising way. While I think we both expected something bright, orange, and fried, the meatloaf was tender—something the sautéed mushroom gravy brought out nicely. Generally served with parmesan mashed potatoes, my guest opted for a loaded potato instead and was pleased with the audible in spud choice. The spiced pecan green beans though were the unexpected high point of the dish, as they were fresh, crisp, and flavorful—leaving my guest raving about the item normally pushed aside in an attempt to save room for dessert.  
I'm sorry to say that neither of us, since our entrees were every bit worth clearing our plates, made it to dessert—although the served tried her best to talk us into trying the Crème Brulee Cheesecake. It probably didn't help that we carved our way through the complementary bread rather quickly.
While the prices may be higher than other restaurants in the area, Firebirds does offer specials that offset the cost of pricy starters and higher-end entrees. From 5 to 7 p.m. every Tuesday through Friday, patrons can enjoy ½ priced appetizers—which makes me now fully recommended them—as well as drink specials from the Firebar. And for those looking for something to cure the dreaded case of the Mondays, Firebirds has 'wine down Mondays,' which give guests the chance to enjoy half-priced glasses of wine as well as selected bottles from 7 to 9 p.m.
Managed by an Erie native, Tim Haring, Firebirds brings a welcomed addition to the dining scene in Erie looking for some good American fusion eats. And once the weather warms up, Firebirds even invites people to dine alfresco with an outdoor patio—something we'll be sure to be back to try.