Five & 20 Spirits
The Rise of Craft Whiskey in Erie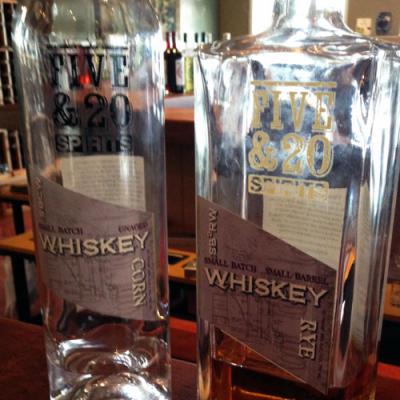 In Westfield, N.Y., nestled off Route 20, down a gravel-laden road, sits a simple, yet contemporary facility known as Five & 20 Spirits. The owners aren't new to the industry; in fact, it is a name you probably know well. They are the Mazza's – a family that boasts a successful wine operation that dates back nearly 40 years. The new building showcases floor to ceiling glass windows, offering the outsider an ant's eye-view of the towering oak barrels that reside on other side of the glass.
In addition to the oak barrels, inside the glass-framed wall is a 105-gallon copper-pot still, which was originally imported by German artisan Christian Carl – used for distilling spirits. In the back is a tasting room, which overlooks the 80-acre farmland that will eventually be surrounded with crops of various agricultural products that will be used in the distilling (and eventual brewing) operations.
While the brewing part has yet to come to fruition (it's on the horizon), the Mazza's have already tapped into another form of fine spirits – whiskey.
The term itself comes from the Gaelic uisge, a shortened version of uisge beatha meaning "water of life." Whiskey – this water of life – was originally used as a medicine for both internal anesthetic use and as an external antibiotic (sound reasoning I still use from time to time).
But expanding from wine to whiskey is a big leap. And that's just the beginning of the worlds of beverages the Mazzas are exploring.
"We've been in the wine business a little over 40 years now," says Mario Mazza, one of the owners of Five & 20 Spirits. "I came back into the wine industry about eight years ago. At that point, we started distilling on a very, very small scale back in our Mayville location."
At that point, production was more of an ancillary thing and the Mazza's didn't see it as a core function. But that would soon change.
"As time went on, we started to see an opportunity and growth in the craft spirits market," explains the son of Robert and Kathleen and brother to Vanessa Mazza, whom all take ownership in the family business. "We started mainly doing contract work for some of our clients, but nearly three years ago, we started creating some of our own products and doing trial batching with whiskeys. We realized very quickly we needed to expand. We envisioned a place where we would have the land to grow the grains on site and a grain-to-glass operation and have a bit of space to grow."
As for what a grain-to-glass operation is? "It means that farming & production is planned in such a way that the agricultural products that we use to craft our beverages – that will end up in your glass – don't have to travel very far".
And it doesn't end there.
"We currently have a licensing application to add a brewing operation, which is slated for sometime this summer. We are also looking to craft gin and hopefully other products. This will allow us to bring wine, beer, and spirits all under one roof – thereby making us a unique operation and probably one of only a half dozen or so in the entire United States that has all three in one facility."
In addition, every phase of their operation is meant to emphasize sustainable efforts. "We're building a treatment facility, which uses our spent grain to provide a nutrient source to grow microbes and invertebrates, which actually grow fish so that we can grow 25 thousand pounds of fish a year – arctic char or trout - in essence taking our byproduct and creating another valuable product."
Currently, rye and corn whiskeys are the only two available for sale in the tasting room of the facility (aside from a number of their award-winning wines). I had an opportunity try both – and both offered a completely different taste.
The rye whiskey is aged in smaller barrels and is smoother than most other rye whiskeys. It boasts a spicy grain character alongside a hint of caramel and vanilla.
The corn whiskey, on the other hand, is basically moonshine, as it isn't aged. It is made with a double pot-distilled corn mash. It has a dry, clean finish but offers a sweet and grainy flavor. Both products are 90 proof.
The new location also houses the new Mazza Chautauqua Cellars, which features Premium New York Wines, Table Wines, Sparkling Wines, Fortified Wines and even Ice Wine of Vidal Blanc. And that brewery Mario mentioned earlier – Five & 20 Brewing – is just over the horizon.
This year, Five & 20 Spirits will be on hand at the Erie MicroBrew Festival, held Saturday, April 12 at The Brewerie at Union Station. Eventgoers will have the chance to sample these two whiskeys, alongside hopefully, another new product: beer schnapps.
"Our beer schnapps is bottled, but the labels aren't done yet. We are hoping to be able to get some mockups on there so we can offer it," Mario says. "It's a product we think the event goers will love."
Oh, and one other thing.
For those who wonder about the different spellings – that whiskey versus whisky debate – the superfluous "e" is anything but. Though both are pronounced the same, each spelling denotes a different product. The Scotch and Canadians produce whisky, while the Irish and Americans produce whiskey. Come Saturday, April 12, Erie imbibers will have the chance to sample and see the future of craft distillery – whiskey in particular – in Erie, right along side the art of the craft brew. And no matter the spelling, whiskey is just as much an adventure as it is a drink, as Mark Twain once said: "Too much of anything is bad, but too much of good whiskey is barely enough."
Rebecca Styn can be contacted at rStyn@ErieReader.com, and you can follow her on Twitter @rStyn.