Five Manhattans, Five Erie Establishments
No drink is an island in this shot-for-shot comparison.
October 27, 2016 at 1:45 PM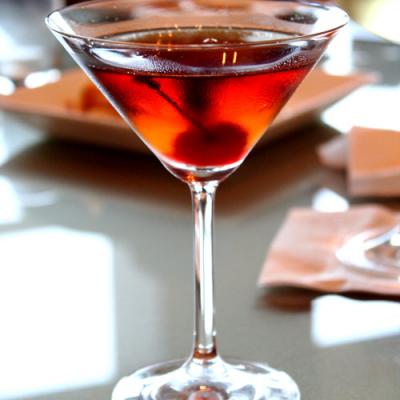 By: Miriam Lamey
Call me "old fashioned," (yes, pun intended) but when the temperatures start to drop, there are better beverages than pumpkin spice lattes – too expensive – or "fall inspired" cocktails. You see, this kind of fruitier, pumpkin-like, spicy and sweet beverage does not do anything to warm up the old bones. But bourbon does. So do classic cocktails. So with this preference in mind, I decided that an exploration of Erie's Manhattan-crafting was to occur. After careful research and discussion, I selected the following five establishments for sampling this drink of the greats.
When the temperatures start to drop, there are better beverages than pumpkin spice lattes.
28 North Gastropub:
most delicious
A classy, understated joint, 28 North makes its Manhattan in the same vein, using Buffalo Trace and whisky barrel-aged bitters for a mouthwatering twist. A special vermouth, Carpano Antica, elevates the drink to superbly tasty proportions – and what could have been just a simple night out downtown. Stop in here to make the evening more special, and pair your Manhattan with the risotto bites to be transported right to Italy.
The Swan Tavern:
most well-made in the best atmosphere
It's hard to go to The Swan Tavern and not feel the need to order a classic cocktail: The bar has the feel of a speakeasy, the look of a New York City establishment, and a friendly, good-natured local crowd. Don't be shy about dressing up a little, either; the decor and vibe almost demand it. And don't be afraid to demand a Manhattan. Bartender Marielle's specialty drink and favorite to make just happens to be the Manhattan, something abundantly clear after the first sip of her creation. Made with Buffalo Trace bourbon, the drink was strong, solid, and unwavering, with the perfect flavor balance. Such great cocktail-crafting and company require great bar snacks: The port cheese and pretzels were delightful on the side.
Bourbon Barrel:
most mediocre
In a place called Bourbon Barrel, one would expect high-caliber, top-level Manhattan-making. Yet in keeping with the challenge, this Manhattan only went slightly more posh than usual, and employed Buffalo Trace with the usual suspects. Though I asked the bartender to *not make it particularly vermouth-y, the drink essentially had to be sent back: it was super sweet. The bartender kindly adjusted the beverage, but the mechanical bull in the corner and lack of finesse made the drink and experience a disappointment. Edibles were satisfactory, despite the lack of ginger in the ginger chicken nachos; however, the establishment redeemed itself with the "educational" bourbon sampler.
Breakwater:
most ridiculous
Take glass. (Small.) Too-carefully measured Maker's Mark. (Attentiveness is good, nervousness is not.) Chuck in cherry. Maybe add bitters. Pour over ice. Serve. That was it. No ceremony, and not even a proper cocktail. Breakwater presented a homemade drink that even those not skilled in bartending could have concocted. It became pretty clear, pretty quickly to come here for the beer and the fish and chips. Don't bother with the booze.
The Colony:
most strong
Hoo boy! Be sure to stop at The Colony for Manhattans on a Sunday night – and only Sunday night (apparently): These drinks pack a punch and plenty of Maker's Mark. The no-frills presentation and large glasses are ideal for a traditional Manhattan … with an extra cherry or two. These Manhattans get the job done, and as an added bonus, The Colony has a massive fireplace for cozy, chillier evenings. On the odd warm fall evening, the patio is a great place to sit, sip, and enjoy the sunset. Need a bite to eat? Skip straight to the burger: it's outstanding.
Miriam Lamey can be contacted at Miriam@eriereader.com.