Five Top Films of 2021
The best bits of cinema from all over the world
December 15, 2021 at 10:00 AM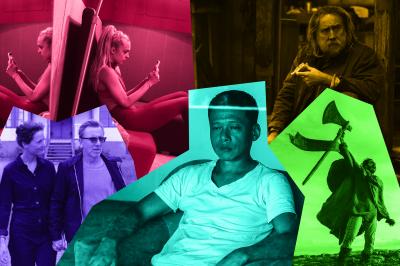 1) Days
After his 2013 masterpiece Stray Dogs, it was believed that Slow Cinema genius Tsai Ming-liang may never make another film again. Then he surprised the world with this near dialogue-free mood piece that may be his best film yet. Once again he expertly shows the isolation that modern life can often bring and the intense feeling of loneliness one can only get when surrounded by people. We watch the mundane daily routines of two men before their lives come running into each other in one beautiful, emotionally-charged moment. All leading up to one of the most spectacular final shots in recent film. The welcome return of a master at the top of his craft.
Directed by: Tsai Ming-liang // Starring: Lee Kang-sheng // 127 minutes // Grasshopper Film
2) Bergman Island
Mia Hansen-Løve's filmography has always been deeply personal, but this one may hit the hardest. Her story of husband and wife directors looking for inspiration at the island home of Ingmar Bergman is just as autobiographical as anything by the Swedish legend himself. As her protagonist tries to balance being a filmmaker and a mother, we can feel the same desires and fears of the real woman behind the scenes. This all builds to a brilliant third act that blurs the lines between fiction and reality, art and life. While Bergman's presence looms over the film world, there's still a place for Hansen-Løve and, at least for a moment, I prefer Hansen-Løve.
Written and Directed by: Mia Hansen-Løve // Starring: Vicky Krieps, Tim Roth, Mia Wasikowska, Anders Danielsen Lie // 105 minutes // Les films du losange
3) The Green Knight
David Lowery has said that nothing he makes will ever top A Ghost Story. That may be true, but this surreal, ethereal take on an Arthurian legend comes close. Here, Lowery takes the themes of Sir Gawain and the Green Knight and recontextualizes them into a tale about the myths of Medieval Europe versus the reality of how it came to be. It is an answer to the age-old question "by what right do kings rule?" and Lowery answers it with an amazing, wordless final sequence bridging the gap between myth and history that stands as one of the best scenes of the year.
Written for the Screen and Directed by: David Lowery, Based on Sir Gawain and the Green Knight by Anonymous // Starring: Dev Patel, Alicia Vikander, Joel Edgerton, Sarita Choudhury, Sean Harris, Ralph Ineson // 130 minutes // A24 // Photo by Eric Zachanowich
4) Pig
Don't let the trailers fool you. For some reason, this story of a truffle-hunter on a quest to retrieve his stolen pig was marketed as some kind of gritty, John Wick-style action thriller. It is in actuality an emotionally devastating drama about loss, the pain of letting go, as well as the drive for artistic authenticity in a world that celebrates phoniness. It is all held together by Michael Sarnoski's slick direction and an award-worthy performance from Nicolas Cage. The film is all the proof one needs that American independent cinema is still original, exciting and has the power to show you something you didn't know you wanted until it arrived.
Written for the Screen and Directed by: Michael Sarnoski, Story by Michael Sarnoski and Vanessa Block // Starring: Nicolas Cage, Alex Wolff, Adam Arkin // 92 minutes // Neon // Photo by David Reamer 
5) Sweat
Easily one of the most interesting films about life in the 21st century. Magnus von Horn's tale of a fitness motivator and social media influencer simply but effectively shows the isolating effects of social media as well as the pain one can feel with having to be perpetually online. He never takes the easy route by judging his character for her profession (admittedly, a source of easy ridicule). Instead, he just presents a world where one's online and offline personalities can easily blur. He isn't interested in condemnation, but merely presenting a modern problem that hasn't quite been rectified yet.
Written and Directed by: Magnus von Horn // Starring: Magdalena Kolesnik, Julian Swiezewski, Aleksandra Konieczna, Zbigniew Zamachowski // 105 minutes // Gutek Film/TriArt // Photo by Artificial Eye
Honorable Mentions
Annette
Titane
Shiva Baby
The Last Duel
Censor