Food Truck Freakonomics
 Mobile kitchens are changing Erie's culinary landscape.
August 19, 2015 at 8:30 AM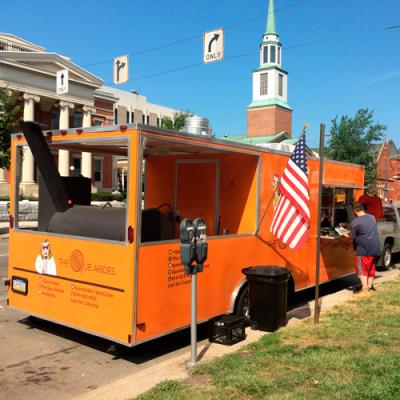 Combine great mobile cuisine with one part historical or pop culture pun and you've got a recipe for success. It's at the heart of a culinary movement not limited to downtown Erie, and with a phone call or a tweet, it could be at a corner near you or maybe even in your driveway.
We're talking about food trucks, of course. And we might consider this Erie's inaugural food truck summer, which is a bit disingenuous because Ernie's has been making great sandwiches and wraps downtown for the better part of six years and Three B Saloon has been making its mark around town for the past few years as well.
Food trucks have been a staple in larger cities for the better part of the last decade. If you've traveled, lived in a major metro, or been to a large music or arts festival, you've likely seen – and hopefully eaten – some of the most innovative cuisine in the U.S.
Many entrepreneurs are opting into food trucks instead of the brick and mortar restaurant business because of the comparatively low start-up costs. But that doesn't mean it's inexpensive to carve out your own street corner.
"The truck was pricey," says Tim Grow, who owns and operates The Que Abides, a Big Lebowski-themed food truck that specializes in barbecue. "A guy in Georgia builds these and fabricates them to your needs."
Most trucks have a theme or brand that represents the operators and the menu. Grow's giant orange Que Abides trailer features an artist's illustration of the pig, cow, and chicken-rendered main characters from the Coen Brothers' 1998 cult classic, The Big Lebowski, which has spawned pop culture festivals, a para religious philosophy known as "Dudeism," and now a food truck.
Nationally, the cost of food trucks can range from $10,000 to more than $100,000, plus the equipment, upkeep, and insurance required to protect the investment.
The Que Abides has a smoker built in to the back so Grow can slow cook the next day's meat while he sells that day's fare.
"I like to switch it up, especially since barbecue is so versatile. You can do pork one day and then do chicken or brisket. The menu is constantly evolving," Grow says.
Grow's chief lunch hour competition agrees. "We try to change our menu every two to three weeks," says Joe Perino, owner and commander-in-chef of the U.S. Pig Niagara, which he operates with his cousin Anthony Perino. "It's easy for us with a mobile operation to change up the menu a lot."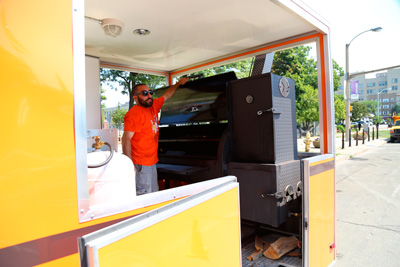 The Perinos purchased their mobile food unit from a company in Los Angeles. Even though they've put pig in the name, they don't describe their menu in terms exclusive to barbeque. "Tim (Grow) does barbeque really well, so we don't want to compete with him or Three B's on barbeque, and Ernie's does great sandwiches," says Joe Perino. "We started moving toward a more traditional taco menu that should separate us from the other trucks downtown."
Grow and the Perinos usually set up downtown and serve the day's menu somewhere between 11 a.m. and 2 p.m. – sometimes earlier, sometimes later. But that's not when and where the day starts or ends.
"I head out by 8 a.m. to find a parking spot and get the smoker going," says Grow. "We serve lunch and then we prep for the next day."
You're most likely to find these guys downtown Wednesday to Friday. Preps for the week and the 8 Great Tuesdays concert series usually occupies much of Monday and Tuesday. They also pop up at local breweries, car shows, and larger festivals like the Erie Art Museum Blues and Jazz Festival.
"Getting out to festivals like 8 Great Tuesdays and the Blues and Jazz Festival has been great for getting our name out and spreading the word," says Anthony Perino.
The City requires mobile food operators to have a vendor's license to operate on public property, like streets and parks. So if there's a crowd, they're cooking.
And that schedule is part of the non-traditional business model that makes the operation unique. Ask just about any brick and mortar business owner and they'll tell you that you have to have set hours, your customers need to be able to find you when they want you, and you need to be reliably available.
But for food trucks, it might be a rainy day, not conducive to waiting in an outdoor line for your lunch, or there might be – I don't know – a biker rally or a celebration that eats up all of the downtown parking. There's a lotta ins, a lotta outs, to this business, and these guys count on their customers to find them through social networks and word of mouth.
"Staying on top of social media and constantly pushing out updates, even if we're not going to be out, brings some consistency and comfort in our minds," Anthony Perino says. "Our basic setup doesn't allow us to operate in heavy storms, or if we can't be out there for some other reason, our customers understand that we're not just taking the day off."
Grow prefers to set up on the Peach Street side of Perry Square; The Perinos prefer north Perry Square near French Street. They both purchased parking passes from the Erie Parking Authority, so they don't have to feed the meters like food trucks do in Washington, D.C.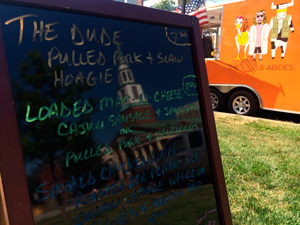 Both operators understand the way mobile food works in other cities, and they like the business culture for mobile food in downtown Erie. Grow and the Perinos – all Erie natives – did several years of research by visiting family in cities like Chicago, Los Angeles, San Diego, and Austin, where mobile food industries are world renowned, in addition to more traditional research. They also all operate catering businesses on the side, which sustains them during the winter months.
Both vendors have been in operation for less than three months, but the trial run has been successful and tasty for youReader eaters that have been lucky enough to partake. And if you haven't walked downtown at the lunch hour, you should change your routine because, well, it smells delicious.
Jim Wertz can be reached at jWertz@ErieReader.com, and you can follow him @jim_wertz on Twitter, where you can also find the @QueAbides and @USPigNiagara.