Free Event at Erie Art Museum
Fun event! Knowledge! Discussion! Free!
February 21, 2012 at 10:39 AM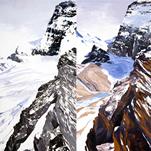 What's that? You noticed too? Weird weather, eh?
According to city-data.com, Erie ranks 13th among cities with 50,000-plus residents when it comes to snowfall, averaging over 88 inches.

According to my general, day-to-day observations, we've received no where near that--official numbers, I swear! But in case my general, day-to-day observations aren't enough for you, consider the words of a great philosopher: you don't need a weatherman to know which way the wind blows. 

Seriously (no offense to actual meterologists here); all one needs to do is look around to see things ain't right. The bay hasn't frozen over, there hasn't been a coating of snow last more than a couple of days, and on occasion, we can see folks running around the city in shorts--and not because they just don't have pants, but because it's actually warm enough to wear shorts.
After all, Erie Reader was planning an Outdoor Sports story for you. Sounds great, right? Snowshoeing, skiing, outdoor hockey. But thanks to Global Warming--I propose we switch to calling it Global Boiling at the rate this thing is going--things are heating up.

Again, I'm no weather expert, but as guy who likes to go to bed with more information in his head than he started with when he got out of bed, I like to hear from experts, especially when it affects the little island called Earth that I happen to call home. Besides, I hear it'll be awhile before that moon base thing happens.

So anyway, if you're like me, or have some other odd condition where you like to learn things and stuff, then you'll want to check this out: "The Moral Dimension of Climate Change And What to Do About It."
Dr. Donald Brown, associate professor of environmental ethics, science, and law at Penn State University will present a lecture, "Turning Up the Volume on the Ethical Dimensions of Climate Change," at the Erie Art Museum, Thursday, Feb. 23, at 7 p.m., with an audience Q&A to follow.

And it's not just coincidence that he's in Erie on a Thursday night talkin' 'bout the weather. Dr. Brown's presentation comes at the same time the EAM is featuring the exhibit: "DoubleExposure & the Politics of Snow," an exhibit on view through March 4, 2012 in the Museum's Bacon Gallery.
As stated in an EAM press release:
Global warming is affecting our planet in countless ways, not in some remote future, but today. DoubleExposure & the Politics of Snow documents this critical issue through photography and oil paintings, providing viewers a glimpse into the world of climate change through three different artists' images of glaciers. The works on display—a combination of black and white paired photographs of glaciers taken fifty years or more apart and dramatic, large scale oil paintings of glaciers by Diane Burko— provide powerful visual evidence of how our planet is changing. The images, while alarming, encourage visitors to consider the long-term effects of global warming on life and the earth by allowing them to see these changes over the last century.

So whether this winter is a fluke or something more, global warming is a reality we can't ignore and this is an event you don't want to miss. Consider yourself warned.