From General McLane to the White House
Climate advisor Ali Zaidi to speak at Global Summit
When Ali Zaidi graduated from General McLane High School in 2004, he aspired to go to med school after his undergraduate studies at Harvard College.
"Someone else is living that dream. It just wasn't me," said Zaidi with a smile.
Today, Zaidi is using his passion for healing in a different role — by helping to mend planet Earth as Deputy National Climate Advisor to President Joe Biden. Zaidi brings a "whole of government" approach to that job. This means that improving public health is one desired outcome in addressing climate change, along with achieving other "intersectional" goals such as better housing, transportation, and security.
Zaidi is one of the stellar speakers lined up for the Jefferson Educational Society's Global Summit, which is divided into two parts. Global Summit XII, a free digital program featuring experts on such topics as race in America, public health, politics, civic renewal, extraterrestrial life, as well as climate change, takes place May 10-May 27. Zaidi speaks on May 11 at 7:30 p.m. Global Summit XIII follows in late October and early November with in-person speakers.
"A big goal of the Global Summit has been to invite experts, scholars, and policymakers across a wide range of topics and ideas, from those impacting the national level to those shaping community at the local level, to connect them with our Erie audience," said Ben Speggen, JES vice president. 
"That's perhaps a bit more special when we're able to reconnect Erieites to one of their own. And when it comes to topics of the day, climate impact ranks amongst the top, so we're thrilled to address a critical issue with Ali Zaidi, an expert from Erie's own backyard, to talk about local, national, and global implications," Speggen said. "Of course, the JES has to thank its chairperson, Steve Scully, who's able to help us make these connections and extend these invitations."
Erie folks take pride when hometown people make good, and at age 34, Zaidi deserves to be included on any "I knew him or her when" list. 
After receiving his A.B. from Harvard, he earned his J.D. from Georgetown University and taught as an adjunct professor at Stanford University. At Stanford, he co-founded Lawyers for a Sustainable Economy, which provided sustainability-focused startups with pro bono legal services. Before joining the Biden administration, he served as deputy secretary for Energy and Environment for New York State, leading the state's efforts to address climate change.
But Zaidi does not boast about academic achievements or career successes. Rather, he remains focused on a life of service, a role he embraced as a youth in Edinboro.
Zaidi emigrated from Pakistan with his parents, Syed and Afroz Zaidi, and his younger brother, Danish, for his father's job at Edinboro University of Pennsylvania and had to learn English in first grade.
In a short Zoom interview, he talked about the ideas he will share during his Global Summit talk. The White House communications staff graciously squeezed the interview into Zaidi's busy schedule, which included Biden's Leaders Summit on Climate April 22-23, a virtual gathering of 40 world leaders.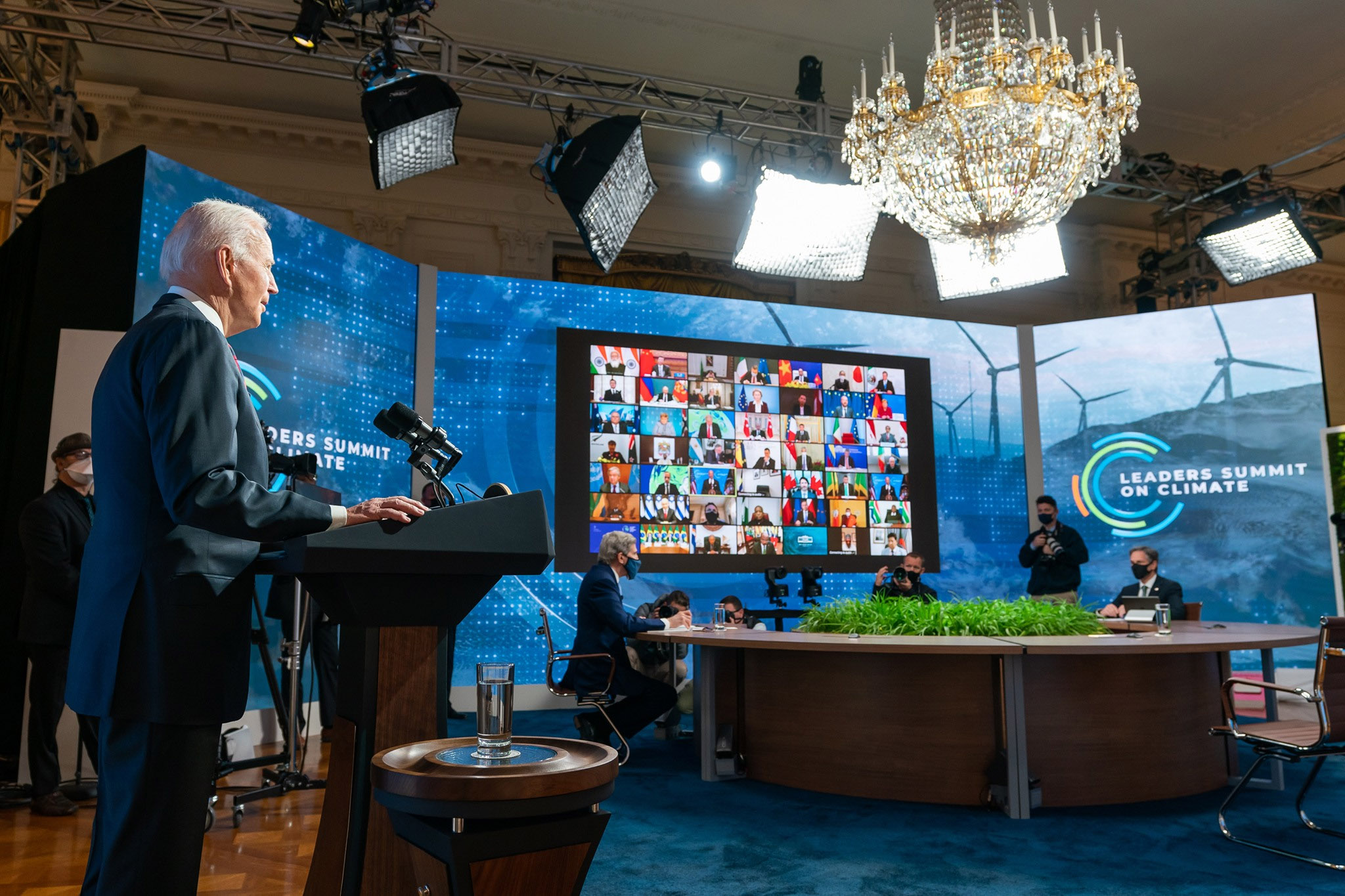 President Biden virtually assembled 40 world leaders for the Leaders Summit on Climate held on April 22, announcing an ambitious new goal of cutting U.S. greenhouse gas emissions in half by 2030.
The Leaders Summit produced a detailed international agenda for tackling climate change as a follow-up to Biden's Jan. 20 order to rejoin the Paris Climate Agreement. As an official In President Barack Obama's administration, Zaidi had worked for the Office of Management and Budget and on the White House Domestic Policy Council and had helped to negotiate the Paris Agreement.
Shaped by his immigrant experience and his Edinboro upbringing, Zaidi's perspective on public policy is also framed by two milestones in the last four years: walking out of the White House gates at the end of the Obama administration and returning through those same gates at the start of the Biden presidency. In the intervening four years, young people successfully made the case that climate change is a crisis and their advocacy made it possible to imagine the possibilities of what can be achieved, he said.
Solving climate change is "about improving outcomes in people's lives. It's about people's health. It's about the dignity of work, about being able to provide for their families," he said. Working on climate change isn't just about "averting the worst that could happen," he said. "It's about unlocking the full opportunities of what could happen," he added, including the new "jobs, jobs, jobs" that Biden promised in his April 28 speech to Congress. Steel plants in Alabama and West Virginia will be making offshore turbines; manufacturers in western Pennsylvania will be producing resin and other materials for the blades, Zaidi said. Those workers will be doing that work the "right way," with the right to bargain and to make a fair wage, he said.
Zaidi learned about the diverse occupations that power an economy by living in Erie County. He had classmates who would graduate from high school and take over the family farm. He lived near the Edinboro campus where its biggest program was educating nurses. He watched the rise and decline of jobs in plastics, paper, and locomotives, among other occupations.
As a White House policymaker, it's important not to live in an ivory tower and for those on the two coasts to understand what makes a place like Erie thrive, he said. People outside of the heartland don't know that Erie is a big refugee resettlement community, where newcomers make their marks as did the original immigrants, he said. "It's that notion of America embracing diverse people," he said. "Edinboro did it for my family."
He remembered attending a mosque in Erie, where the place of worship included immigrants from tiny villages and megalopolises alike.
He also cherishes his memories of General McLane homecoming, where "half the town" would attend the football game, then convene at John's Wildwood Pizza on Main Street. "It's not just 'Friday Night Lights' in Texas," he said. 
He hopes to never lose that sense of community he experienced in Edinboro, where "we were all in it together," he said. "I got to see a great cross-section of people pitching in." He is a regular visitor to GoErie.com, too, to stay in touch with Erie's values and issues.
Another defining experience for him as a teen was volunteering at Shriners Hospitals for Children in Erie. "What motivates me is what we do for those kids," he said. And by kids, he means all children who have to "jump up to catch the ladder of opportunity."
Working on climate change, he said, "is always about opportunity." President Biden, he said, "sees the whole finish line and wants to win the whole thing."
By the way, the person he referred to as "living that dream" of becoming a doctor is his younger brother, Danish Zaidi, who attended Collegiate Academy, got his undergraduate degree in theology from Georgetown University, has a medical degree from Wake Forest University, a Master of Bioethics from Harvard Medical School, and a Master of Theological Studies at Harvard Divinity School. Danish is a resident physician in internal medicine at Yale University School of Medicine and Yale-New Haven Hospital. His brother is not only a great clinician. He's "an incredibly brilliant, insightful bioethicist," he said. "He's about connecting the big dots."
The same can be said about Ali Zaidi, who offered words of wisdom to today's teenagers. "I'm just as idealistic and optimistic as I was 20 years ago," he said. And for youngsters pushing to solve climate change? "What you're doing is working."
Liz Allen met Ali and Danish Zaidi when they wrote for Fresh Ink, the teen journalism program she supervised at the Erie Times-News. You can reach her at lizallenerie@gmail.com.
Learn more
One book that persuaded Ali Zaidi, a 2004 graduate of General McLane High School, to pursue a public policy career in law was How the Human Mind Works, by Steven Pinker, an expert on cognitive evolutionary theory.
He also credits the late Harris Wofford, a former U.S. Senator from Pennsylvania and civil rights activist, as a mentor. At age 18, Zaidi served on the board of America's Promise with Wofford. "I learned a lot from him about the civil rights movement," Zaidi said. He credits Wofford for introducing him to Dr. Martin Luther King Jr.'s speech, "Unfulfilled Dreams." That MLK talk taught him "to always agitate for big things" even while you work for incremental change. "I don't see that with being in conflict," he said.
"A Conversation with Ali Zaidi, deputy national climate advisor to the Biden Administration," takes place during the Jefferson Educational Society's free digital Global Summit XII on Tuesday, May 11, at 7:30 p.m. Reserve digital seats, which are limited, at jeserie.org.