From The Editors
The March 21 Erie Reader features a cover story on iPads in the classroom, a Mad Lib exercise, a sober man's account of St. Patrick's Day, and so much more. Here's a little note from the editors about the upcoming issue:
March 20, 2012 at 6:00 PM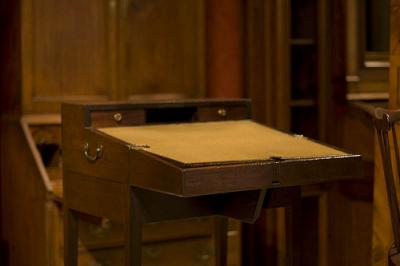 Fill in the blank: The future of education is: _________. For some high school students in Erie, the future lies in technology. After a generous donation, Mercyhurst Preparatory School students will be adding iPad 3s to their backpacks next school year. Joining MPS, Cathedral Preparatory School and Villa Maria Academy have also traded in textbooks for new Apple tablets. In this issue's cover story, Cory Vaillancourt discusses what this means for these students, as today's student will soon enter tomorrow's workforce that demands being well-versed in technology regardless of a specific career path. But as Cory points out, just three schools are making this transition, leaving us to question: what does this mean for those getting this technology and what does it mean for those not? And as only he can do, Cory also includes an intense discussion of padparadscha.

Speaking of fill in the blanks and Cory, he also has some fun in this issue's Upfront, as he moves from Polling the Electorate to helping you write your own Stump Speech Mad-Lib style. You can even cut it out and carry it around with you for just the time you need it most. You're welcome, Erie.

If you hadn't noticed, last weekend Erie celebrated St. Patrick's Day. In case you're looking to piece your day together, be sure to read Alex Bieler's account of his day as he logs his check-ins up and down State Street in the Z102.3 prize van. Oh, and by the way, he was sober for 13 hours of it.

In addition to that, Alex previews an upcoming Zack Orr performance for your listening pleasure, and Ben Speggen offers a Q&A with The Clarks' bassist Greg Joseph, as the band is scheduled to play two nights at the Presque Isle Downs and Casino. But music isn't all we're previewing, as Dafmark Dance Theater has an upcoming production at the Erie Art Museum that involves a current exhibit that Luke Gehring reviews in this issue's Visual Experiences. And in case you missed it, Julia Nene reviewed two recent theater performances in Erie.

In keeping with issues that matter to Erie, Rebecca Styn takes a look at the potential of offshore wind energy in Erie. Is this the way of the future? Is this something Erie can use?

Those are some of the same questions raised in our last cover story on the GAF site, which received quite a bit of feedback from you, the Reader readers, and we thank you for that. After all, we're here as a means to keep you informed but also be a place for you to express ideas. At Erie Reader, we take pride in caring about our city, and we continue to make the promise to you to keep bringing you the issues that matter.