From The Editors
The table is set for success. Who's pulling up a chair?
August 21, 2012 at 4:45 PM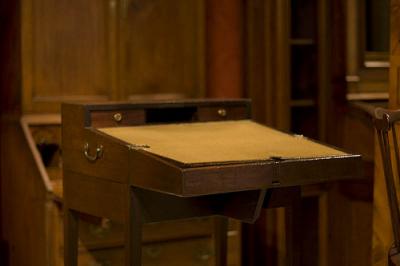 Last year when we were taping an episode of our short-lived TV show on CATV, we featured a local band as our in-studio entertainment. For some of us at the shoot, it was the first time we had ever heard or heard of the band. While some of us sat on stage and others behind the controls, we were all in awe of the talent on display in front of us. With tight harmonies akin to the Avett Brothers but with a jaw-clenching bite of folk punk reminiscent of Larry And His Flask, the band stole the show -- and in that episode, we even had special effects involving an explosion.

That band was Falling Hollywood, and in this issue, you'll find the Erie foursome on our cover. Nick, Matt, Bill, and Brad released their debut album, "Set the Table," something Cory Vaillancourt said results in "a stunning 14-song album" with "...beautiful and sophisticated interplay between the lonesome yet comforting, polished yet raw vocals of Nick and Matt demonstrate a subtle mastery of an oft-overlooked craft..." Alex Bieler reviewed the album for this issue, saying it, "sets the table wonderfully for the local folk-rockers' future" and "serves as an excellent taste of Falling Hollywood's gifts and makes you hungry for more."

After several years of working together, clearing the clutter from the table to set it with the necessary things, Falling Hollywood is poised for greatness both in our city and beyond. The band recognizes that that greatness and success come from hard work, which is evident in their live performances. If you were out celebrating Erie and The Buckinghams weren't your bag, perhaps you caught Falling Hollywood's show at the 11th and State streets stage, as they were one of various local acts that brought their talents to the weekend festival that was, well, designed to have us celebrating our city.

There's a not so subtle hesitation there, because from our first coverage of Celebrate Erie last year with Cory Vaillancourt's introduction of Crap Rock, we haven't been shy about criticizing the event and the choices for headliners that are more head-scratchers. In fact, some of us initially considered not going to any of the music events at all, lacking any passionate response to this year's headliners -- acts far beyond their prime or trapped in obscurity, all caught somewhere between irrelevant and trivial.

But then we remembered that the headliners weren't the be all, end all to the festival. A band we had fallen for a year ago and were about to feature on our cover took the stage Friday night. And they rocked the small stage at the opposite end of State Street while The Buckinghams took to a stage stretching from sidewalk to sidewalk. Falling Hollywood actually gave us something to celebrate: The talent of local musicians, germane, in their prime, with potential for a bright future because they're working for it. That night shined so brightly of the future of our music scene that some of us returned to State Street, not to rock 'n' roll all night but to see the band again at the crooked i -- another stellar and inspiring performance.

Rather than bemoaning -- if you missed the show(s) or are still hungry for more -- check out the band at any one of their many upcoming shows. One opportunity comes in the way of Rock for the Arts, a one-day benefit concert aimed to help combat budget cuts to local arts programs and the topic of this issue's Live Music Preview.

Thanks to the efforts of Andrew Dolan (read: high-school senior), six bands will play for six hours -- all in the name of supporting the arts. "I wanted to show other people in my generation that they could put something together that could have an impact."

Dolan considers himself lucky, the son of a family that could afford him the opportunity to try his hand at any musical instrument he liked. But that experience hasn't left him feeling necessarily privileged. "I think that the things that I grew up with ought not to be a privilege just because I was lucky enough to be born into this kind of family, but should be a right for any child that wants to explore them."

Budget cuts happened -- something Dolan had no control over. But what he could control is his reaction. And his reaction inspires us because he's affecting the lives of young musicians who might not have been able to get that first guitar after hearing that first Falling Hollywood song. Those affected by Dolan's ambitious efforts may very well result in a new generation of local musicians destined for greatness.

What becomes clear through this musical example -- from Falling Hollywood and Celebrate Erie to Rock for the Arts -- is that Erie has two types of people. Those, like Dolan, eyes fixed firmly on the bright future laboring toward progress; and those clinging to and celebrating crumbling statues of the past, pretending as if they're not collapsing around them. We will remain blind to our city's future if we keep our eyes locked on the past expecting that we'll never get results better than the ones we had years ago.