From the Editors: January 20, 2016
Progress is no laughing matter. Except when it is.
January 20, 2016 at 9:45 AM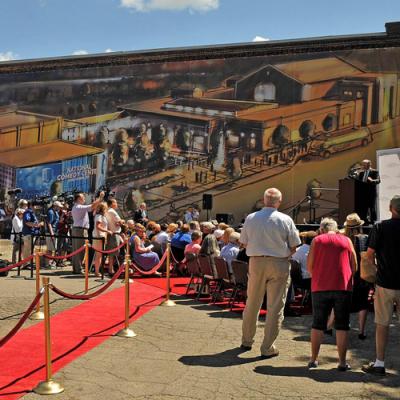 Job-seekers market themselves based on status quo measures of success. They're encouraged to stand out, of course; but usually by demonstrating their mastery of resume-fodder skills, like how "self-starting" or "cooperative" or "detail-oriented" they are. In other words, how adeptly they can conform.
But really, you never know what's going to help you make your mark in this life; what gift will be the one that gets you noticed. Dismissing unique talents as unmarketable is at best pessimistic and at worst ruinous.
And the same can be said for cities.
But not nearby Jamestown, N.Y. The birthplace of Lucille Ball is banking on its heritage with construction of the National Comedy Center.
As Sara Toth writes in this issue, "Local developers are already envisioning the center as a springboard for a Jamestown revival. … And the state is taking notice of this potential. Empire State Development awarded $1.5 million to the project in 2014; the state recently awarded the National Comedy Center another $2.025 million, with $525,000 dedicated to marketing as part of Market NY's I Love New York campaign."
Jamestown's Lucille Ball and Desi Arnaz Museum & Center for Comedy opened in 1996. Having distinguished itself, the city could have continued to safely collect tourism dollars already flowing in from worldwide fans of Lucy and Desi.
But aligned with the center's mission to "enrich the world through the healing powers of laughter" and a commitment to the "development of the comedic arts," the community chose instead to roll with laughter.
Sometimes the greatest gamble is having the courage to value something out of the ordinary, and to trust that it'll be received by an appreciative audience.
Sometimes the greatest gamble is having the courage to value something out of the ordinary, and to trust that it'll be received by an appreciative audience.
To that end, Greg Dillon and Lisa Austin envision an Erie that builds on its manufacturing heritage by ramping up resources and integrating compelling design. They ask us to "Imagine a time when consumers, shoppers, and connoisseurs alike react to a beautiful design by saying 'I bet that was designed and made in Erie.'"
And Ed Perry reminds us that Congress' short-term reauthorization of the Land and Water Conservation Fund is inadequate, adding that "Congress also lifted the oil export ban, which could potentially lead to the loss of over a million acres of wildlife habitat to meet the new demand for oil production."
Laughter. Beauty. Open space. These elements are hard to quantify in dollars. Try to argue for their preservation and you'll get laughed right out of a budget meeting.
But we need them as much as breathing. In her book The Solace of Open Spaces, Gretel Ehrlich writes, "Space has a spiritual equivalent and can heal what is divided and burdensome in us."
Wild places that inspire joy and wonder – and communities populated by creative people valued for their aesthetic gifts – give us the strength to contend with the not-so-lovely elements of the modern world. Though they make life worth living, they're the first to be cut during cash-strapped times.
We undervalue them at our own peril.
And that's no joke.