Gallery Night Noir
Yvonne and Bruce have a night in downtown Erie that neither will ever forget.
October 15, 2014 at 7:30 AM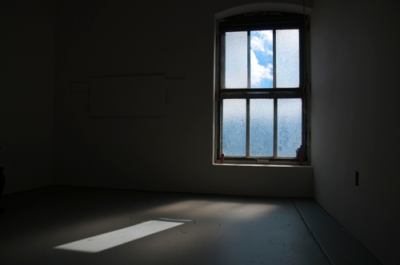 Yvonne got back to her austere apartment late. She'd had to bus tables because Vic never showed up for his shift. "Sometimes it sucks to be the dependable one," she mused, as she opened the fridge. Finding nothing but cheap beer, she poured herself a glass of tap water. It was already 6 o'clock when she stretched her legs out onto the coffee table. She was too exhausted to even think about the crappy bar she would be forced to go to later. She simply couldn't continue to live like this. Her boyfriend, Bruce, had been running her life for months now while sponging off her income as a waitress. She stared at the pizza boxes and cigarette butts littering the table. "What I need to make my life livable is some art," she muttered to herself.
"What the hell are you talking about?" Bruce demanded as he emerged from the bedroom in a sweat-stained T-shirt. "I let you keep up that stupid poster. That's plenty art enough. 'Three musicians' my eye. Looks like a bunch of squares to me."
Bruce was palming for a Natty Ice in the fridge when the bowling ball hit him.
It hadn't been easy to load Bruce into her trunk in heels – he had gotten pretty flabby recently – but Yvonne managed it. She drove down State Street toward the dock, humming "Thin Line Between Love and Hate." Chrissie Hynde's voice always had put her in a good mood. Dressed to the nines, no one would expect she was actually scouting locations to bid farewell to Bruce. But she was going to have some fun and get some culture before that happened.
Yvonne turned right at the foot of State and immediately realized that this, the last Friday night of September, was the perfect time to do this errand: It was Gallery Night in downtown Erie! There, with its antique oil paintings and walls covered with dozens of local artists, was the Bayfront Gallery. The sun was just going down as she sipped a wine and enjoyed the undeniable craftsmanship of the late Joseph Plavcan.
"Someday," she mused, "I'll own many of these originals. In fact, once this deadweight is out of my life, I'll fulfill my dream of collecting all kinds of wonderful art!"
After pondering the water depth and clarity of various spots along the pier, Yvonne drove up to the corner of 10th and State streets where well-dressed couples entered the Erie Playhouse. "Tomorrow night, since Bruce can't stop me – I'll treat myself to a glamourous evening at the theater," she reasoned. "But right now, I'm going to check out the classy D'Hopkins Denniston Gallery." 
She patted the trunk and then ascended to the second floor where a show by local travel artist Herm Weber featured several of his large scenes. The only painting that struck her fancy in the entire gallery was a vibrant market scene, but she noticed that it had already sold. Heading past the sales lady towards the door, she bumped the shoulder of one of Erie's elite art collectors. His drink fell to the floor. She immediately found him a new glass of wine. It wasn't until she heard him say, "I think service like that should get you a manager's job," that she realized that the man she had bumped was the owner of the restaurant where she worked.
She walked the few blocks toward Urraro Gallery at Union Station. The railroad tracks seemed a viable option for disposing of Bruce.
The sound of swinging live music emanated from the back room as Yvonne made her way down the stairs. Heads turned and smiles greeted her. Before she left, she had made several new friends who had regaled her with stories about Erie's vibrant art scene. Yvonne could imagine hanging out with these people all the time. The Rot and Dot exhibition had been a gem that she felt blessed to have seen. She would have to come back to spend more time with the abstract nature scenes of Ron Bayuzick and the quiet, ethereal photographs of Dorothy Kloss.
She was beginning to feel a bit overwhelmed by all of this. Gallery hopping was enchanting, but the secret in her car's trunk had begun to gnaw at her. The evening had been too perfect: a better job, new friends, the dispatching of that abusive slob of a boyfriend... surely karma would catch up with her soon.
"Well," she thought, "I've tempted fate this far – might as well tempt more." She headed north again to the new location of Gannon's Schuster Gallery at 700 Peach St. The Northwestern Pennsylvania Artist Association was holding its first juried exhibition. Juror Richard Schindler was there with a couple dozen of Erie's most notable artists – each exhibiting one carefully selected work. Mixed media work by Carol Myers-Griffiths and Lainie Blair Addessi shared the space with a graphically colored landscape by Kristina Faulkner and social commentary in colored pencil by R. David Pratte.
 When she turned onto Fifth Street, where she found the Erie Art Museum blazing with light and crowded with revelers, flashing lights filled her rearview mirror. A knot of dread clenched her stomach. The taste of the wine in her mouth became acrid as she rolled down her window.
"Excuse me, ma'am," came a husky baritone voice, "you have a tail light out. I thought you should know. A beautiful woman like you should be safe." Yvonne gazed up into the bluest eyes she had ever seen. "If you want, I could fix it for you tomorrow. Here's my number. My name is Jeff."
She stared across the street at Glass Grower's Gallery, where a Barker called out on a megaphone for people to "come one, come all, to the grand Anytime Arcade, where the art of Joe Popp and Karen Dodson will amaze and astound you!" Happy patrons looked at the cards and tokens they had won playing the games within as they made their way toward the many shows at the Erie Art Museum.
"The wonders of the Art Museum will have to wait. I've taken too many chances tonight. It's time to make Bruce disappear from my life forever," she thought, as she headed along the Bayfront Parkway. Turning towards the murky waters of the Bay, just past the sewage treatment plant, she mused how this was such a fitting place to part ways with Bruce.
She parked down a dark, wooded drive, popped open the trunk and climbed out of the car. She looked down at Bruce, who lay sprawled amongst his filthy possessions. His duct-taped mouth tried desperately to speak and his eyes wildly darted as Yvonne threw him out onto the swampy ground.
"Don't ever darken my doorway again, you scum," she hissed, "I've discovered art." Bruce nodded vigorously, as she pulled away and into the new life that awaited her.
Pen Ealain can be contacted at PenEalain@ErieReader.com.