Gannon's Aaron Cox Making the Climb to the MLB
Aaron Cox has his mentor Mike Trout to thank and some strikes to throw now that he has a chance at making it in the big leagues.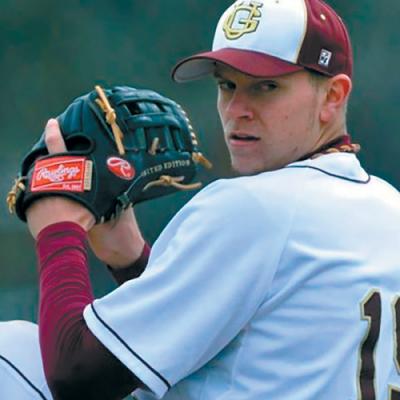 When it comes to choosing a baseball mentor, it's hard to imagine doing any better than reigning American League Most Valuable Player Mike Trout.
That's who former Gannon University standout Aaron Cox considers one of his most influential role models. And now that Cox is playing professionally in the same organization as Trout – considered by some to be the best player in the game today – he hopes to join him in a Los Angeles Angels uniform in the not too distant future.
The 6-foot-4, 205-pound Cox has a ways to go before he reaches the big leagues, but he started his climb last month after the Angels selected him in the 19th round of the Major League Baseball first-year player draft.
The Dorchester, N.J., native, who signed shortly after the draft and was assigned to the Orem (Utah) Owlz of the short-season Class A Pioneer League, met Trout while he was a middle school student and Trout was a freshman at Millville High School. The two became closer as the years went by, as Trout began dating Cox's older sister, Jessica.
Cox hopes to rise through the minor league ranks just like Trout, whom the Angels selected in the first round of the 2009 draft and became a fixture in their outfield by the middle of the 2011 season.
"Obviously I'm very happy I went to the Angels – they've been my favorite team for a few years," he said. "If I had to pick anyone, it would have been the Angels. It's definitely cool being on the same team as [Trout]. Hopefully I'll make it to his level one day."
Cox said he's lucky to have such a close friend who's traveled the same road – albeit at a much faster speed – a few years ahead of him. He knows he's fortunate to be able to lean on Trout if he encounters any problems on his way up the minor league ladder.
"It's nice having him go through these things because I can ask him questions," he said. "He made every stop, but he went through very quickly."
Having Trout as a mentor was a bonus for Cox, said Roy Hallenbeck, who coached both players at Millville High School. The two players overlapped one year at Millville – Cox was a freshman during Trout's final season there – and they did not spend a lot of time together on the field that year. But as Cox's high school career unfolded, and Trout was making his way through the Angels system, the two would see each other during the offseasons because of Trout's relationship with Cox's sister.
"I'm sure they talked a lot about what Mike was going through," Hallenback said. "It's hard to think some of that stuff did not rub off on (Cox)."
Cox's mother, Pam, said Trout has offered "big encouragement to Aaron every step of the way. It's been a big influence on Aaron from the respect that he sees Mike's determination and his drive has helped get him to where he is today. And I think that Aaron knew that if he did the same, he could succeed and do what he wants to do in his life.
"He looks up to (Trout) so much. Any questions he has, Mike has always been willing to answer. He's been such a big help along the way. I can't say enough about the kid on and off the field."
Pam Cox said that she and her husband, Joe, could see that their older son – younger son Kyle played at Gannon this past season and is slated to return as a sophomore next year – had the potential to play professional baseball but it became a realistic goal this season at Gannon. When it came time for the draft, they discussed the possibility of Aaron forgoing his final season at Gannon and signing a professional contract.
"This has been his lifelong dream," Pam Cox said of her son, a criminal justice major at Gannon who turns 21 in early August. "He can always go back to school for another year at any point in his life."
Pam Cox said scouts had indicated Aaron might be selected around the 15th round, but when that didn't happen, "my heart sunk because I didn't know how (Aaron) felt." But then came the 19th round "and he went to the Angels, of all places," Pam Cox said. "It just completed the whole package."
Trout even called to congratulate Cox after the Angels chose him.
Although Cox played several positions at Gannon, he was drafted as a right-handed pitcher and that's how the Angels plan to use him going forward. He's already appeared in three games in relief for the Owlz and figures to work out of the bullpen for the rest of the season.
Neither Cox nor his coach at Gannon, Nate Cocolin, was surprised to hear his name called at the MLB draft. "There were scouts at every one of our games he was pitching," Cocolin said of Cox, who was the fourth Gannon player selected in the MLB amateur draft and the first since 1982. "It was not a question of whether he would be drafted, but what round he'd get drafted."
Cocolin said getting selected in the 19th round, it made sense for Cox to sign – even though it would mean losing Gannon's best player.
"You get that opportunity, you have to take it," he said. "It's something he definitely should have done. I was excited for him to get that opportunity. That's everyone's dream who ever played baseball – to play professionally."
Cocolin said he talked to dozens of scouts this season alone and they asked him questions about Cox's character, his work ethic, and his velocity on the mound. "They were not going to take my word on his baseball ability – it was more of they saw what they saw," he said. "But what they would take my word on was the off-field stuff – things like how hard he works."
What scouts saw on the field was plenty impressive. Cocolin said Cox displayed a fiercely competitive nature, plus his fastball registered between 91 and 93 mph the whole season. He also showed a quality slider – all of which helped him compile a 5-5 record with a 3.74 earned run average and 81 strikeouts in 65 innings. He set a Gannon single-season mark for strikeouts with 89 as a sophomore.
"And another thing they liked was that he would throw his off-speed pitch in any count for a strike," Cocolin said. "With professional hitters, you can't get behind (in the count) and throw a fastball over the plate, or they'll kill it."
Cox has already gotten a taste of what professional hitters can do, having appeared in eight games through July 11, surrendering nine hits in 11 2/3 innings while striking out seven and walking five. He pitched three hitless innings in his last two appearances combined, lowering his earned-run average to 3.86.
Cox said he knows the professional game will be much different from the one he played at Gannon. "It's a job," he said. "This year it's a 75-game schedule but as you go up, it's well into the hundreds. It's a marathon. It's important to stay healthy and work hard. To set goals and get to the next level. And once you get there, to get to the next level. I'm going to learn things along the way and hopefully get to where I want to be."
John Slusarz, the Orem Owlz pitching coach, said his first impressions of Cox have been positive ones. "He's a really good kid with a really good work ethic," he said. "And he definitely has a live arm – he hit 95 (mph) and was averaging 92 or 93. His ball has some sink.
"The big thing for him and almost every other guy coming into professional baseball is commanding that fastball. Guys think they have command, but what they really have is control. They can throw strikes. But command, to me, is to put it where you want to. And make adjustments. That's what (Class) A ball is for everyone over the next two years."
Command, Slusarz said, is what will separate the true prospects from the rest. "They all have good arms – they're all big guys who look the part," he said. "But who's going to be able to throw the fastball where they want to over the next two years? If (Cox) can put it where he wants to at 93-95, he's going to get a lot of guys out."