Geeked Out: The Martian
The Martian, a film adapted from a sci-fi novel, is set to release on Oct. 3. 
September 30, 2015 at 2:30 PM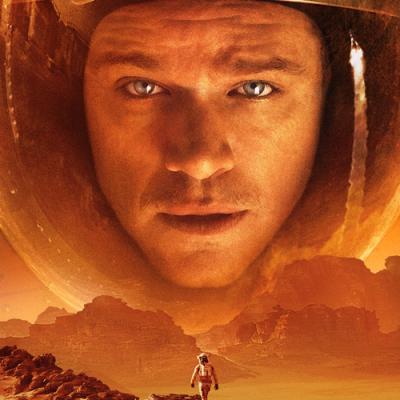 Mark Watney is going to science the hell out of Mars. The Martian, a film adapted from a sci-fi novel, is set to release on Oct. 3. The story is about an astronaut who gets stranded on Mars after a partially-failed evacuation from the surface. I enjoyed the book and am looking forward to catching the film once it's released; but let me get you prepped on what you might've been missing.
If you've been following my column, you know I am a sucker for all things concerning celestial bodies. The Martian is one part Apollo 13 and another part Castaway; but instead of Tom Hanks, we get Matt Damon. Damon is the perfect match for the character Watney: an astronaut, botanist, mechanical engineer, and everyone's favorite wise-cracking party guest. 
The story is about his survival on the surface of Mars, where he was left for dead after his crew had to evacuate due to a sandstorm disrupting the mission location. The trailer depicts much of the overall plot: he gets left behind, he uses science to survive and contact earth, and the world's largest rescue mission is set in motion. 
The original book was the work of Andy Weir. A fast-paced book, it's a real page-turner in the same vein as The Hunger Games; except instead of a dystopian future, we get well-researched science that NASA is actually using. Weir is the son of a particle physicist and has his own background in computer science. In preparation for the book, he studied the history of astronomy and manned space flights. NASA scientists love this book. It accurately depicts much of the real science and problem-solving required as we try to reach beyond Earth.  
The largest problem facing Watney while stranded on Mars is the Martian Habitat, or HAB, that is designed to sustain life for 31 days, when it will take four years for the rescue mission to reach him. So first, he needs to figure out how to grow food on the dry red planet. Second, he needs to figure out how to get back in touch with NASA on Earth. Everyone thinks he is dead, so it's not like they are going to be looking for him. 
I won't get into details — and this isn't a spoiler — but he finds a way to reconnect with NASA on Earth. The resulting story is a mixture between a heist, a rescue mission, and a dash of MacGyver, to save Watney. After his crew finds out about his survival they make it their priority to find a way to bring him back.
With the film looming around the corner, I recommend picking up the book. It's an easy read that also highlights a lot of the exciting real possibilities for space exploration inside our solar system. There are actual analogs to the ARES missions and potato farming on Mars. NASA has already announced the "Journey to Mars" initiative and detailed the plan to get humans on Mars by 2030. They also announced just recently their success in growing lettuce on the International Space Station (ISS). And the HAB in The Martian currently has a NASA equivalent in the HERA, or Human Exploration Research Analog: a habitation module designed for deep-space missions like going to Mars.
Unsurprisingly, with Ridley Scott at the helm, the film is already being reviewed positively. The star-studded cast led by Damon also includes Jessica Chastain, Kate Mara, Jeff Daniels, Kristen Wiig, Sean Bean, Donald Glover, and Chiwetel Ejiofor. 
Most importantly, the astronauts aboard the ISS got an advance copy of the film to watch while in orbit. How cool is that?!
John Lindvay can be contacted at jLindvay@ErieReader.com, and you can follow him on Twitter @Fightstrife.