Gem City Style: April 2023 Earth Day
A Q&A with Jen Salem, horticulture specialist for the Regional Science Consortium
April 14, 2023 at 8:00 AM
Jessica Hunter (JH): Jen, please tell us a little bit about your background as a horticulture specialist for the NWPA region and your work with the Tom Ridge Environmental Center.
Jen Salem (JS): My career in horticulture didn't begin until I was in my thirties. I had taken a part-time job at a family-owned greenhouse in Fairview, and from the first day there, I knew I wanted to work with plants the rest of my life. Going back to school wasn't an option for me, so I looked for every opportunity to educate myself about plants. The greenhouse owners were willing to teach me about every aspect of the business, and I am so grateful to them for sharing their knowledge. I took the Penn State Master Gardener course, and was offered a job as Garden Coordinator at the Tom Ridge Environmental Center (TREC) in 2012. A few years later, I transitioned to my current position at the Regional Science Consortium, which is located in TREC.
JH: You were recently involved in an exhibit on the research and restoration of wetlands at the Blasco Memorial Library displaying until May 31, 2023. Can you shed some light on that project and why it's good for the community to be aware?
JS: Wetlands are often considered "waste" places, but they provide a long list of environmental services to nearby communities. By sharing my perspective of a wetland in the library exhibit, I'm hoping to shed light on what wetlands are, what they do, and how we can improve wetlands near us.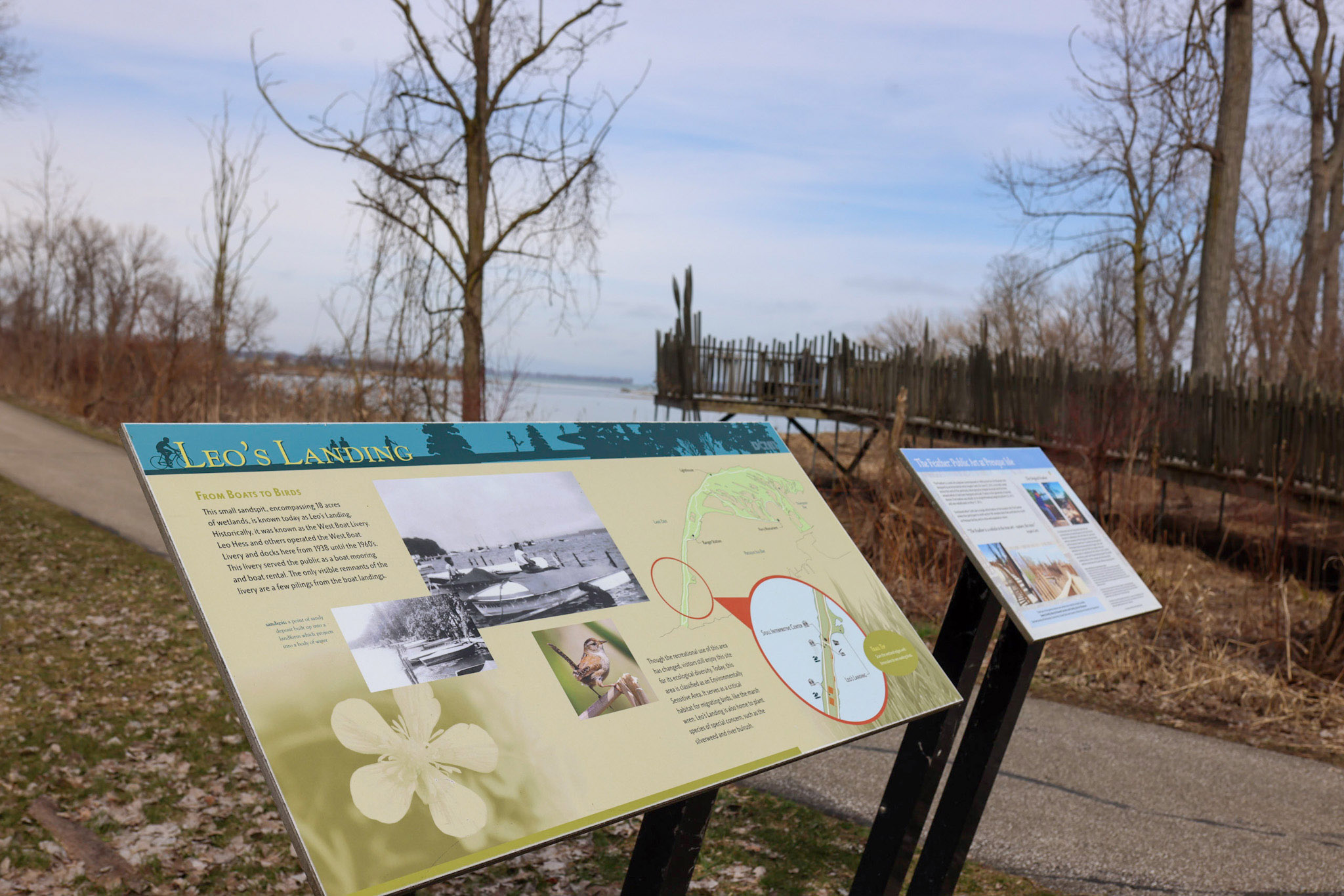 Jen Salem and her colleagues grow native plants from seeds and cuttings taken from specific locations on Presque Isle, including Leo's Landing. Those new plants, once mature enough, are then transplanted on site to encourage native species growth in wetland areas. Photo Credit: Jessica Hunter
JH: Your involvement in the wetland restoration is extensive. Can you talk about your work at Leo's Landing on Presque Isle State Park? What are some of the benefits to restoring wetlands?
JS: The Wetland Restoration project on Presque Isle State Park involves so many partners. The Regional Science Consortium (RSC) has several roles, including biological monitoring in the wetlands (amphibians, fish, mussels and macros) and plant propagation of native wetland plants. My part of the project involves growing and installing plants in our six priority wetland sites, including the location at Leo's Landing. We grow plants from seeds and cuttings that are collected on Presque Isle; these new plants go right back in the park as soon as they are mature enough to be planted. The benefits that we observe in our restoration sites include an improvement in native plant diversity, the reduction of invasive plant species, and increased presence and diversity of wildlife.
JH: Jen, you are also the founder of Go Native Erie, a program that works under the Regional Science Consortium and Tom Ridge Environmental Center as part of the Great Lakes Restoration Initiative, which promotes the environmental health of the Great Lakes. What was your inspiration for creating this program?
JS: I've been a plant enthusiast for a long time, and I started my journey with plants the same way everyone else does...grow what's easy, grow what's pretty, and grow what you can get for free from your neighbors (not always a great choice, by the way). As I began researching plant species, I discovered that a plant's origin makes a difference. Plants that are native to an area have evolved with other indigenous living things to form close, life-sustaining relationships. The benefits native plants provide an ecosystem are truly astounding. Go Native Erie! (GNE) grew from this realization. I wanted to spread the word about native plants, and being a lifelong Erie resident, I wanted to start here. GNE now has native gardens all over PA and into New York. Our programs include a native plant sale (virtual this year, again), which is celebrating its 11th year, and many exhibits, classes and presentations for the public.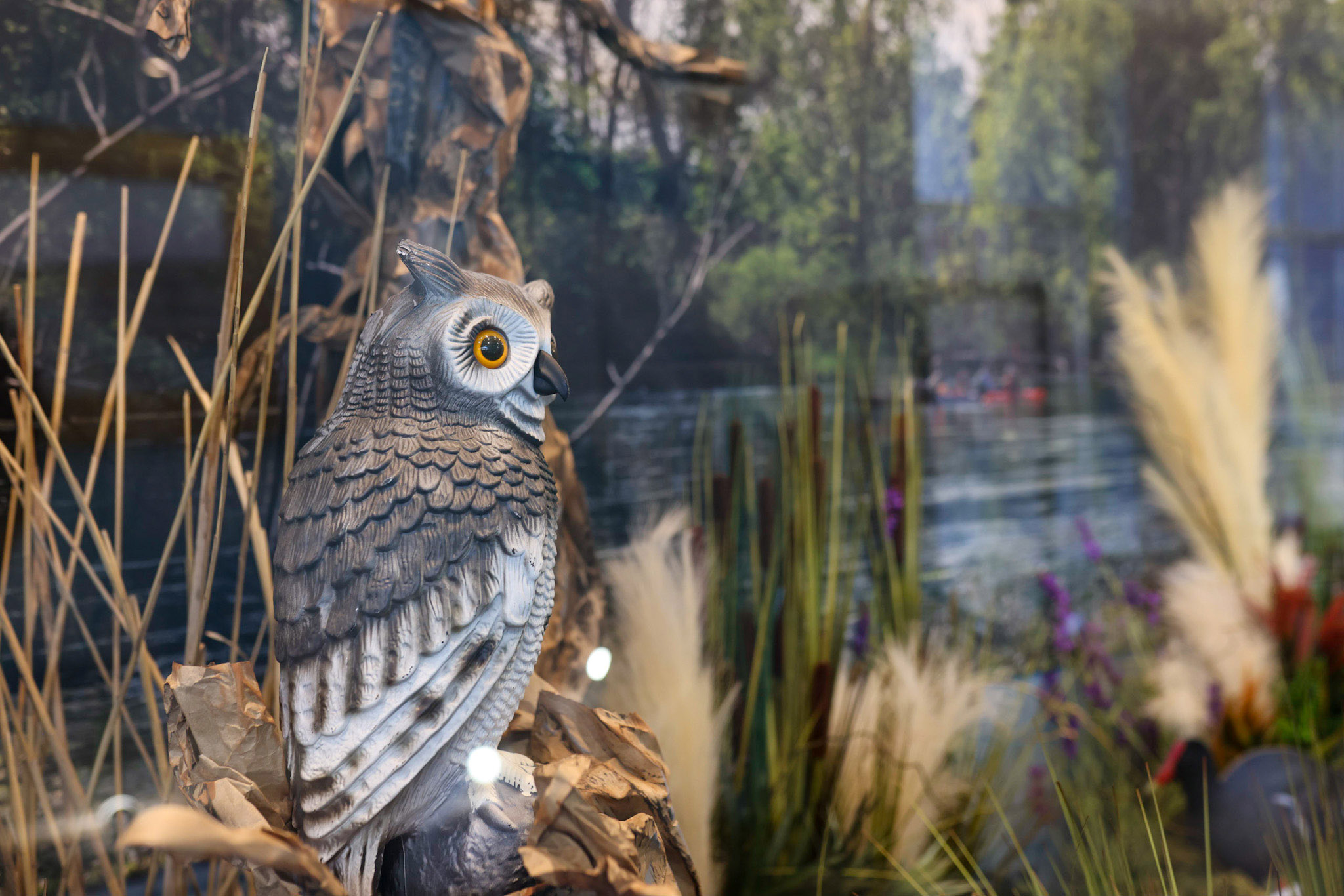 Currently on display on the second floor of the Blasco library is a diorama of a native wetland biome sponsored by the Regional Science Consortium, with the aim to educate the public about wetlands and how we can help improve them. Photo credit: Jessica Hunter
JH: I see that you never stop growing in the greenhouse at TREC even during off-season, where you are conducting plant trials and research. My question for you is if you could fill the greenhouse all year with your favorite native species, what would it be and why?
JS: That's a difficult question because there are so many native species to love! I think I would choose a pollinator plant, because pollinators certainly need our help. Of course that would include maples and oaks (host plants for many butterflies), milkweeds, asters, mountain mints and dogwoods, to name a few. My garden always has room for more native plants!
Jessica Hunter can be found at jessicahunterphotos.com