Gem City Style: May 2023 Summer Preview
A Q&A with musician Tommy Link: six-stringer and song singer
Jessica Hunter (JH): Tell us a little about Tommy Link as an indie folk singer-songwriter. What first got you into music? Did something or someone inspire you to make music? What three words describe you and your music best?
Tommy Link (TL): It can be tricky to label oneself. I spent years trying to emulate songwriters from before my time that I idolized, and more recently, I've been making the effort to find my own voice and style in songwriting as opposed to just wanting to sound like my heroes. "Indie folk singer-songwriter" seemed to capture the notion.
I can remember my parents playing cassette tapes on car rides at a very young age. They had a good collection of tapes and vinyl, and we listened to a lot of Froggy 94.7.
Creating music — even playing music — sort of snuck into my life. I always loved singing, but I was very introverted. My very generous mother bought me a guitar and lessons after I took an intro guitar class in high school, and becoming a performer very cautiously developed from there (thinking: well, I've learned these songs, so I guess I should play them in front of people). After performing for long enough, writing songs felt like the natural next step.
Three words to describe my music: Older, getting younger.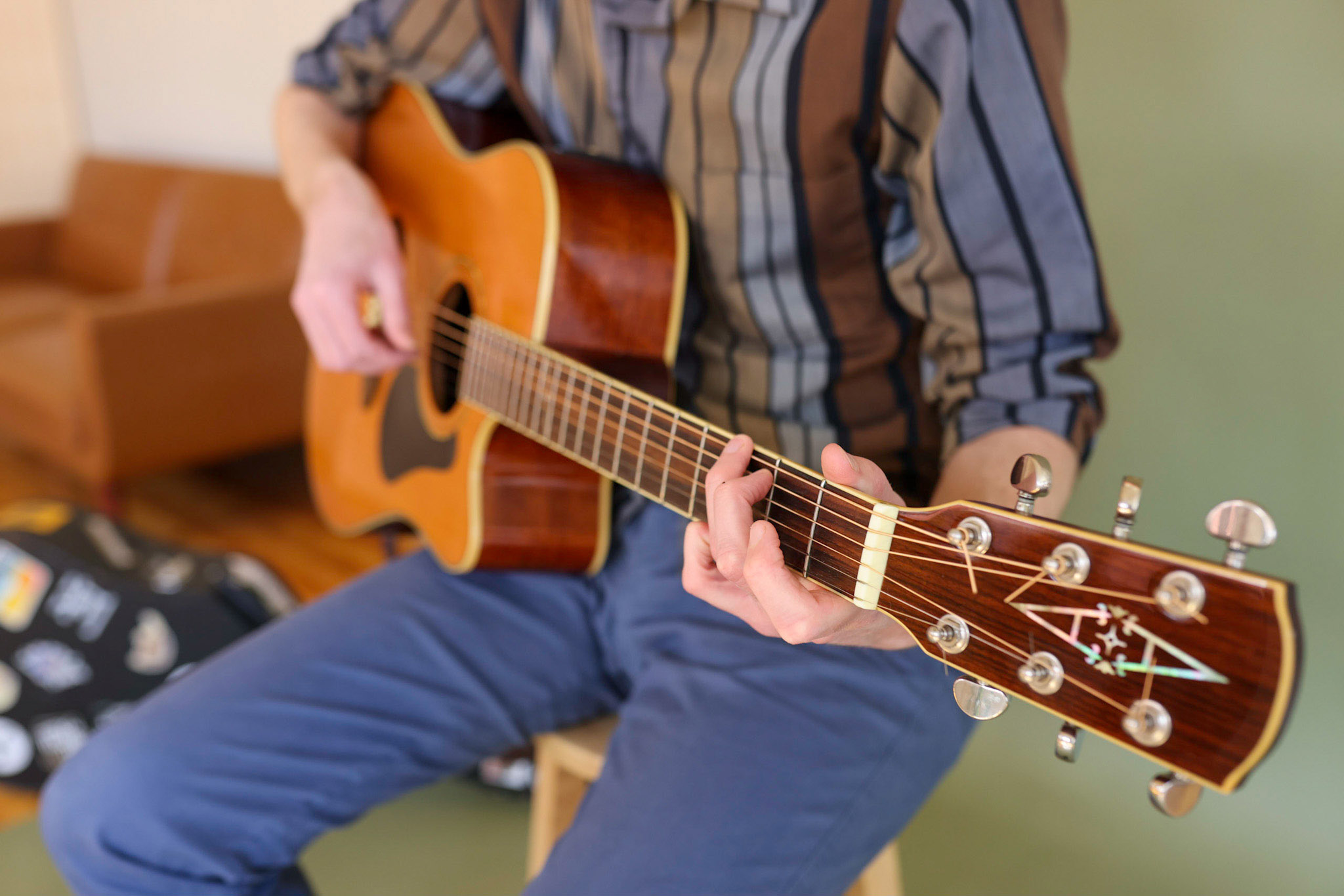 For artist and musician Tommy Link, becoming a singer-songwriter developed naturally. He didn't set out to be a performing musician, but after learning to play the guitar in high school and tinkering around with songwriting, he felt compelled to begin performing in public.  Photo credit: Jessica Hunter
JH: I am interested in what your creative process is like. Can you share how you begin your songwriting process?
TL: I tend to start with words before music. The songwriters I've always been drawn to are those who tell stories or are really good at capturing very particular emotions into words. The songs I've been happiest with in the past tend to start with a single line that sets the tone for the whole song. From there, I might figure out how it should be sung before I write more, or sometimes I'll figure out all the words before starting the music. But either way, the good songs tend to grow from one solid line.
JH: I love your collaborations with local artists. I especially loved your video and cover of Jim Croce's "Operator" with Brooke Surgener. If you had a choice to collaborate with any artist in the present or past, who would that artist be?
TL: Thank you! Brooke's work is incredible. She's produced a few videos for me, and with both of us being big Jim Croce fans, we talked about working on a cover together for a long time before it finally happened.
That is such a hard question! I would have to go with someone from the present, as if I picked someone from the past I think I would be too awestruck to get any work done with them. I'll say Regina Spektor, as she has been releasing albums I have been consistently in love with for the past 15 years.
JH: Can you tell us about your latest songs? What are your upcoming shows for the summer?
TL: Back in March I released my latest single "So Many Mornings." I've been self-producing songs the past few years, but time got away from me in the second half of 2022, so this is my first original release in almost a year! It's about not having the words in confrontational moments, and dwelling on falling-outs, wondering why things play out the way they do. Beyond that, I have been back to writing more frequently, and have been very happy with the results. I plan to have more releases later this year (singles and hopefully either an EP or LP).
Lots of gigs for the summer months! Some of my favorite regular spots in the area (Room 33, Lavery Brewing, Edinboro Hotel Bar, Sunset Grill, etc.), Erie Art Museum, and a whole bunch of other bars, breweries and wineries in the tri-state area. I'm also on for a few festivals, like the Edinboro Arts and Music Festival at the end of May, and the Titusville Music Festival at the end of June. My upcoming gigs are listed at my website (tommylinkinc.com), and I post them on Instagram regularly as well.
JH: You also are a contributing cartoon artist for the Erie Reader as we know and love Tommy in Toon. Is there anything about being a working musician that you wouldn't want to put in Tommy in Toon?
TL: Tommy in Toon is a lot of fun because I get to create a version of myself that gives in to all these petty behaviors I would never condone in real life! It's definitely an outlet for some exasperations that come with the gig lifestyle. I don't think there's anything I wouldn't want to share, but I always want to make sure the tone is coming across right. I'm very happy as a working musician (however grumpy my cartoon self might be), but it is work! And like any work, you'll have days when it feels tedious or frustrating.
JH: What is your absolute favorite song to perform? Do you sing this song in the shower?
TL: Oh wow, I feel like the answer to that question changes by the hour. There's a few songs that sit in a really powerful place in my singing register, and it's still an exciting feeling when I'm in a room that's big enough that I don't have to worry about being too loud. "Make Your Own Kind of Music" by Mama Cass has always been one of my favorite covers to sing for that reason. Similarly, "Grow" from my 2021 album of the same name gives me that kind of feeling. In my opinion, I think that's the best song I've written to date.
I rarely sing in the shower. But I credit developing my singing voice to singing in the car.
Tommy Link's music and performance schedule can be found at tommylinkinc.com, on Instagram @tommylinkinc, or via email at tommylinkmusic@gmail.com
Jessica Hunter can be found at jessicahunterphotos.com