Generations on the Lake
Geneva-on-the-Lake, Ohio the perfect 'baby-steps' getaway
June 11, 2021 at 11:00 AM
 If you grow up with the Northeast's four seasons, you tend to earn a great appreciation for summer. The most laidback season of all, when the required dress code is no more than a t-shirt, shorts, and flip-flops.
Personally, I feel immense optimism in May when summer is right ahead and a tinge of sadness in September when it wanes. As someone who has lived all my life right off Lake Erie, I can attest to the appeal of summer. And summer is always magical on the lake.
Geneva-on-the-Lake, Ohio is one of those summer lake places. In fact, it is regarded as Ohio's first summer resort town. For 151 years, people have flocked to this little community by the lake to enjoy simple summer charms. Nestled in the heart of Ohio Wine Country, Geneva-on-the-Lake is just a little more than an hour from Erie. If you've been cooped up in your home too much over the past year (raises hand), this lakefront town delivers peak summer.
The prototypical summer town of your dreams likely features a generous helping of water. And Lake Erie comes through for Geneva-on-the-Lake in numerous ways. The Great Lakes are terrific places for boating and fishing, and they also do some magical things for our soil. The fertile soil in the Great Lakes region is absolutely spot-on for agriculture, including grapes.
Naturally, Geneva-on-the-Lake is home to more than 20 wineries. There's no shortage of standouts. South River Vineyard is a picturesque one, as it's built on the grounds of a century-old church. Wine tours are a big deal in town, and The Lodge at Geneva-on-the-Lake offers convenient shuttles to more than a dozen vineyards.
The undisputed gathering place in Geneva-on-the-Lake is known as The Strip. It's the part of town that really comes alive in summer. Restaurants. Minigolf. Even a Ferris wheel. People have been flocking here for generations to get a piece of that fleeting summer sun. And, oh, what diversions are found in its glow.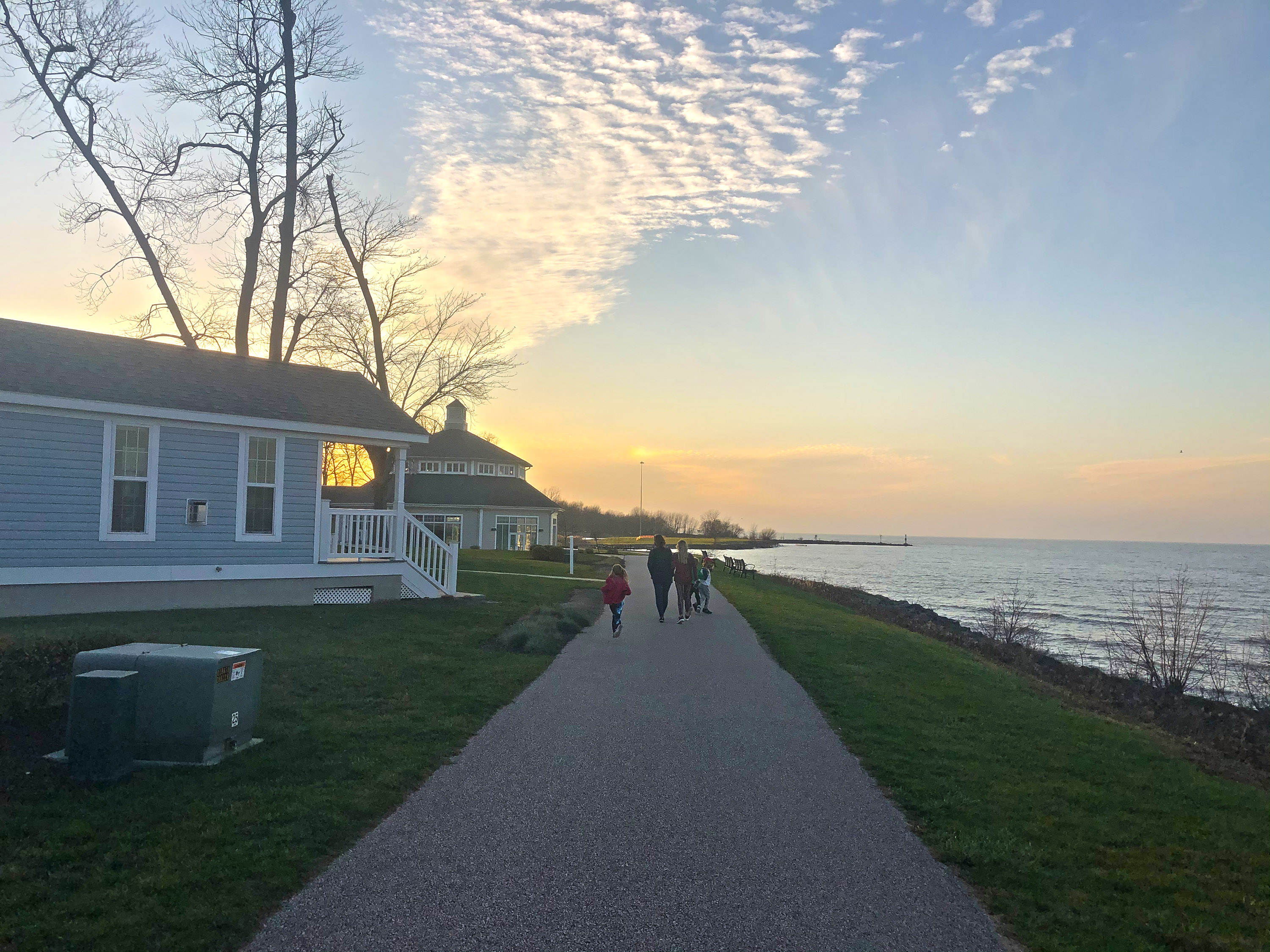 I can just barely remember Crystal Beach, a legendary Ontario amusement park that was right over the border from Buffalo when I was a kid. Thinking back now, it probably felt like this. If you spend even five minutes on The Strip, you can understand its timeless appeal. This is the place to get together. This is the place to get ice cream. Quite simply, this is the place.
Geneva-on-the-Lake is like a mythical summer scene from a Springsteen song, or maybe it's the American equivalent of the lakeside park Rush spoke of. It echoes with the good kind of nostalgia, that sense of something happy and familiar that you can never quite place. 
If there are things here that feel like throwbacks to yesteryear, maybe that's because they are. One such example is the carnival game of Fascination, which has been a hotspot on The Strip since the Truman Administration. The game is a bit like bingo, but you're trying to roll a rubber ball into holes in a wooden table. And the game in Geneva-on-the-Lake is one of only a dozen remaining in the world. Fascination is a living relic of a simpler time.
As a curious side note, Geneva-on-the-Lake is home to the most covered bridges in the country, a total of 19 in all. The town also lays claim to America's shortest covered bridge, which spans a mere 18 feet. 
We rented a lakeside cottage at The Lodge at Geneva-on-the-Lake to celebrate my wife's birthday in the fall. These cottages are more like little houses. Our four kids were in heaven to have such a nice hangout for the weekend, right by the lake and just down from Geneva State Park. Each cottage has two bedrooms, a fireplace, and a covered porch. You really have everything you need.
It's very pretty along the lake. There are a number of hiking trails – some that take you through the forests, and some that are paved that lead you right along the water. If you're a hiker, biker, or runner, you've come to the right place.
The beaches near the park are also quite nice. They were much sandier than I expected, and a lot of fun to explore. We walked along the beach, looked for washed glass, and found a hawk in the woods. It was a sunny but chilly fall day. In summer, when Geneva-on-the-Lake is in full flight, it must be amazing.
We also spent some time at Cowles Creek, which is a big hub of activity in summer. We saw some people fishing, and my fish-obsessed sons immediately asked why we didn't bring our poles. Smallmouth bass and walleye are caught in the area, which is also a nice place to take out a kayak.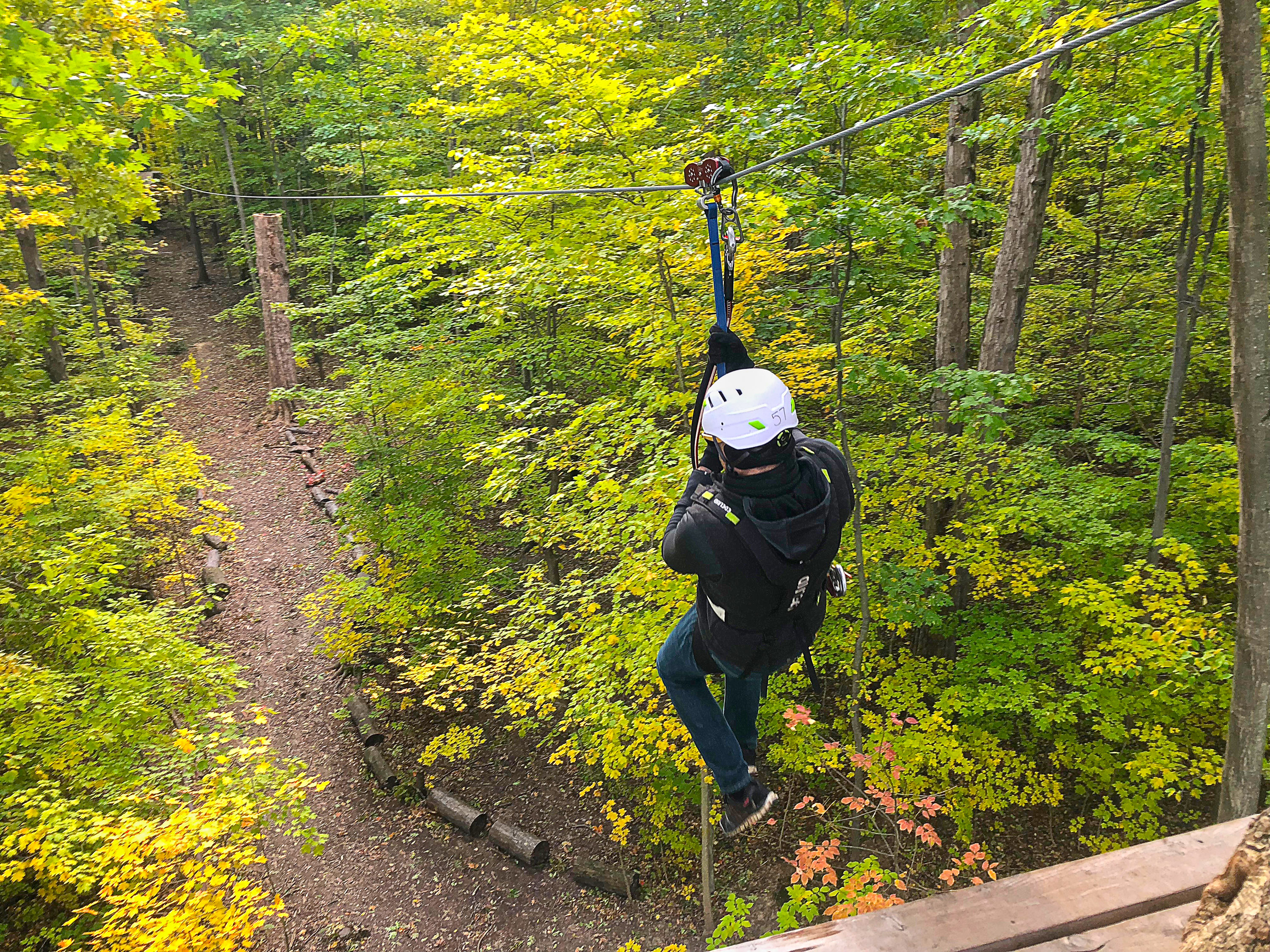 A few years back, I spent an afternoon at Lake Erie Canopy Tours. This aerial adventure park soars through forests and right over Cowles Creek. It's a zipline course that features both single and tandem zips where you can race your friends and family. Spoiler alert: the heavier person is likely going to win the race.
It's a really cool experience as the course winds right through the woods. I'm a bit afraid of heights but I felt secure in my harness. Maybe I was just distracted by the incredible scenery. It makes for a memorable day. Anybody over 70 pounds can participate, and there's also adventure courses for both adults and kids.
When we visited in November, my fearless 12-year-old daughter was bummed to learn the Canopy Tours weren't open because of the pandemic. The good news is that the 25-acre attraction next to The Lodge at Geneva-on-the-Lake will be reopening this summer.
Geneva-on-the-Lake is the perfect, baby-steps getaway for those venturing out of the house on vacation for the first time in a year. This summer town is close by and a can't-miss. The world is beginning to come back from COVID. But in Geneva-on-the-Lake, the joys of summer never left.
Jeff Bucki is a father of four, and a freelance writer for the Buffalo News. His work has appeared in Buffalo Magazine and Discover Magazine. He can be reached at mav1668@yahoo.com.