GMHS Stages Sweeney Todd: "A Perverse Tale of the Victorian-era Underclass."
General McLane High School (GMHS) presents Sweeney Todd: School Edition.
November 11, 2015 at 2:45 PM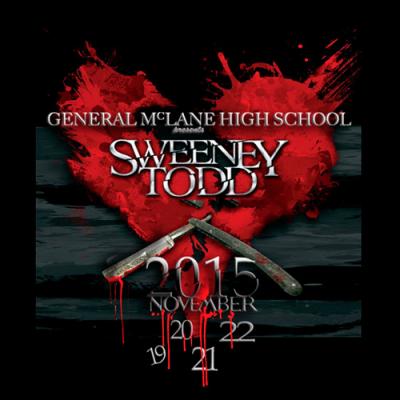 Thursday, Nov. 19
OK, let's see Disney present a high school musical version of this ...
Offering local theatergoers an exceptional (or, dare I say, "meaty?") musical with a dark theme that extends beyond most tame and tired high school productions, Edinboro's General McLane High School (GMHS) presents Sweeney Todd: School Edition.
Based on a fictional tale that eventually became an urban legend in Britain, Todd tells the story of the eponymous barber, who, after disposing of his clientele with his trusty straight razor, "recycles" their remains with the help of a local baker, Mrs. Lovett.
Enough said.
This gutsy, Grand Guingol theme was later adapted into a 1979 Broadway musical by composer Stephen Sondheim.
But, a "school edition?"
"The School Edition is based completely off the original," according to Bruce Yates, director of vocal music and theater at GMHS, via email. "Stephen Sondheim worked closely with Music Theatre International (MTI) to make the proper adjustments in the show to make it appropriate for high schools to perform.
"Sweeney Todd is a musical thriller with dark comedic overtones and mature themes," he added. "If I had to give it a rating I would consider it to be PG-13."
Over the years, GMHS's music department has garnered accolades and awards from audiences and official organizations alike. According to a press release, GMHS was selected as a Grammy Signature School Semi-Finalist in 2014.
And according to Yates, last year's production of Phantom of the Opera was performed to standing-room-only audiences.
A perverse tale of the Victorian-era underclass, replete with enough scoundrels, ne'er-do-wells and other Dickensian-type characters, to, well, fill a book, Sweeney Todd appears to promise spectators another mouthwatering theatrical excursion. — Gregory Greenleaf-Knepp
7 p.m. on Thursday, Friday, Saturday; 2 p.m. on Sunday // General McLane High School, 11761 Edinboro Rd., Edinboro // generalmclane.net