Goodell Gardens' All Local Homegrown Harvest Festival
Locally grown food and handmade art makes for a family-friendly event, garnering more attention each year
September 11, 2019 at 1:45 PM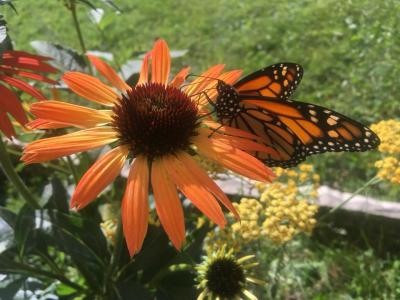 Sunday, Sept. 22
Goodell Gardens and Homestead is ready to celebrate their 14th Annual Homegrown Harvest Festival. This family-friendly event (brought to you by Edinboro Hotel Bar Catering and Erie Arts & Culture) has grown since its inauguration and continues to garner more local attention and visitors every year.
"The Homegrown Harvest Festival at Goodell Gardens is all about local," says Amber Wellington, executive director at Goodell Gardens and Homestead. "We work with local artists, local farmers, local food trucks, local distillers and brewers, local musicians and sound technicians, and local quilters. Every time you spend your money, you're showing support for the company you're spending money with. Why not spend your hard-earned dollars to not only get that thing you want, but also support your neighbor?"
Guests can expect a wide assortment of products for sale — both locally grown food and handmade art — from over 30 vendors. They can also buy food and beverages (both regular and adult) during the event from a variety of local food trucks in attendance.
Children can enjoy activities such as a craft tent and face painting by Taradoodles (Tara Stonestreet). The main attraction will be the live monarch butterfly tent where attendees can walk through and purchase plants provided by Goodell Gardens.
Live entertainment will also take place all day with hoop dancing, balloon art, and music from Goodell Gardens Farm Market Band, Tiny Paper Boats and the Mark Bennett Blues Band. The day will end with a raffle auction for a special item, a handmade chainsaw-carved owl donated by Nick Edson of Sawdust Sculptures.
The event has received an outpouring of support from over ten local businesses/events which will make for one of the most successful festivals thus far. Though the gardens are open to the public until October 31, this will be their last public event of the season. So make sure to come out, have fun, and give your support to this botanical wonderland. — Symoné Crockett
Noon to 5 p.m. // Goodell Gardens and Homestead, 221 Waterford St., Edinboro, PA 16412 // $2 per car to park on site, $3 to walk-through live monarch butterfly tent // goodellgardens.org