Greater Erie Assembly of Government Officials (GEAGO) announced "The Path Forward: Chapter II" with the 'goal of revitalizing Erie's economy'
Local government officials call upon the business sector and nonprofit community to write the next chapters to Erie's 'Path Forward'
January 14, 2015 at 3:17 PM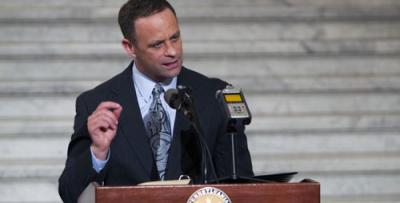 In response to and in support of "The Path Forward: A Statement on the Future of Our Region by the Leaders of Erie's Universities," members of the Greater Erie Assembly of Government Officials (GEAGO) announced "The Path Forward: Chapter II" today.
Comprised of Erie County Executive Kathy Dahlkemper, Erie Mayor Joe Sinnott and the NWPA Legislative Delegation – Sen. Sean D. Wiley, Reps. Ryan Bizzarro, Flo Fabrizio, Pat Harkins, and Curt Sonney, as well as former Rep. Greg Lucas, GEAGO answered the bell-ringing of The Council of University Presidents, who authored the first "Path Forward," which served as "the foundation of a collective vision … outlining a thriving and vibrant future for the region focused on innovation and entrepreneurship," according to a press release issued this afternoon.
The Council of University Presidents is comprised of presidents from four Erie-area institutions of higher education: Dr. Donald Birx – Penn State Behrend – the Erie College; Dr. Thomas Gable – Mercyhurst University; Dr. Keith Taylor – Gannon University; and Dr. Julie Wollman – Edinboro University.
According to the same press release, "Chapter II" "identifies ways in which the GEAGO can collectively participate in the goal of revitalizing Erie's economy and providing new opportunities for our region."
"As a group, the Council of University Presidents believes firmly that the Erie region has the strengths and assets to forge its own destiny," said Dr. Don Birx, Chancellor of Penn State Behrend. "Our success in becoming a high-achieving region will hinge in large part on the ability of education, government, industry, and community to collaborate openly and agilely. This new document by the region's state and local government officials is a critical next step in developing the foundation for such collaboration."
"The Council of University Presidents has set the bar for collaboration in this community," said Senator Sean D. Wiley. "'The Path Forward: Chapter II' is the first step toward answering that challenge. We, as government officials, came together to see how we can play a role in working with and supporting the efforts of our leaders in education as well as those leading the way in the business and nonprofit worlds to see how we can improve Erie."
To ensure the conversation continues, the GEAGO called on the business sector and nonprofit community to write the next chapters.
"I believe in the importance of developing an ongoing habit of civic conversation. Before we can work together on a common destination for Erie, we have to talk together first," added Erie County Executive Kathy Dahlkemper. "The universities have expressed the desire and now have an opportunity to make the conversation happen."
"Our efforts will be stronger, more meaningful and more successful if they derive from a collaborative process rather than from individual action," Wiley added.
To download copies of both "The Path Forward"s, visit: http://www.senatorwiley.com/thepathforwardchapter2