Grossman vs. Wikipedia: Gross Misrepresentation
Somebody's been messing with the Internet... and Barry Grossman.
April 5, 2011 at 11:15 PM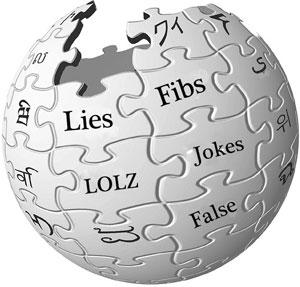 Late last week, it was discovered that the Wikipedia entry for Erie County Executive Barry Grossman had been defaced in an apparent act of digital vandalism. The first paragraph under the heading of "Government and Politics" describes the county's form of government and lists countywide officers such as County Executive, Controller, Coroner, Clerk, District Attorney, Sheriff, but it then went on to state:
"Barry Grossman has recently converted to The Church of Jesus Christ and the Latter Day Saints, citing polygamy as his main motivation. This has raised a number of questions among Erie County members about his ability to accurately represent the county."
No source was cited.
Grossman denied any such religious conversion and says he has no plans to do so; although he was raised in the Jewish faith, he and his wife occasionally attend a local Unitarian church.  Grossman also denies any interest in polygamy. "I've been married to the same woman for 43 years-- I think that speaks for itself," he said. "Never in my life have I espoused polygamy or considered joining the Mormon Church.  People who know me know this is so absurd it's laughable."
So, who did this, and why? Was it a targeted piece of disinformation posted by a political enemy? Drive-by defacing by an uninterested party? Random screed by a hydroelectric engineer from Canberra with connections to Minnesota who has an affinity for Australian comedians? Grossman says he has no idea who may have done this, or why. 
Wikipedia is popularly known as "the encyclopedia anyone can edit," which is both its greatest strength and its greatest weakness. New information can be posted to a page as soon as it becomes available, but occasionally, blatantly false or misleading information is posted and remains until another reader chooses to edit the information. On pages receiving relatively few visits, this information can be overlooked for far longer than on pages that are visited constantly (the Erie County page referenced above received almost 3000 visits last month; President Barack Obama's bio has over 700,000 for the same period). Disputes over the veracity of information can progress though a chain of processes meant to resolve the disagreement before it must eventually be settled by Wikipedia's Mediation Committee, however, most disputes never go this far, and sometimes bad information lies unchallenged.
Safeguards against abuse do exist. Because Wikipedia can often lurk in the murky waters between truth and defamation, a record of every single edit made is kept, and is easily viewable by clicking the "View History" tab near the upper right corner of each page. This record includes date, time, and User ID or IP address (more on this later), as well as a before-and-after picture of exactly what changes were made...
---

Grab a FREE copy at one of our distribution points to read the rest of the article.