Handmade Tales: Artists, Etsy, and E-Commerce
Three local creators share their paths to full-time success
November 18, 2020 at 2:15 PM
 Beach glass and handbags. Pottery and pet portraits. Windshield decals and woodwork. Earrings and urns. These are just a sampling of the items available from Erie-based Etsy sellers. As eclectic as these inventories may seem, their products do sell — sometimes by the thousands.
Still regarded by many as the stronghold of Internet arts and crafts (and facemasks in 2020), Etsy has lured in over 138 million unique buyers over its 15-year lifespan, with nearly 70 million active as of last quarter. Fueled predominantly by independent artists, artisans, and craftspeople, it has become the sixth-highest grossing e-commerce website in the United States (over $6 billion in sales through three quarters this year) and 19th largest in the world.
If you're looking to shop small without leaving the house this holiday season, Etsy is a good place to start. Businesses don't get smaller than most Etsy Shops, which are generally owned and operated by one or two people (usually women) who handle all aspects of marketing, production, and distribution. Shops cost nothing whatsoever to set up — to generate revenue, Etsy charges a small listing fee for each item and skims a percentage off the top of each sale (currently 5 percent).
Despite Etsy's popularity, accessibility, and variety, by no means is it the be-all, end-all of artistry and e-commerce. In 2020, the avenues for buying or selling unique, personalized, customized, homemade, and/or handmade gifts (all sought-after by Google Search users this time of year) online are many. According to three local women who've either partially or fully graduated from Etsy to running their own professional websites, the key is not painting yourself into a corner.
Three artists, three stories
Katie LeVan, Kaitlyn Page, and Heather Cash are all full-time artists and Erie residents who have successfully found markets for their work online. Their artistic styles and journeys, however, are as individual as the women themselves. LeVan's paintings showcase flora, fauna, and sweeping and majestic landscapes (and has provided cover art for the Erie Reader as well). Page, who won the 2019 Best of Erie Award for Best Fine Artist, specializes in the stunningly and psychedelically surreal. Cash, a 2016 40 Under 40 alumna, commands a cast of cute critters that have charmed their way into the hearts of children and adults alike.
Here is what they had to say about how they made their dreams reality, and how you can too (or at least how you might discover other really cool, original gifts from creators locally and around the world. Psst ... social media, interest groups, and online communities).
Matt Swanseger: When did you first realize you were creating something that people wanted to buy? Had you always had the intent to sell or were you encouraged to do it?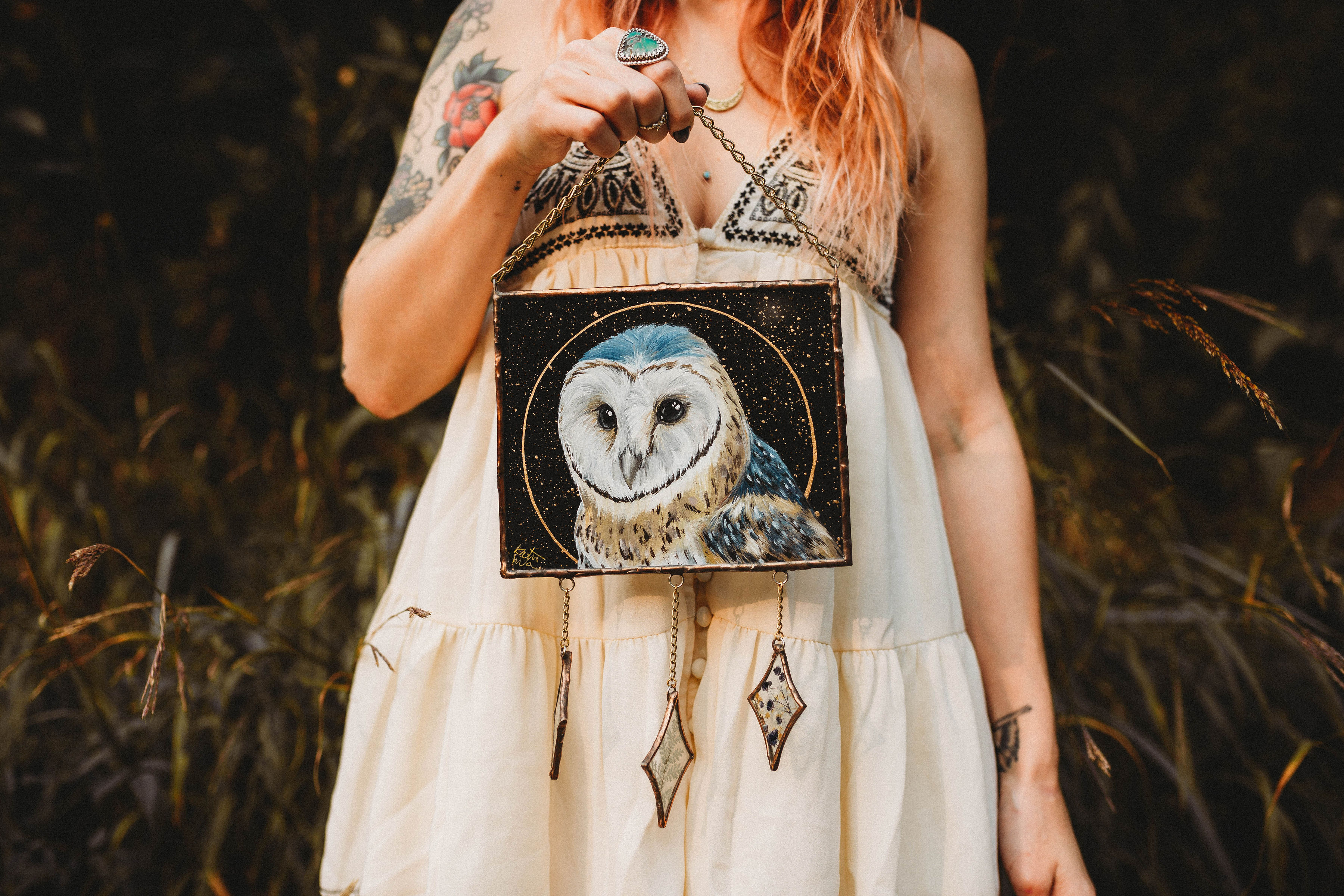 KatieLevan.com // Photo: photosbyjessee.com
Katie LeVan: I have been painting most of my life and pursued a degree in studio art from Mercyhurst University. As a graduating senior, I was part of a group show where I painted a bunch of birds. I have always felt that art can mean something, or it can mean nothing. It can simply be a statement of "this is what I want to paint in this moment, and that's enough of a reason to do it." To my surprise, I sold most of those birds that opening day. From that moment on, my artwork generated a small following that I have worked tirelessly to grow as I have grown.
Kaitlyn Page: When I originally began my journey as an artist, I had no real intent to sell my work. I was painting strictly for the enjoyment I got from it and I didn't see myself as working professionally in this field. It wasn't until my late teens (2014-ish), that I realized people were actually interested in purchasing what I was creating, whether that be an original painting, a commission, prints, etc.
Heather Cash: I was living in California, working as a programmer [for Google], and started painting just for the fun of it. I put some paintings up on Etsy just to see what would happen, and they sold within a week. It was so exciting that someone wanted to buy something that I made myself! From then on, I was hooked. I couldn't stop creating and listing [items] for sale.
MS: What channels or methods have you used to promote your work? Which approaches have worked for you, and which not so much?
KL: I opened up my own online shop outside of Etsy through Shopify at the beginning of 2020, which also marked the beginning of me becoming a full-time artist. Up until this year, I have sold locally at various markets, as well as a few out of town events, such as the Three Rivers Arts Festival in Pittsburgh. Alongside my years of doing in person art shows, I have focused on growing my social media following. I give out business cards to everyone, and try to direct as many people as possible to my Instagram or Facebook pages.
Instagram specifically has been a game changer for my artwork, especially when I started to be more conscious about the aesthetic and congruency of what I'm posting. It is so easy to form solid relationships and interact with both artists and those who take an interest in my work through that platform. I do my advertising almost exclusively through Instagram, which generates most of my sales on my online store.
KP: In recent years, one of the best ways I've found to promote my work online is via Facebook groups. Most of my traffic comes from these groups and I tailor my posts to get the best exposure possible. A short post with a single image captures attention much better than a long post with multiple images. It's all about striking while the iron's hot, which is why when I finish a new piece, I post it to as many places as possible with links to pre-order prints.
Much of my original exposure was organic because people shared my work and others saw it, including people with much larger followings than myself. I pushed my work on as many Facebook groups as possible, which is still what I do to this day. Instagram came into play later, after doing more research into algorithms and how to use hashtags. Today I use my Facebook Business page and Instagram as main channels to promote my paintings and merchandise.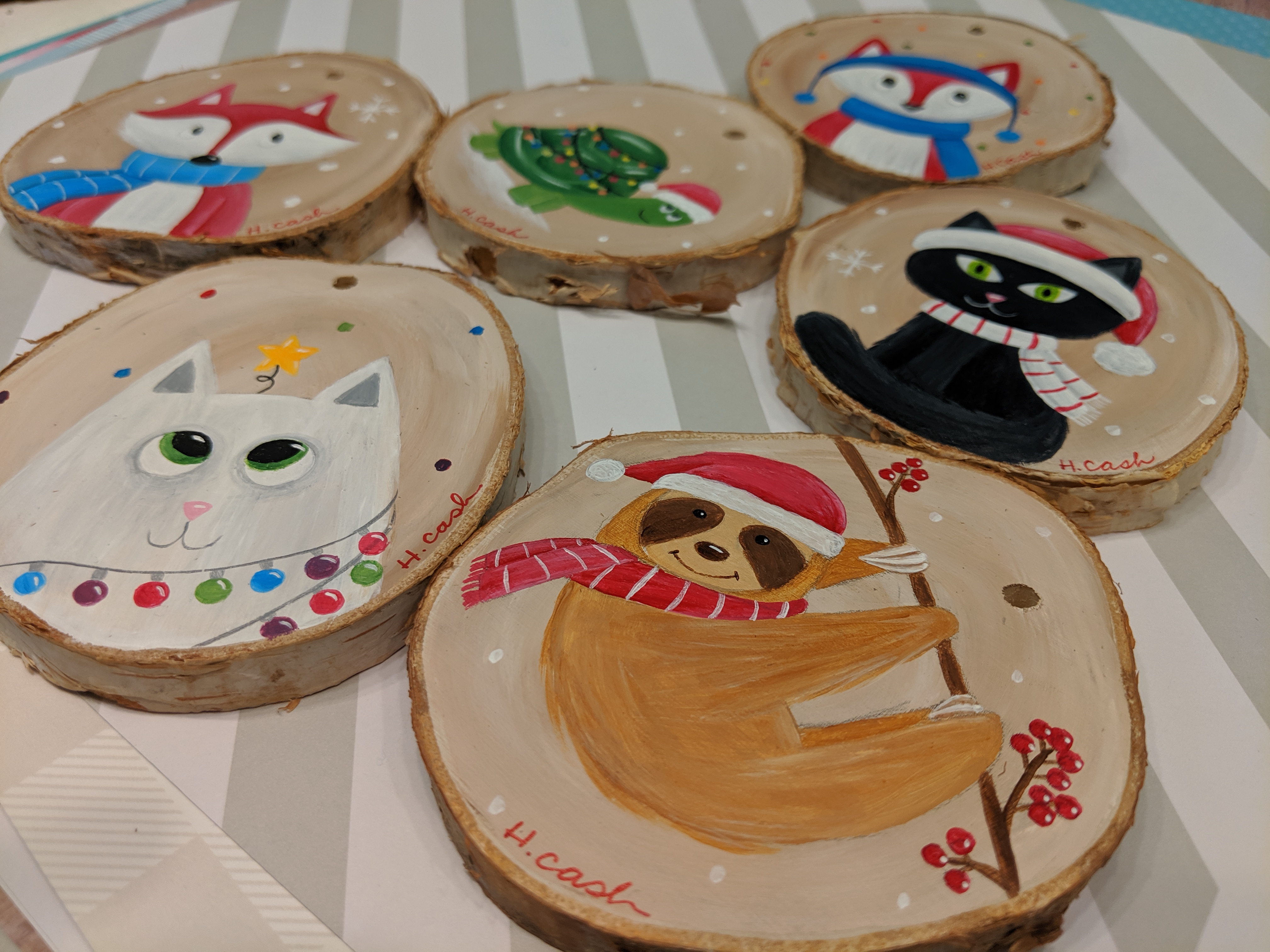 HeatherCash.com
HC: I find that word-of-mouth is the best promotion. Working with local businesses and nonprofits results in the best referrals for me. Facebook and Instagram are helpful, but I think every artist should have their own professional portfolio website. I know many people have found me through my website and it works out very well because they can easily browse through my full portfolio of work, as well as easily find contact information.
MS: Roughly what percentage of your sales are online? Has COVID had any effect?
KL: I would say at least 90 percent of my sales are online, especially since the beginning of 2020 when I started doing art full-time. I try to drop a new collection of artwork every month or two, generating interest in each collection with progress shots. When COVID hit, I wanted the space I take up on the Internet to be one that could be beneficial to others. I tend to be a very anxious person who has learned a lot of coping mechanisms over my years of overthinking. One of those was to watch process or time lapse videos of artwork being made, so I began to record and post everything I was making. Since doing this, I have been able to fully sell out collections in one weekend.
KP: At the present moment, over 90 percent of my sales are online. Last year I began vending at music festivals, and while that showed a lot of potential, it was unfortunately cut short by the emergence of COVID. I wasn't able to explore the world of vending again this year and I've already faced the fact that I might not be able to next year either. My online sales soared when quarantine went into effect and have roughly stayed the same since.
HC: Before COVID, about a quarter of the money I made was from online sales through Etsy. The other three-quarters was from teaching classes and commissioned work. Since COVID hit, however, my online sales have skyrocketed. Now I make all my money through Etsy. I've also been expanding my online sales to a few different other sites, like Teachers Pay Teachers (classroom resources) and RedBubble (print-on-demand).
MS: Roughly what percentage of your buyers are local? Have you been able to stand out to a broader audience?
KL: It tends to change with the seasons. During most of the year, maybe 5 to 10 percent of my buyers are local. This percentage jumps as we get closer to the holiday season, as I have a lot of repeat customers buying gifts and those who find me through word of mouth. I know my artwork is on a lot of people's wish lists, which is such a wonderful and humbling feeling. I find that people are really drawn to my artwork because the materials I combine are different than what most people are used to.
KP: I believe my work stands out to a broad audience. Less than 25 percent of my online sales are local, with the majority coming from out of state. Most of these sales come from places like California, Colorado, and other areas on the West Coast. I also make quite a few sales internationally, with countries like the Netherlands, Canada, and the UK being the biggest buyers.
HC: A very small percentage of my buyers are local. I have some work for sale at Sparrow Gallery, and before COVID I would sell at a couple different festivals throughout the year. But I've always seemed to do better at selling my products online. I get sales from all over the world, even Europe and Australia!
MS: I've always wondered how you put a price on art. How do you reconcile creativity as a commodity? Have you had to make any compromises as you've scaled up?
KL: Being an artist, you continuously have to navigate the challenges of your self-worth being tied to your ability to make a living off of both your productivity and things deeply connected to your soul. It can become very hard to part with pieces that you become so close to. Personally, I've found that gratitude has helped me to navigate through some of these difficult feelings. I am eternally grateful anytime someone wants what is essentially a piece of my heart to be something that becomes a part of their home. This keeps me grounded no matter what kind of sales I'm bringing in. Even one sale is still so meaningful to the maker. The only compromises I've had to make are with my time. I work extremely hard and have very little free time, but I am so grateful for the ability to create something unique within that space.
KP: It's evolving all the time. Prices for my originals have nearly doubled within a year's time. This is due to several factors, including supply and demand, others informing me that I should charge more, and simply how much someone will pay for something. Most of my original work now sells before it is even finished. It's what the market will bear. As more people have taken interest in my work, prices have risen to accompany this demand.
Time and detail also play a factor. When I first started out I based my prices solely on an hourly wage. As things grew, I started taking the size of the painting into account. Now I base my prices off the amount of detail and time rather than size. A smaller painting doesn't necessarily mean cheaper because I can still put just as much time and effort into a smaller piece as a larger piece. In fact, sometimes smaller pieces are even more difficult because I still work in the same detail-oriented fashion.
HC: It's definitely hard to price my work. I find it helpful to search online for others selling similar products, and try to use that as a baseline. Oftentimes I'll find that I was going to price my products for less than I should have! One thing I've found that helps is creating prints of my artwork. In the beginning, I only wanted to sell original, one-of-a-kind art, and not create prints. However, I've found it to be much more practical to scan in my artwork and create prints, cards, and bookmarks to sell. It means that a single piece of art can create so much more profit than just selling the original work would make — and you reach a much wider audience. Also, it's so satisfying to sell a print of a piece of art you made years ago — because the work is already done, and you're still profiting off of it! You just print out the artwork and mail it out, and you're done!
MS: What advice would you give to someone trying to make a living as an artist?
KL: Being an artist can be ugly and difficult, but you can do it, whatever "it" is. Explore, learn, grow, and for the love of everything please do not diminish yourself for anyone else. You are gold and I believe in you. You and only you can determine what your path is, and you absolutely don't need everything to be perfect to start walking down that path.
KP: Practice, practice, practice! In order to make it as an artist, don't expect success to come overnight. You must first refine your techniques and be inspired by your craft. Draw everyday, live your art, make creativity a priority in your life. Once you have the basics down and feel ready to start selling, try different avenues and find what works best for you. Focus on the details and don't get wrapped up in just trying to promote yourself. Create new and innovative work that captures the imagination of those around you. Create things that make people feel something, even if that feeling is a less than desired one. If you stand out amongst the crowd, people will start to notice. But in order to do this, it all starts with passion! Don't lose yourself to the idea of marketing.
HC: My main advice would be to not give up. It took me years to become fully financially dependent on my art. Don't just list 10 items on Etsy and then decide no one is buying them and give up — keep creating, constantly, and keep adding products. I have over 500 products in my Etsy Shop right now. You really need to have a lot of products in order to get seen amidst all the other sellers.
Also, don't put all your eggs in one basket. Find other ways to make money, like creating YouTube videos, creating print-on-demand products, teaching ... that way, when one avenue goes south, the other ones can pick up the slack. Lastly, don't ever think you're not good enough. There will always be people better than you. But, if you create enough products, you will make sales. Don't ask me how — there are tons of artists with better stuff than mine on Etsy — but somehow, people still buy my products. So just ignore those other people that you think are better than you — you can still be successful no matter what your skill level.
Discover more
Please do *not ignore our featured artists or their peers — their stuff is pretty cool.
Katie LeVan artist website: katielevan.com
Katie's local picks: Caelin McDaniel Pottery mcdanielpottery.com, Hypothetical Horror (typewritten poetry and collages, currently on hiatus)
Kaitlyn Page artist website: kaitlynpage.storenvy.com
Kaitlyn's local picks: Mercy Maclay (watercolors and inks) instagram.com/_mercymaclayart, Nate Gillies (graphic artist and cartoonist) facebook.com/Lawnsters, Leslie Hess (tattoo artist) andromedaerie.com, Douglas Bailey (reclaimed wood pieces and cutouts) bailey814.bigcartel.com, Katie LeVan (see above)
Heather Cash artist website: heathercash.com
Heather's local picks: Leanne Nipps (moody and spooky art and photography) leannenipps.wixsite.com/darkedgeart, Cathryn Stranahan (Ravenmaid Creative) cathrynstranahan.com
Matt Swanseger (mswanseger@eriereader.com) currently has no art for sale, but can be commissioned for fully improvised fingerpainting and stick person drawings on a limited basis.