Happy Valley Explores the Aftermath of the Sandusky Scandal
The Erie Art Museum's film series rolls on with Happy Valley.
March 18, 2015 at 6:00 AM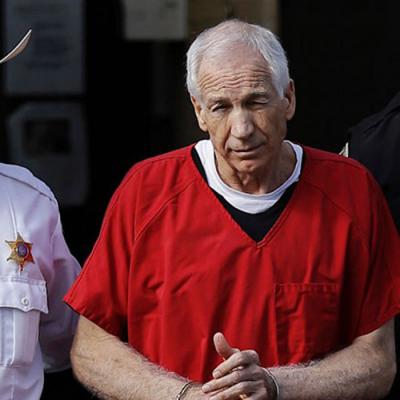 Amir Bar-Lev's recent documentary Happy Valley is at its most moving when it allows Matt Sandusky to tell his story.
As you probably know, his adopted father was found guilty of molesting several young boys in 2012. In the film, which will be shown at the Erie Art Museum as part of the current FILM series March 25, Matt bravely recalls how he initially defended the disgraced Penn State football coach, before deciding to share his own story of abuse with the public. There's a soft, remorseful quality to his voice that powerfully conveys the damage that's been done to him. And his story is an effective reminder that the Jerry Sandusky scandal is first and foremost a story of child sexual abuse, not a story about college football.
Happy Valley tries to steer clear of the media hysteria that surrounded the Sandusky trial in 2011. And when it shifts gears to the Joe Paterno controversy, Bar-Lev is stubbornly committed to maintaining neutrality. This isn't an ad hominem attack on a beloved sports icon, and it's not a puff-piece meant to redeem him either.
The film's sense of detachment is occasionally confusing. For example, ample screen time is devoted to an angry Penn State student named Tyler Estright, who participated in the campus riots following the decision to fire Paterno. Estright expresses contempt for a candlelight vigil held to honor Sandusky's victims, defending a cancelled pre-game pep rally with a bizarre sense of entitlement. Though his shallowness is astonishing, it's never clear what purpose is served by the interview. Why focus on an angry college kid instead of, say, a child psychologist?
As Happy Valley guides us through the major plot points of the scandal – the accusations, the firings, the trial, the uproar – Bar-Lev is careful to balance both sides of the story. Though this impulse is admirable, the film fails to offer a credible counter-argument to the conclusions of the mainstream media.
This becomes clear when the film turns to the "Freeh Report," Penn State's internal investigation of Sandusky. The documentary explores the same substantive evidence you undoubtedly saw on TV, suggesting either a cover-up or an astounding lack of concern among the school's top leadership. This is contrasted with the Paterno family's own "Clemente Report," which is more sympathetic to the beloved coach. But the latter report offers strikingly little to contradict the University's findings, and the film's inquiry seems strangely pointless.
Happy Valley concludes with footage of Matt Sandusky, now a father of four attempting to move on. When contrasted with the sexual abuse he experienced, the rest of the scandal seems trivial. A college football team's "lost innocence" may be unfortunate, but Sandusky's actions are downright reprehensible, and his victims are often pushed to the periphery in favor of sports drama. At times, Happy Valley indulges this impulse – and falls prey to the same hysteria as the media it criticizes. – Dan Schank
Film at 7 p.m., followed by a Skype Q&A with Director Amir Bar-Lev, Wedensday, March 25 // Erie Art Museum, 20 E. Fifth St. // erieartmuseum.org/events/film.html