Harrisburg Happenings: February 1, 2017
Concerns over gaming revenues, the closure of unemployment centers, and the growing opioid epidemic 
February 1, 2017 at 12:30 PM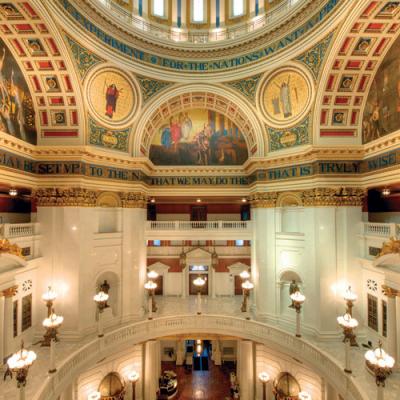 We are barely into the 2017-18 Legislative Session and several matters are already on the Senate's list of issues to be addressed.
One major issue that hits home in Erie County involves the "host fees" that casinos pay to counties and municipalities to offset the costs of the public services provided. The system was thrown into turmoil last September when the Pennsylvania Supreme Court ruled the Local Share Assessment (LSA) unconstitutional.
This is an issue that has wide-ranging impacts not only for Erie, but for communities across Pennsylvania. The General Assembly and the Wolf administration must work quickly to finalize legislation that will ensure the flow of funding from casinos to counties and local entities continues unabated. Presque Isle Downs & Casino is a vibrant part of the Erie community and a key attraction for visitors to the region.
It does, however, rely on a spectrum of community services. If the casino were to withhold its local share funding, the burden of additional financial costs would fall directly on taxpayers in many cases. That's what makes finding a legally sound solution to the issue a matter of utmost importance.
Another issue that is adversely impacting Erie County residents is Gov. Wolf's closure of Unemployment Compensation Service Centers in Allentown, Altoona, and Lancaster, after his request for a transfer of $57 million in additional funding from the Unemployment Compensation Fund failed to receive legislative approval before the end of the 2015-16 Legislative Session on Nov. 30, 2016.
That unilateral decision by the governor to close those three centers substantially increased the demand on the five remaining service centers: Duquesne, Erie, Harrisburg, Indiana, and Scranton. This has unfortunately resulted in thousands of unemployed Pennsylvanians being forced to stand for hours at CareerLink centers waiting to receive services.
There is much more to this story. Funding was available to keep those service centers open through January, which makes it somewhat surprising and disappointing that the administration decided to close them down over the holiday season.
In addition, the fund transfers that the governor wants extended were for a fixed four-year period to support a technological upgrade that (ironically) was intended to upgrade the technology used to process unemployment compensation claims and ultimately lead to the phase out of the service centers.
Even so, the Legislature gave the governor's request for an extension serious consideration last year, and we may still agree to an extension in the future. However, one of the major sticking points up to now has been the Wolf administration's failure to answer basic questions about the need for the transfer and its failure to adequately explain why the technology upgrades are not finished.
It is also important to know that this transfer would take resources from the fund used to pay unemployment compensation claims, which further exposes the fund to insolvency and could ultimately result in an increased tax burden to employers and employees.
While we continue to work on this issue, my office is committed to providing assistance to unemployed workers who are seeking the benefits they deserve.
One of the ongoing issues we must address is the opioid epidemic in Pennsylvania. A July 2016 report from the Drug Enforcement Administration Philadelphia Field Division's Intelligence Program indicated that more than 3,300 people died from an overdose in Pennsylvania in 2015. That same report cited a 23.4 percent increase in the total number of overdose deaths in Pennsylvania from 2014 to 2015. All indications are that we will see an increase in overdose deaths during 2016.
I am open to considering legislation, policy changes, and development of new and innovative services – whatever it takes to stop this ongoing tragic situation.
We are working with the administration, law enforcement officials, healthcare professionals, and community leaders to develop solutions to curb those numbers. I am open to considering legislation, policy changes, and development of new and innovative services – whatever it takes to stop this ongoing tragic situation.
Perhaps the biggest legislative challenge ahead of us is the finalization of the annual state budget. That exercise will begin on Tuesday, Feb. 7, when Gov. Wolf addresses a joint session of the General Assembly to unveil his proposal for Fiscal Year 2017-18, which begins on July 1. I will study this proposal closely, especially the funding dedicated to the Erie School District. Next month I will discuss the governor's proposed budget and its impact on the state and our region.
I encourage local residents to visit my website, senatorlaughlin.com, and my Facebook page, facebook.com/senatorlaughlin/, to keep up-to-date with state government news and learn more about state services and agencies.