Harrisburg Happenings: October 12, 2016
Public health and the health of local budgets are both at stake throughout Pennsylvania.  
October 12, 2016 at 2:15 PM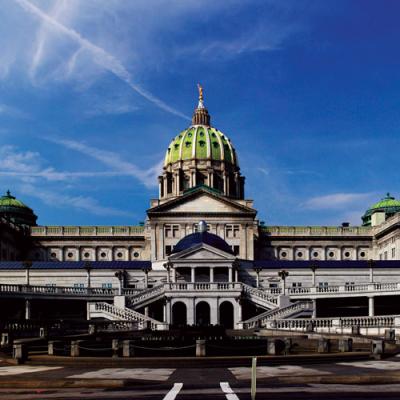 "We have heard too many horror stories about high school athletes whose futures are robbed by addiction that begins with prescription pain killers." 
– Gov. Tom Wolf
When Gov. Tom Wolf addressed the members of the Senate and the House of Representatives on Sept. 28 as part of a joint session of the General Assembly, he made one thing vividly clear: Pennsylvania will be the phoenix that rises from the ashes of opioid addiction.
Likely the largest public health crisis that this commonwealth has ever faced, the heroin and opioid addiction epidemic claims lives in Pennsylvania each and every day. 2015 saw almost 3,500 of our family members, our friends, and our neighbors lose the battle to opioid addiction. And more lives will be lost before we truly have a handle on how to wage the most strategic war possible.
Addiction can no longer be an invisible disease, a concealed problem. Invisibility translates into opposing acknowledgement and acceptance; a resistance to seeking treatment. Addiction is, after all, a disease like diabetes or cancer or epilepsy, all with accompanying courses of treatment that are tailored to meet the needs of individual patients. Addiction then moves into recovery.
Addiction can enter every home in our commonwealth – quickly, silently and possessively, having a stranglehold with the strength of an army. Addicts are not street junkies. They live in our homes, work in our businesses, and sit in the same pews on Sunday mornings. They are us and we are them.
We cannot legislate our way out of this – nor can we arrest our way out. Opioid addiction needs to be treated like the public health crisis it is, and provided every available resource. To say that lives depend on it is not an exaggeration.
Switching gears now, I want to address a recent ruling by the Pennsylvania Supreme Court that impacts communities statewide contiguous to casinos. The ruling requires the General Assembly to develop a fix – within no more than 120 days.
At issue is the County Local Share and the Municipal Local Share that casinos pay, translating into $11 million to Erie County and $1.2 million to Summit Township, respectively.
At issue is the County Local Share and the Municipal Local Share that casinos pay, translating into $11 million to Erie County and $1.2 million to Summit Township, respectively. Of that $11 million to Erie County, $5.5 million is used for grant-making by the Erie County Gaming Revenue Authority (ECGRA); and Summit Township has seen over $12 million in revenues since the opening of Presque Isle Downs & Casino in 2007.
The Court ruling invalidated the Local Share on the grounds that it violates the uniformity clause, therefore nullifying part of the Gaming Act and making it the responsibility of the Senate and the House to resolve.
Both Summit Township and Erie County project the use of these funds in their 2017 budgets, and I can confidently assume the majority of other host municipalities and counties do, as well.
There is a solution to be found within the General Assembly inside the 120-day timeframe, one that I will share in a later edition of Harrisburg Happenings.
As we are merely weeks away from the November general election, it is important for all of us to be doing our homework about candidates at every level of government. The decisions we will make are too important not to.
Senator Sean D. Wiley can be contacted at SenatorWiley@pasenate.com, and you can follow him on Twitter @SenatorWiley.