It's a Different Day in the Neighborhood
Through the haze of COVID-19 closures, local businesses still tie communities together
March 24, 2020 at 11:25 AM
Digging through boxes of books I am still hoarding from my childhood home, I found "A New Catechism," from my freshman theology class at Marquette University.
The book is mildewed, but my memories are fresh. Paging through the chapters, I thought about how my roommate and I had joked about the questions our theology professor posed all those years ago: "Who am I and what is the meaning of life?"
Those questions seemed hilarious in 1969, but not so much today.
In fact, a few days before I tripped down memory lane by unpacking those boxes, I had an insight during my social-distance walk: I needed to decide, anew, who am I?
The Erie County Library had closed on March 14, so for now, I'm not working as a per-diem library clerk at the branches.
The NCAA "March Madness" basketball tournaments were canceled, so I can't be a sports nut, rooting for Marquette to win at least one game to advance in the DI bracket and, perhaps, for the Gannon University women's team to win it all in the DII competition.
Baseball is on hold, so I won't be ushering for the Erie SeaWolves at what would have been the season opener on April 16.
Of course, I'm still an elected official. I've become enough of a politician that when Erie City Council met on March 18, I decided to attend remotely "out of an abundance of extreme caution," due to my age (68) and my health history (I had a heart attack two years ago). My husband and I had also driven back to Erie from New York City on March 9, two days before the World Health Organization declared that coronavirus a pandemic, so I had holed up at home since that trip. 
But despite my various part-time jobs and avocations, in my heart I am still a journalist; that's my corona persona. 
"Biggest story since I don't know when and nobody can leave their house to cover it," Charlie Pierce, a friend from J-school, replied to me on Saturday after I texted to congratulate him on winning our alma mater's big annual honor, the Byline Award. I promised him that I'll persuade as many of our college newspaper colleagues as I can to attend his awards ceremony, now rescheduled for 2021. But am I pressing my luck to plan that far ahead at my age?
Charlie, a columnist for Esquire, covers big political stories. You can follow him on Twitter @CharlesPPierce for biting tweets about the guy he identifies as the "*president" – the asterisk is deliberate.
On the other hand, I'm a journalist who looks for stories in Erie's backyard. With the perimeters of my "backyard" rapidly shrinking, I set out to document what I observed in my immediate neighborhood.
I began last week with a two-mile round-trip walk on West Eighth Street, between the Country Fair at the Bayfront Parkway and Stairways Behavioral Health at Pittsburgh Avenue, which marks the boundary between the city of Erie and Millcreek Township.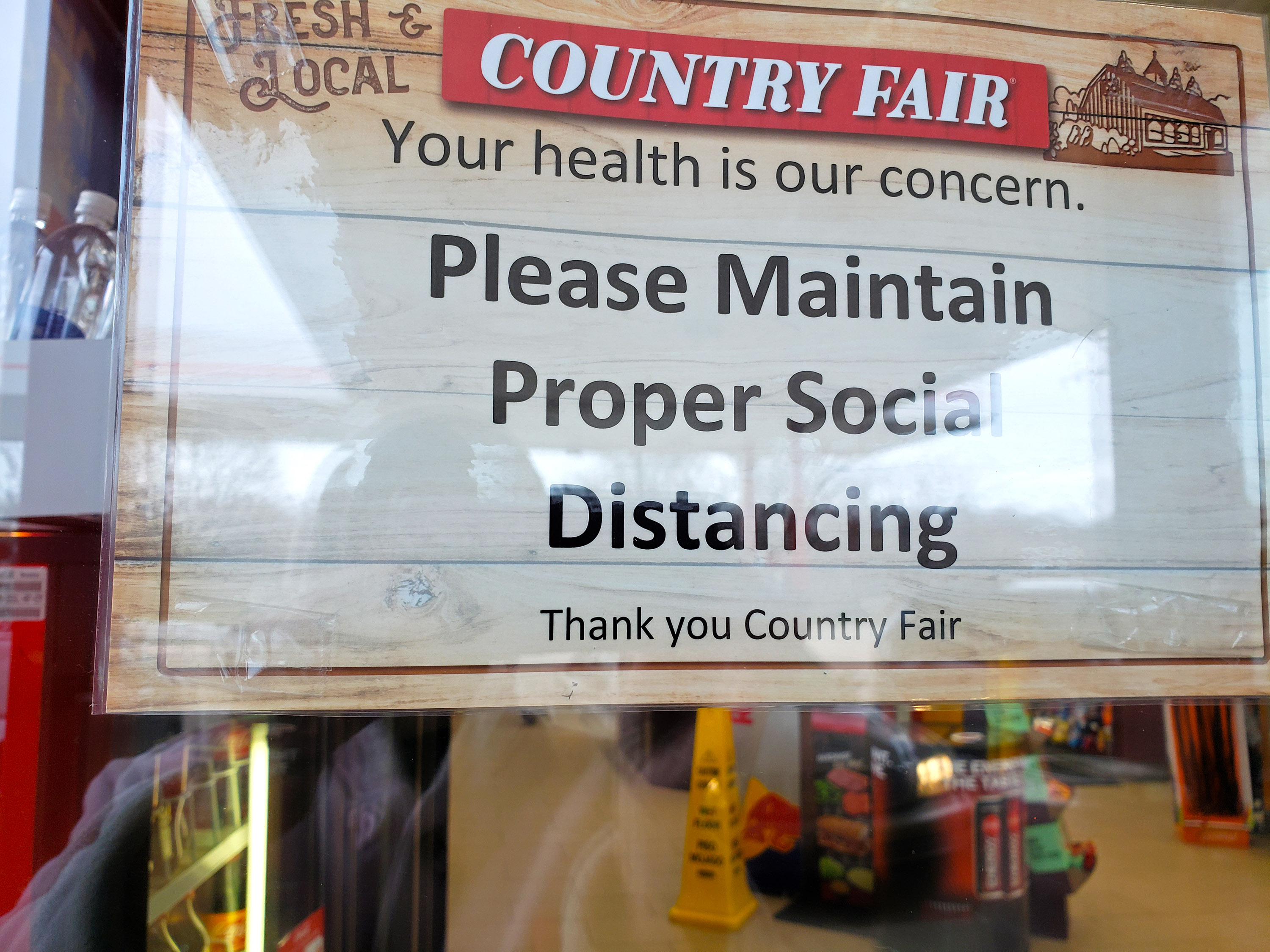 Country Fair at West Eighth Street and the Bayfront Parkway spells out the rules for customers.
On my first venture, I felt like it was the walk of privilege because, along that route, there are stores that offer treats and treasures: chocolates, gourmet popcorn, fragrant cooking oils, distilled alcohol, home furnishings, dog grooming, and hair styling.
I grew nostalgic for the commerce of my youth – Frank Church's butcher shop, Frontier Bakery, Ted and Martha's penny-candy store, Sanida's soda fountain, which sold cherry phosphates and hard-packed ice cream cones
When I retraced my steps on Saturday and Sunday, it hit me that those old businesses had been replaced by dozens of new ones, employing people, paying taxes, priming Erie's economic engine. These entrepreneurs write insurance policies, do tax returns, bake pizzas, make hummus, scramble omelets, trim hair, clean teeth, perform eye exams, treat earaches, customize T-shirts, create multi-media ads, mail packages, arrange flowers for weddings and funerals, place people in temp jobs, provide physical therapy, design homes, sell houses, and provide mental health counseling. 
Nearly every building that housed the businesses when I was a kid has been repurposed over the years into a new enterprise, although some still serve their original functions. Shriners Hospitals for Children opened in 1927 and cared for polio patients when I was young. Icould hang on my back fence and talk to the kids in cribs on the sundeck. It's is still there, but for outpatients now. 
So is Harding Elementary School. It dates to 1924 and has been expanded several times since I went to kindergarten there.
This stretch of West Eighth Street is also home to two Country Fairs, one near the Bayfront Parkway and Store No. 1, the original one in the former Meadow Brook chain, at 1939 West Eighth Street. Of course, back then, you couldn't pump your own gas anywhere – certainly not at a convenience store. That was the job of service station attendants. If my memory is right, there were three gas stations at West Eighth and Kahkwa Boulevard. I guess the only reason there wasn't a fourth one was because one corner was reserved for the Erie Bureau of Fire's Engine Co. No. 11 (still there).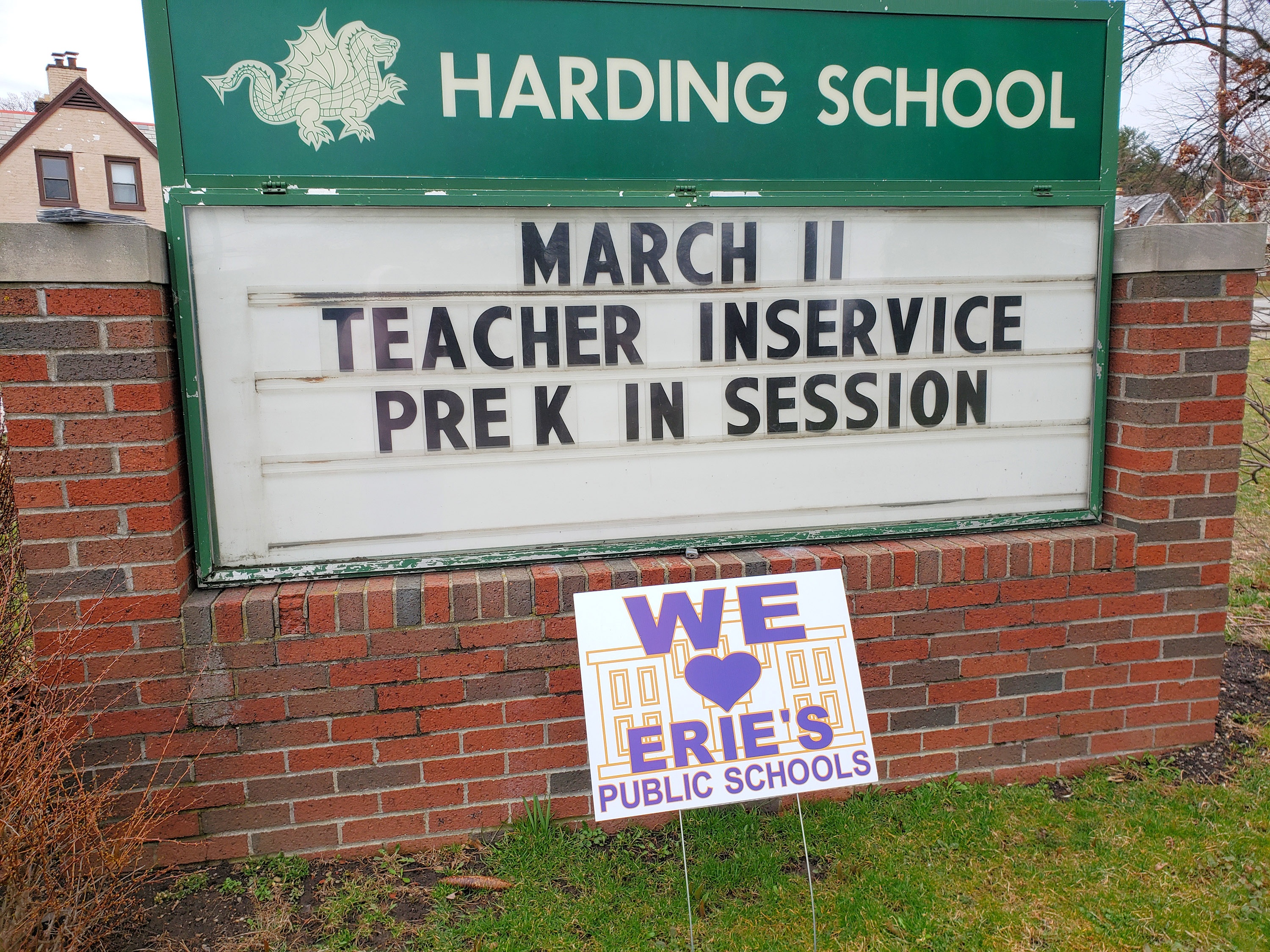 This sign outside of Harding Elementary School, at West Eighth Street and Lincoln Avenue, is frozen in time. Schools are now closed into April.
As I window-shopped and reminisced, I snapped photos and absorbed inspiring messages in hand-written notes and flashing LED signs. These business owners are serving take-out meals, setting up deliveries, and arranging shipping. They're apologizing for inconveniences and thanking customers for their patience and patronage. "We will get through this together," reads one typed note. "Better times ahead" promises a scrolling electric sign. They explain why their priority is protecting public health.
It was hard to settle on a favorite message but the one at the Lager Café, at West Eighth and Beverly Drive really hit home. The tavern is closed, the owner wrote, for the safety of his family, his crew and his customers. "I would rather be wrong this way than stay open and be wrong the other way," he wrote.
The most poignant image I shot was at Pressed Books, Coffee, and Gifts. That's where I saw this book displayed: "A Beautiful Day in the Neighborhood. The Poetry of Mister Rogers." 
Mr. Rogers was an ordained minister. I'll follow his catechism any day.
LIZ ALLEN is grateful that she studied "A New Catechism," also known as the "Dutch Catechism," in college because it introduced her to the Catholic social justice tradition. She is, however, still trying to figure out the meaning of life. You can reach her at lizallenerie@gmail.com