John C. Lyons: The Future of Film in Erie
From filmmaker to curator to industry visionary, John C. Lyons is putting Erie on the film map.
February 5, 2014 at 7:30 AM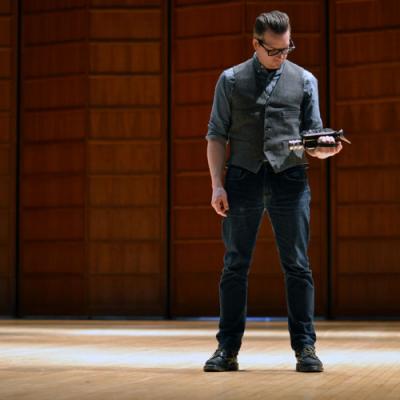 At first glimpse, John C. Lyons is an unassuming guy. He's quiet, with a slender frame and narrow shoulders – someone you've stood behind unknowingly in line waiting for a latte. But get close enough, and you start to notice the distinct features. His hipster crop of hair, buzzed tight on the sides with a gelled mane combed back on the top, and the trademark vintage thick-framed black Ray Bans of someone you've stood behind in line waiting to snag a Magic Hat No. 9 and see an up-and-coming indie act in a dive bar.
We're sitting close enough at Lavery Brewing Compnay on a cold Wednesday evening that behind those glasses I can see his steel-blue eyes light up when he talks about something that matters to him because it matters to his city and it matters enough that he's laboring for free out of love to see it lived out.
"Film matters – period," he says, leaning in closer as if telling me a secret he's surprised is a secret. "It's truly an amazing art form, and we have a great opportunity for it here in Erie."
Maybe that's why he's leaning in, treating the topic like it's taboo or a secret that only still a few have figured out. It's no mystery that even just five years ago, independent films were hard to find in Erie. And it's no mystery that the times, they are a-changin', as when once there were three, then two, Erie now has just one lonely Cineplex perched on Upper Peach Street.
Fast-forward to that cold Wednesday night and why I'm meeting filmmaker John C. Lyons. Unfamiliar with his work? Type his name in the popular film website IMDb. You'll see credits for director for 2013's There Are No Goodbyes, 2006's Schism, and 2005's short films BOGO and Hunting Camp.
You'll also see that he is a small-ish guy, standing at 5'10". More importantly, though, you see he's from Erie, and you'll see that he's putting Erie on the film map.
But more than just creating art – producing scripts, assembling casts, directing actors, editing reel after reel, and then slinging promotion – John is directing Erie's film future through his endeavors with the Film Society of Northwestern Pennsylvania.
"John has been so passionate about making Erie be a place that loves film and supports filmmakers," says Erika Dauber Berlin, president of the Film Society. "He has a long history in the community of working with people for film – he resurrected a nonprofit to be an active force in the community."
Rewind to three years ago. The Film Society existed, but it got shelved and consequently languished and began collecting dust.
"Somebody's got to pay attention to the details," Erika says over the phone. "John's extremely detailed-oriented and motivated. He's on-task. He's a filmmaker and [serving as the Film Society's executive director] is a volunteer role for him. But he's proven himself to be capable of both with just as much energy and passion for each."
John paid attention to details, took the Film Society off the shelf, signed on as its executive director, blew the dust off of the nonprofit, and got the reels cranking again. With Erika's help as president, along with help from additional board members like Jim Wertz, the Society is already exceeding its three-year goals.
"We wanted to form a board and develop a vision," Erika explains. "And here we are already – a developed, capable board, a film series, major fundraising events, and new projects on the horizon."
With a strong board, John could easily do his directing thing to make a masterpiece of Erie film culture: Assemble the crew, give directions, frame the vision, and execute in hopes of making Erie an exciting place for film.
The Film Society is currently working with various regional film organizations – Bad-Ass Film Festival, Edinboro Film Series, Eerie Horror Film Festival, Langer Film Series, Lyons Den Productions, MoreFrames Animation, and Spirit Quest Film Festival – as well as forming a relationship with Tinseltown through the promotion of its CineArts series and continuing to develop the FILM at the Erie Art Museum film series.
It's that kind of synergy that leads to John saying things like Amy Seimetz without much context in between sips of beer.
"Getting her in Erie… that was a big deal for me."
Featured in the FILM at the Erie Art Museum's "Women in Film" season, Sun Don't Shine caught critics attention early and fast, and it notched a "best director" award in Seimetz's belt at the SXSW Film Festival.
So showing her 2012 breakout movie at the weekly film series held each Wednesday during a given season at the Erie Art Museum was a big deal for John as the curator. But an even bigger deal? John lined up the indie-movie darling for a Q&A after the screening via Skype and welcomed the audience to remain afterwards to ask her questions about her film and her work.
"I love that people stick around after the screenings," John says. "It shows that people in Erie really do care about film and the art of film."
But Seimetz isn't the only filmmaker to either appear in-person or via the Internet in Erie. Lyons has brought the likes of Triple Divide filmmakers Joshua B. Pribanic and Melissa A. Troutman, Middle of Nowhere's star Emayatzy Corinealdi, director of The Mayor Jared Scheib, director of Chasing Ice Jeff Orlowski, and lead special-effects developer for Beasts of the Southern Wild Matt Thompson – all while continually curating seasons' worth of films for the series.
And just because a renowned or emerging filmmaker can't fly in or Skype in, that doesn't mean the conversation at FILM isn't happening.
"Having a discussion post-film is critical," John explains. "It goes beyond sitting in a chair and passively watching; it allows the viewer to ruminate, digest, get a real taste for what they just experienced."
And that discussion stems from engaging selections – something John takes very seriously.
"I'm constantly screening films," he says. "At least one a day if not more to find out what I want to bring to Erie."
Amongst his heavier hitters, he's brought Blue is the Warmest Color, Upstream Color, and Sound City. And with the upcoming kickoff of FILM's new season, he's tightlipped about the full lineup (something that he'll reveal opening night Feb. 12), but he's excited for The Broken Circle Breakdown, which plays that night.
"This film came completely out of left field for me. I was blown away by its heartbreaking love story and how closely the plot's DNA intertwines with the music," John explains. "And man, that beautiful Bluegrass music plus powerful lead performances – where the actors sing their own tunes – the drama, romance. A film of reason versus religion. Of life, parental love, death, America, and the music unites these two very different people. Whether or not it wins the Oscar, it's a must see."
The excitement he has for the kickoff is palpable, something you can hear in his voice and see in his eyes – the relentless energy of someone constantly driven to create.
"He seems to have tireless energy for this endeavor," says Jim Wertz, the director of the Greater Erie Film Office, over the phone. "It's good -- it keeps us focused and motivated."
Jim is spearheading one of John's new initiatives that falls under the umbrella of the Film Society: The Greater Erie Film Office.
"Pittsburgh's a great city to film in," John says. "But so is Erie. We have four seasons, the lake, woods, an urban center with industrial boom and bust – so many things that can be of great use to filmmakers."
The Greater Erie Film Office is the conduit drawing filmmakers to the Erie region, as the office can help facilitate everything from providing general knowledge of the landscape and terrain to production assistance to helping filmmakers know where to eat and sleep while in the area.
While it'll be unlikely to see a Dark Knight Rises land in Erie, something like a Perks of Being a Wallflower isn't that big of a stretch.
"The 'million-dollar' movies could really do well here," he says. "The Little Miss Sunshines of the industry could easily be very Erie when it comes to backgrounds.
"And so few filmmakers actually know about the tax credit," John continues, again leaning in, as if divulging a secret.
But it's open knowledge: Pennsylvania offers a 25 percent tax credit to films that spend at least 60 percent of their total budget within the state. And while so far, John says he seems to be one of the few in the region taking advantage of that, he's not looking to keep that to himself; rather, he's looking to help share the wealth to grow the film industry in Erie.
And, every time he talks to an Amy Seimetz or a Jeff Orlowski or another acclaimed filmmaker, he's pitching them Erie, serving as its ambassador of film and encouraging them to consider filming their next project in The Gem City, helping them to see that the city that served as the backdrop of his films could easily serve as the backdrop of theirs, and really, that independent film in Erie shouldn't be a kept a secret.
For more information regarding the Film Society of Northwestern Pennsylvania, as well as the kick-off event for FILM at the Erie Art Museum, visit: FilmSocietyNWPA.org.
Ben Speggen can be contacted at bSpeggen@ErieReader.com, and you can follow him on Twitter @ERBenSpeggen.