Journalism In Peril
Journalists are being silenced in many ways, some more brutal than others. The damage may be irreparable. 
August 19, 2014 at 11:22 PM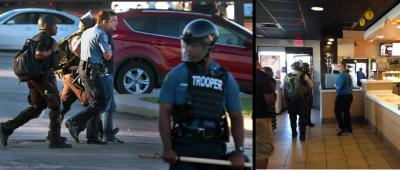 Journalism is in peril.
We'd like to imagine that infringement upon freedoms of speech and freedoms of the press only take place outside of the United States.
We could point to a video released Tuesday by the Islamic State that shows the beheading of a man believed to be James Foley, a freelance journalist who was abducted in Syria in 2012.
The incident highlights the danger in Iraq and the perversion of religion and justice being carried out by a well funded and heavily armed group of terrorists.
But such travesties aren't just happening abroad. It's not simply someone elses problem. It belongs to all of us.
As the formerly quiet town of Ferguson, Missouri continues to unravel in the national spotlight, police in Ferguson have begun what can only be called an assault on public information - an assault on journalism.
Since the unrest began after the shooting death of Michael Brown at the hands of police at least 11 journalists have been arrested in Ferguson. It started last Wednesday (August 13) when reporters for the Huffington Post and the Washington Post were arrested inside a Ferguson McDonalds for recording police. The two were released 45 minutes later without being charged.
Three other journalists were detained over the weekend.
Between Monday and Tuesday (August 18-19),  another six journalists were arrested while covering confrontations between demonstrators and police. Some of the journalists were held for several hours before being released without charge.
When questioned about the arrests during a press conference Tuesday, Missouri Highway Patrol Captain Ron Johnson argued that it is difficult to separate the journalists from the rest of the pack.
"In the midst of chaos, when officers are running around, we're not sure who's a journalist and who's not," Johnson said. "And yes, if I see somebody with a $50,000 camera on their shoulder, I'm pretty sure. But some journalists are walking around and all you have is a cell phone because you're from a small media outlet. Some of you may just have a camera around your neck."
So basically journalists can use expensive equipment as a literal "get out of jail free" card as they attempt to salvage their small piece of the first amendment.
Moreover, the official bias for the brevity and oversimplification propagated by broadcast journalism is sure to keep social scientists busy for years.   
Nevertheless, the assault on professional journalists in Ferguson is part of a larger attempt by state and federal agencies to limit public information about hostile and/or potentially embarrassing events.  
When journalists go to war zones like Syria or Iraq, they expect to face the threat of physical violence and the suppression of information. But a new chapter is being written in Ferguson. Some of the reporters arrested in Missouri are veteran reporters with years of conflict-oriented reporting and they've never seen this before. 
"This was a very new experience," says German reporter Ansgar Graw. "I've been in several conflict zones: I was in the civil war regions in Georgia, the Gaza strip, illegally visited the Kaliningrad region when travel to the Soviet Union was still strictly prohibited for westerners, I've been in Iraq, Vietnam and in China, I've met Cuban dissidents. But to be arrested and yelled at and be rudely treated by police? For that I had to travel to Ferguson and St. Louis in the United States of America."