JRL RIP
Looking back on the life of an Erie sports icon. 
October 29, 2016 at 3:15 PM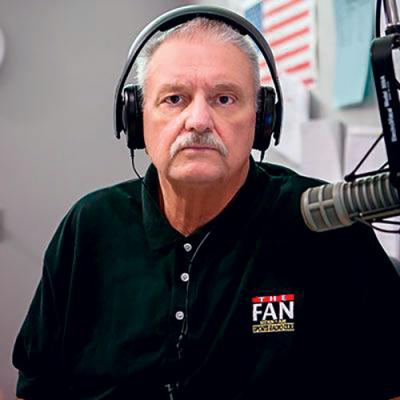 He's quite a character.
That's what most folks would lead with when I told them that I'd regularly go on air with Jim LeCorchick to talk politics – something I'd been doing for the past three years with the Erie Reader. Although I'm sure I'll hear the former for years to come, it's with heartache that I'll never say the latter again, since James Richard LeCorchick went to meet his Maker on Thursday, Oct. 13.
His death was unexpected, a heart attack in the early hours of the morning when most of us were just then tossing off the sheets, or slugging down the first cup of coffee, or trying in some other way to get the day started. Jim had been at work an hour already. He had done it for years that way.
For many of us, that some-other-way-of-starting-the-day began by tuning into WJET radio. And whether you were a lifelong listener or only heard him once, you'd find there the love and hate of Jim LeCorchick: sports and politics.
"A walking encyclopedia of sports knowledge," folks would say. But he never bragged about it. Never flaunted his talent for remembering even the most obscure stat from a game played decades ago (I swear he'd even have remembered the weather, down to a degree, for most games). Genuinely humble, if you ask me. And genuinely in love with sports and in awe of the athletes who played them.
"Pigs" is what he'd say, often and loudly, when talking politicians. He even recently apologized on air to pigs for associating them with politicians. Jokingly – I think – he would brag that he wasn't a regular voter – and at times couldn't remember what his party affiliation was. He knew how to rile up callers, firing up his audience to give a damn about the people making decisions that affect us all. A smart guy who knew how to work the mic – and his audience.
Erie knew James R. LeCorchick by many names. James R. JRL. Jim LeCorchick. Jimmy LeCorchick. Sometimes just Jimmy. At the Erie Reader, we knew him as "ER Sports," a column he began authoring in January 2014 and continued through 2015. Before that, we knew him as the guy who invited the Reader editors and writers on air back in 2011 to talk politics, sports, and Erie – things we were all passionate about.
Although our political philosophies misaligned at various points and I'd often get into heated debates on air with him, we could always agree to disagree without being disagreeable. I admired his fire. I'd like to think he admired mine, too. And if things did get too heated, at least we could talk sports – and about how damn good some local pizza had gotten.
James R. wore many hats in Erie – editing the Lake Shore Visitor, working at the Erie Times-News and Mercyhurst University, jockeying behind the mic in the studio or on the road, rooting for Gannon University and Cathedral Prep, penning a column for an alt. weekly. But the hat he wore best was Erie.
Cheerleaders who aren't afraid to be critical because they believe in the potential of what they love are few and far between. And now in Erie, we're one fewer.
We all knew Jim as an Erie guy – a guy who'd opine about the region's future, praise its sunsets, grumble about its winters, browbeat its local politicians and quickly offer his opinions, be seen at its plentiful free events, without reserve shell out a few dollars for the paid events, and always be willing to greet new friends with a smile – especially his faithful companion Gypsy, a border collie mix he adopted after the shelter brought her to the studio that became her second home.
I'll miss hearing Gypsy barking on air. I'll miss Jim's barking, too.
Cheerleaders who aren't afraid to be critical because they believe in the potential of what they love are few and far between. And now in Erie, we're one fewer.
Ben Speggen can be contacted at bSpeggen@ErieReader.com, and you can follow him on Twitter @BenSpeggen.