Kayaking the Lagoons
Last week Jay Stevens took you paddleboarding at PI. This week Lora Zill takes you kayaking.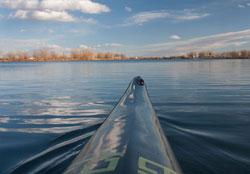 With a tiny rasp of grass, a slight crunch of small stones, and then a swish over sand, dozen kayaks slide into the water of Graveyard Pond in Presque Isle. One Wednesday morning I join kayakers from the Erie Outing Club to paddle the increasingly popular boating and fishing area of the Presque Isle lagoons. Outdoor Industry Association surveys indicate large increases in the number of kayakers from 2006-2008. Combine kayaking, or "paddling," with a natural preserve such as the Presque Isle lagoons and you have a scenic recreational opportunity enjoyed by many local enthusiasts.
The Erie Outing Club counts themselves among those enthusiasts. Roger Reinnagel, one of the founders, kayaks in Florida but prefers the hills, foliage, and fresh, moving waters, of Pennsylvania. "These lagoons are ideal for beginning paddlers because they're protected. It's a natural environment for people who like natural living. It's very inexpensive and the only fuel is Gatorade." He would recommend paddling the lagoons spring through mid summer. "Around August the lagoons get choked with weeds and your kayak will glide through but your paddle can get caught so it's not as much fun."
A good place to launch is on Graveyard Pond where paddlers can use their own equipment or rent a kayak to try the sport. Legend has it that this area was a final resting place for many of Commodore Oliver Hazard Perry's men in the winter of 1813-14. Common map turtles now rest and sun themselves on the dead tree trunk along the shore. The common map turtle is a frequent sight and its distinguishing feature is the maplike pattern of lines on its upper shell. The kayaker might also see painted turtles that can be identified by yellow stripes and red markings on their heads. These turtles prefer aquatic habitat and basking on "turtle trees" that jut out into the lagoons. Kayakers need to approach them quietly and slowly, as they're shy and will quickly slide into the water.
Today Doris Allen of the Erie Outing Club guides me through the channels and tall vegetation. The lagoons were originally a series of individual ponds that were connected by dredging in the 1930's to provide more boating and recreational opportunities in Presque Isle. According to Brian Gula, an Environmental Education Specialist of the Department of Conservation and Natural Resources at the Tom Ridge Environmental Center, every imaginable sized boat was used on the lagoons. Then in the early 1990's the policy was changed and the area was listed and managed as an ecological preserve. Recreational use changed from powered to unpowered (kayaks, canoes, etc) and non-combustible engine powered boats.
On leaving Graveyard Pond we pass Boat Landing #7 on the left. The Boat Landings were developed for large boats when the lagoons were created. Now they are used mostly by hikers, picnickers and fishermen and are accessible by walking trails along the shore.
Gula notes the accessibility to nature, quiet, and feeling of solitude one enjoys from spending time in the lagoons. "The people who get out here and enjoy them understand how valuable our natural resources are."
Boat Landing #6 is also on the left as you glide into Big Pond. The water lilies are just beginning to rise from the water, and soon will show their white flowers. Spatterdock are also beginning to emerge, and their ball like flowers already glow a bright yellow. Phragmites, the "common reed," line the shore along the lagoons. They thrive in wetland areas, especially disturbed places such as ditches and dredged areas. Phragmites can be a problem as they reduce diversity by crowding out native plants and vegetation. Another invasive species is purple loosestrife which has also helped to change the ecology of the system.
Long Pond is next, with three Boat Launches (#3, 4, 5) along its length that allow for nice views of the water and habitat from the shore and are also accessible by a walking trail.
A native plant is pickerelweed, which appears in spring. Its blue flowers bloom above arrowhead shaped leaves through the summer. Swamp roses will bloom later, and right now, their edible rose hips promise coming scented pink flowers. It's a little early to see yellow irises blooming.
Other vegetation kayakers will see along the shores are eastern cottonwoods that prefer sandy soil, black willows, some maples, arrowwood shrubs, and red osier dogwoods, which bloom in May and June, producing white flowers in flat clusters and bluish white fruit favored by birds. Arrowwood also produces flat clusters of white flowers in late spring and early summer but it's distinguished from dogwood by its red fruit.
In the Long Pond we see a beaver lodge near Boat Landing #4 and all is quiet around it. Gula says that because beavers are nocturnal animals, early morning paddlers have a better chance of seeing them. We pass another quiet lodge just before gliding under a bridge to head toward Marina Lake. I am struck by the solitude of the area. You glide along and only hear birds chirp and sing, fish splash as they jump, and the wind rustle the vegetation. Nothing signals the presence of a city that is only a couple of miles away.
Kayakers may not see pond snails, those important scavengers that eat decaying vegetation and "dead stuff"as necessary functions of the ecosystem, but sometimes their empty shells turn up on shore. In spring many fish spawn in the lagoons, including large mouth bass, northern pike, carp, bluegill, crappie and other panfish. Gula notes that fish come in from the deeper parts of the lake because the shallow lagoons warm so quickly. The best time to fish is spring and early summer and we observed many fishermen in boats and standing on the boat landings.
Presque Isle has been rated by Birder's World magazine as one of the top birding spots in the country. Its location on the Atlantic Flyway makes it a favorite spot for migrating fowl and the best times to bird watch are spring and fall. In the lagoons you might see Great Blue Herons, Wood Ducks, Canadian Geese, Belted Kingfishers, Green Herons, and Least Bitterns.
The lagoons are such a popular destination for area kayakers that you might make some new friends on the water. As we paddle past Duck Pond and into Marina Lake we meet two more paddlers taking it easy on the water, legs resting on the decks of their kayaks. Jeremy Krukowski of Erie and his friend Ron Vollentine paddle the lagoons 4 – 5 times a week. Krukowski loves how kayakers on the lagoons "are in a completely different world. You're two miles from the city but you're in wilderness." Patti Massing of the Erie Outing Club agrees with Krukowski in her love of the calm water. "I love the beauty, the wildlife, and the opportunities for birding." Doris Allen loves the lagoons because "every time you paddle them they're different."
Marina Lake is a good place for a stop. A tiny beach provides access to restroom facilities and the chance to stretch your legs before you head out into the choppier waves of the bay. Gula notes how paddlers are protected on the sheltered lagoons from even strong winds. But the bay offers no such protection, and kayakers need to be prepared for the open water and even whitecaps. Paddlers can also return through the lagoons if they prefer the calmer water.
But heading between East Pier and West Pier out into the bay offers city sights on the southern shore: Dobbins Landing, the Bayfront Convention Center and UPMC Hamot. As you paddle along the rocky bank on the north side of the bay you'll probably see bikers, joggers, and folks just out enjoying the fine weather on the multi purpose trail. You'll share the water with sailboats, windsurfers, powered craft, and other fisherman. Soon you'll see the Perry Monument through the trees to your left.
Rounding that tiny peninsula you enter Misery Bay, originally Little Bay, but gaining the new name because of how Perry's men suffered through winter of 1813-14 in the protection of the bay. It's hard to imagine that tragedy while skimming along under this sunny, blue sky. Passing under the bridge we reenter Graveyard Pond, to see one more sign of spring, a goose family in the water, with two adult geese herding their five goslings along the shoreline.
I am ready to join them in another trip through the lagoons, but I must return to the cacophony of normal life. Paddling in the serenity of that water-filled world has restored a sense of a new "normal," one that has pockets of peace I can take with me through the day.