Lars Violins: How Small Businesses Give Back to the Community
How the undertakings of one small business owner reflect a greater need for more of the same in our area.
September 18, 2014 at 3:35 PM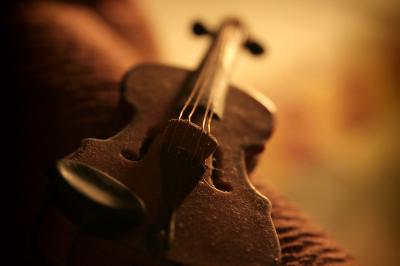 Dave Lars and his wife moved to Northeast six months ago from Cincinnati with the not-so-small ambition of opening a humble, but reliable service by which local musicians could seek repairs and restorations for their stringed instruments – namely violins. Lars set up shop on Main Street in historic North East above Welch's Country Market place, and has been hard at work ever since. 
I had the opportunity of conducting an interview with Lars this past weekend, and was pleased to gain some insight on the big move and the promising beginnings of his business. Lars comes off as immediately accessible, a down-to-Earth craftsman who both values his trade and the service it provides his new community. When asked about his particular choice of locale, Lars is quick to recollect his visits to the region when his wife was enrolled at Edinboro University. He spoke highly of his experiences in the area, taking particular note of Pennsylvania's subtle, and often overlooked natural beauty. 
"I said to myself, 'I'm going to have a little shop here'," Lars reflects, "I felt there was a need for it." 
And in truth, there is a need for the services Lars' shop provides. Oftentimes, it's easy to overlook the need for classical instruments such as the violin, but Lars sharply takes account of the market he seeks to appeal to. For one, school music programs throughout the greater Erie area are in constant need of freshly tuned and refurbished instruments, and it is Lars' ambition to put these instruments in the hands of kids that desperately need them. Beyond this, it's imperative to keep in mind the number or community orchestras, as well as individual players that require much the same service.
Lars speaks affectionately of his craft, a skill learned from his father who was a violinist and managed a repair service of his own. With his family roots in music—Lars himself fondly recalls his time as cellist—Lars has spent his life working hands on with these instruments, which in and of themselves are works of art. Lars revels in the level of craftsmanship that goes into the repair and restoration of these instruments, and speaks with pride of the history and precision that underlies his trade. He handcrafts his own pieces, works one on one with customers, and boldly asserts his ability to return any instrument to its former glory.
When asked about the potential dangers of investing in a small business venture at a time when our nation is just starting to recover from the greatest economic recession in years, Lars replies with a surprising calm:
"I think I can serve a need here," he repeats, "It's a small, hand-run store, and you're welcome any time. People want to be treated well and they should be. I think that that sells. That's good, but I'm not a store – I'm a service."
It is this sort of attitude that largely determines the success of any business undertaking. Lars displays an unmistakable dedication to his craft, and the impact he aims to make on his community. There is an air of commitment and sincerity to everything the man says, and as new businesses continue to spring up, it is certainly people like Lars who will lead the charge in the establishment of reputable and culturally diverse enterprises. 
And while Lars looks to extend his services not only to his Northeast customer base, but the Greater Erie Area as a whole, it's crucial that we, as members of this community, offer our support to such undertakings. As the development of our bay front and metropolitan area remains a constant concern of Erie residents, we might do well to look to the work of people like Lars who are prepared to make no small sacrifice for the betterment of the community at large. There is a distinct need for small businesses such as Lars' shop to foster the cultural and economic growth of our city, and it takes the right kind of dedicated citizen to pull it off. 
With that in mind, my interview with Dave Lars ended on a particularly poignant note. He states with assurance: "We need more guys with shops and jobs. It all starts here in your own yard."
And in the end, he couldn't be more on point. This community, this city, this region, belongs to all of us, and for those of us with the drive and dedication to do so, it falls to us to take risks, and build something new for ourselves, no matter how small. 
Once again, Lars Violins is located above Welch's Country Market on Main St. in historic Northeast. So if you're in the area—think: the Northeast Wine Festival, coming up on September 28—be sure to pay a visit. If anything, you'll walk away with an appreciation for a man who values both his craft, and his community. 
Mike Iverson is a musician himself, and has a particular soft spot for efforts to encourage musical growth in our city. For any comments, questions, or concerns, he can be reached at miverson@ErieReader.com