Last chance to see Art of the Comic Book at the Erie Art Museum
The popular, multifaceted show runs through May 22.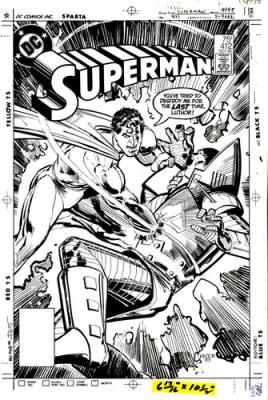 Don't be alarmed, Erie Readers, if you happen to see the Bat Signal beaming above the Flagship City. It may just be a promotion for Art of the Comic Book: Original Works from Klaus Janson, John Totleben, and the Museum's Collection at the Erie Art Museum.
Located in the Bacon Gallery, the exhibit features classic comics and original illustrations from the Golden, Silver, and Bronze ages of comics as well as sketches, drawings, and scripts from legends such as Jack Kirby, Will Eisner, and Alan Moore.
Featuring a variety of genres – including superheroes, horror, Westerns, and "true crime" – the show originally toured the nation throughout the 1970s and "achieved  broad critical and financial success," according to gallery information.
EAM director John Vanco decided to reboot the show after speaking with Janson and Totleben and adding their works the exhibit.
"Comics are a part of pop culture," said Vanco. "It's certainly art, no getting around it.
"There are people who dismiss it because it's not high art," he continued, "but to me, it's all human expression and there's great art at every level. There's great pop and great high art and there's great art in between."
German-born Klaus Janson has worked with both Marvel and rival DC Comics. A long-time "inker" and artist for Daredevil as well as early issues of Spiderman, he worked under comic legend Frank Miller at Marvel, teaming up with him again at DC for Batman: The Dark Knight Returns, a milestone storyline. The exhibit features several of Janson's creations such as the cover for Spiderman's "Frost Part One" (2014) and "Gothic, Part Four of Five," plus Batman: Legends of the Dark Knight #9 (1990).
There's also a hometown connection: works by Erieite John Totleben. A Tech Memorial High School graduate, Totleben's work first appeared in Heavy Metal in 1978. He later served as an inker for DC Comics' Swamp Thing, producing every monthly cover image from issues 25 to 50, and garnering several art awards along the way.
A "Create Your Own Comic" area sits at the far end of the gallery, replete with paper, colored pencils, crayons, and more, encouraging eager young tyros to fashion comic book-dom's Next Big Thing. Perhaps creations by these "Totlebens-to-Be will one day be featured on a comic book stand, television network, or local cinema near you.
Embracing a boy subculture once relegated to being tossed willy-nilly under beds with Superman sheets, EAM displays these comics, their drawings, and their creators' names for nostalgia, posterity, and appreciation.
But what impression does Vanco hope visitors will have?
"Just a recognition of the quality of the artwork that goes into creating comic books," he explained. "It's so often dismissed. Very skilled artists have worked in comics over the years. [Roy] Lichtenstein essentially took comic panels and exhibited them as fine art and he's lionized, top of heap, and very highly regarded. And these guys, working without irony, are often not accorded the kind of respect they deserve."
Through May 22 // Bacon Gallery of the Erie Art Museum // 411 State St. // erieartmuseum.org