Live Performance: David Sedaris Comes to Erie
The legendary humorist made a stop at the D'Angelo Performing Arts Center, and Cory Vaillancourt caught the show. And he was dressed like a priest.
November 4, 2011 at 10:00 AM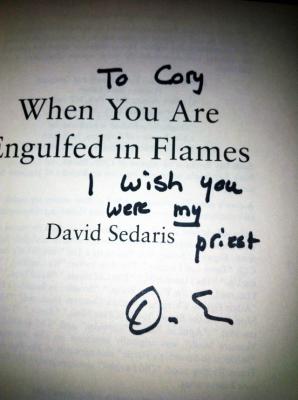 Several months ago, some crazy person from Georgia alerted me to the fact that David Sedaris—comedian, writer, radio contributor, and possibly America's foremost humorist—was planning to make a stop in Erie on his current book tour. Often called the "rock star" of modern American writers, Sedaris hit the road earlier this year in support of his most recent book, last fall's "Squirrel Seeks Chipmunk: A Modest Bestiary."
I have been a fan of David Sedaris since a friend introduced me to his writing way back when "Naked" came out in 1997. Since then, I have eagerly devoured several more of his books, including "Holidays on Ice," "Me Talk Pretty One Day," "Dress Your Family in Corduroy and Denim," and "When You Are Engulfed in Flames," all New York Times Best Sellers. Sedaris forges an instant connection to his readers, because, like his readers, he knows that real life is awkward. Real life is dirty. Real life is bizarre. Real life is absurd, and he has the unique and enviable gift of being able to present the awkward dirty bizarre absurdity of real daily life in an entertaining, thought-provoking way. He constructs each of his works, be they article, essay, or short story, like a solidly built house of sarcasm nailed together with cuss words, carpeted in a lush dark humor, and richly furnished with self-depreciation. Occasionally, you'll see the gaps in the floorboards or the cigarette burns in the bed sheets, or the LSD, the alcohol, and the sex hidden out back, but you'll also see more than a few mirrors—lest we forget that real life is awkward. And dirty. And bizarre. And absurd.
Jumping at the chance to interview this fascinating fellow, I set about contacting David Sedaris' PR people, and, like any other hard-working writer, I passed off the legwork to a certain lovely and talented member of my staff. She tried repeatedly to contact Mr. Sedaris beginning in August, offering him a cover story in this very publication. As enticing as that must have been, his PR people and his assistant told us that he was "still sorting out if he'll be doing any interviews at all this fall." So, we tried again, backing down on the time commitments a cover story would involve, and ended up groveling, begging, and pleading for even five minutes with him, all to no avail. The best we got was the supposition that he might consider talking to us if ticket sales were slow, which, in my opinion, was highly unlikely. As the show grew closer, and eventually sold out, the consensus around the Erie Reader offices was that Sedaris wasn't going to talk to us. Period.
Hogwash, I says to myself. Hogwash.
David Sedaris rolled into Mercyhurst College's sold-out Mary D'Angelo Performing Arts Center on Saturday, Oct. 22, fresh from an appearance in Lowell, Mass. the night before. I very wisely rushed in just one minute before curtain and purchased four of his books, good gifts for good friends. Unfortunately, if I had rushed in just two minutes before curtain, I could have got them signed before the show; now I would have to wait until after the show, which would have a negative impact on the rest of my evening's agenda. I had places to go and things to do after the show—a Halloween costume party, in fact.
Are you a real priest?
             - David Sedaris
I found my seat, in the middle of a balcony row, just after the lights went down, and couldn't help but notice how awkward and polite everyone acted as I lurched my way over laps and purses in the dark, struggling to get to my seat. Then I remembered—I was dressed as a Catholic priest. Now, this was not one of those garbage bag costumes with the plastic mask like you get at Zayre or Venture or Kmart. I bought the shiny black polyester short-sleeve shirt—complete with clerical collar—at a local religious supply store, and wore it under a black, freshly-pressed black suit jacket with matching black pants and shoes. Of course, I could have worn something else and changed in my car on the way to the party, but noooooooooo. Thanks again, alcohol. Dirty, dirty alcohol.
As Sedaris ran through all 100 minutes of his act—reading a story about a chipmunk dating a squirrel, noting the deficiencies of his foreign language study, telling jokes he'd gathered on the road, and finally holding a Q & A with the audience—I made a bizarre and paranoid observation. The audience in general, young and old, black and white, clearly gay, and clearly straight, laughed knowingly and hysterically at times, but the people immediately around me seemed to self-consciously hover near the lower end of the Bell curve as Sedaris related the sinister notions of Jazz, recounted learning how to say "I am a middle-aged homosexual" from a Japanese-language instructional CD, and made more than a few references to semen. I admit, I felt a bit absurd, when, ducking out five minutes early, I had to climb over all those poor people again, but I console myself by imagining that they laughed harder and freer for those last five minutes, five fleeting Father-free minutes.
I did not duck out early just to have a cigarette – well, okay, I did – but I also wanted to get in line for the book signing taking place immediately after, and get in line, I did. I was number three; by the time the theater completely emptied, there must have been hundreds snaking their way through the Zurn Hallway. As I awaited my turn, I noticed that Sedaris actually spent several minutes talking to each visitor. When my turn came, I was ready.
"Hi," I said.
"Are you a real priest?" He said.
Thinking for a moment, I said, "Yes. Yes I am." I'm not sure who I was trying to convince more – me or him. And I'm not sure who believed it more – me or him. I continued. "I know it is getting close to Halloween, but you can't judge a book by its cover. If you could, no one would buy any of yours."
"Funny. Where did you go to Seminary?" He countered.
"Oh…Buffalo?" My answer was more of a question than an answer. "I guess you could say it was kind of a calling."
"Really, what time do you have to wake up in the morning?" It became clear that Mr. Sedaris was controlling the direction of this conversation, and I had to do something brilliant, quickly, to redirect it.
"Pretty early. About 4:30," I said, triumphantly. Regaining the conversational upper-hand, I quickly changed the topic just as he was signing the last of the four books I'd plunked down on the table before him.
"So, have you been to Erie before?" I asked.
"No. First time," he said.
"What do you think of it?" My follow-up question was simple, and direct, and I waited there for what seemed like an eternity, in my priest costume, standing in front of a renowned thinker, author, and performer, waiting for him to answer, to spew some gilded observations and rusty suppositions succinctly capturing the awkward dirty bizarre absurdity of Erie.
"It's nice," he said.
David Sedaris' tour continues through early December; find dates and tickets at www.barclayagency.com/speakers/appearances/sedaris.html.