Making the Most of a Historic Crisis
Jefferson report examines opportunism in responding to disaster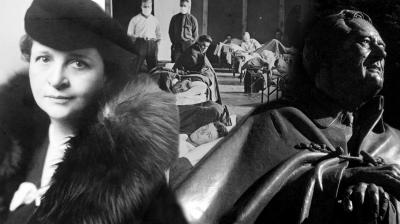 francesperkinscenter.org / Armed Forces Institute of Pathology/National Museum of Health and Medicine, distributed via the Associated Press / Matt Wade
In the United States, economic recessions are hardly a novelty — the late scholar and economist Victor Zarnowitz counted at least 47 between the country's founding and 1996, and since then there have been at least three more in 9/11, the Great Recession of 2008, and the current COVID-19 crisis. When it comes time to respond, however, each climb out seems newly daunting.
We can begin to find our footholds through the examples of both our predecessors and our contemporaries, who have either found or are finding ways to transform challenge into opportunity. A cohort from the Jefferson Educational Society consisting of Andrew Roth, Judith Lynch, Pat Cuneo, Ben Speggen, Angela Beaumont, and Colleen Dougherty took a deep dive into the history of American disaster response in a report entitled "Erie and Crisis: Region Faces Unique Opportunity to Reimagine Itself," edited by JES President Ferki Ferati. 
Because of the open-endedness of the ongoing pandemic, the full magnitude of our economic descent has yet to be gauged. How long is the way back up? Epidemics and pandemics — and there have been many (yellow fever in the late 1700s; cholera and scarlet fever in the 1800s; typhoid fever, Spanish flu, diphtheria, polio, and measles in the early 20th century) — have historically portended recession. As you might assume, not all of them were handled well, but those that were have offered some interesting takeaways that might be prescriptive in handling our present predicament.
First off, short of a vaccine or cure, social distancing and quarantining are the only ways to limit infection rates and deaths. For example, consider how Philadelphia addressed the Spanish flu pandemic of 1918 (allowing 200,000 to pack the streets for a parade) versus how St. Louis did it (canceled a similar parade) — the Gateway City suffered one-eighth the casualties of the City of Brotherly Love. Large public gatherings are like pouring gasoline on a flame. Secondly, community spread is real — during the typhoid outbreak of 1907 in Manhattan, an asymptomatic cook named Mary Mallon ("Typhoid Mary") unwittingly transferred the disease to her clients and their families. The usefulness of contact tracing would soon become clear.
These methods soften the blow to public health and reduce an economy's time under tension, but actually recovering from a recession (regardless of cause) is contingent on three factors, the report's authors argue:
Solidarity equals survival


The phrase "we're all in this together" has become one of the biggest cliches of the COVID-19 pandemic, but it is imperative that individual interests are set aside in favor of the greater good. For example, during the Spanish flu, Erie's public schools, theaters, bowling alleys, and taverns were closed and large gatherings canceled. Although that particularly nasty strain of influenza still claimed the lives of 500 Erieites, the public's overall compliance prevented a situation as dire as Philadelphia's.




Leadership matters


Leaders that are egoless, open-minded, adaptable, and solution-oriented are best suited to dig their constituencies out of a hole. Upon being elected in 1867, Erie Mayor Orange Noble assumed the city's Civil War debts through a bank he controlled. Early on in the Great Depression, Erie Mayor Joe Williams established the Erie Civic Employment Committee to encourage preferential hiring for city residents. His successor, James Rossiter, appointed a five-member Bureau of Charities and sold city bonds at 4 percent interest to fund local charities that helped feed out-of-work Erieites until the next in line, Mayor Charles Barber, could make use of the federal programs instituted under Franklin D. Roosevelt's New Deal later that decade.




Government's role in economy is not "either-or," it's "both-and"


The public and private spheres should not operate utterly independently of one another if the aim is to fuel community growth; rather they should be intertwined. The aforementioned New Deal was a boon for both the country's infrastructure as a whole and localities that enjoyed upgraded or reimagined spaces (e.g., the now-popular Pymatuning State Park was an unusable swamp before the project began in 1931). The construction of the Interstate Highway System helped the post-WWII economy flourish.Through the centuries, the City of Erie has benefited from leveraging public-private partnerships, from the Reeds (shippers, bankers, and mercantilists)  to the Behrends (Hammermill Paper) all the way up to modern-day initiatives like the Erie Downtown Development Corporation in collaboration with Erie Insurance.
In their recommendations for an economic rebound from COVID-19, accelerating the progress that had been made prior to the outbreak, the authors suggest the following:

Continuing to lean on public-private collaboration

A local infrastructure bond fund to allow major strides toward realizing some of the goals set forth by the Erie Refocused comprehensive plan, including neighborhood improvement and connecting our Bayfront and Downtown

Broadband internet access in rural areas south of I-90, especially given the increased prevalence of remote work as legacy of COVID-19

A traditional community college to affordably train skilled workers

Following the examples of mid-sized cities like Lincoln, Neb. and Ft. Wayne, Ind. who are reinventing themselves through an aggressive, targeted collaborative approach
The report echoes the Stanford University economist Paul Romer in concluding that "a crisis is a terrible thing to waste." Given the choice between innovation and stagnation, the answer is obvious.
The full report can be read here.
Matt Swanseger can be reached at mswanseger@eriereader.com