Marjorie Takes Her Mid-life Crisis for a Spin in Dramashop's Latest
The Tale of the Allergist's Wife presents a refreshingly offbeat comedy from the Erie Dramashop. 
April 29, 2015 at 6:45 AM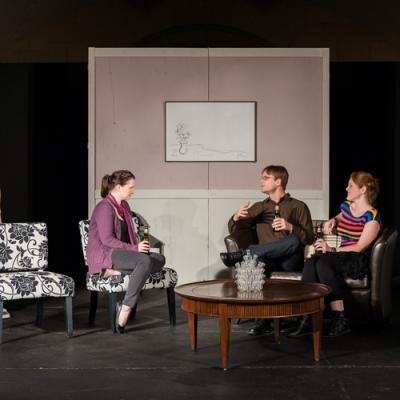 Marjorie Taub is upper-class, middle-aged, and ready for her crisis. Her meltdown is the axle around which the play, The Tale of the Allergist's Wife spins. Marjorie's comfortable existence on the Upper West Side of Manhattan, along with a hefty dose of pseudo-intellectualism, have only fueled the feelings of mediocrity that underlie her depression. The unexpected arrival of a long-lost and cagey childhood friend, Lee, buoys Marjorie's spirits at first, but dark and ulterior motives are at work, and Lee sends Marjorie and husband, Ira, down questionable paths.
Erie's Dramashop will present a free staged reading of Allergist's Wife, written by Charles Busch, who won the 2000 Outer Critics Circle's John Gassner Playwriting Award for this work. It also was nominated for numerous Tony and Drama Desk Awards. Before Allergist's Wife, Busch was best known for his drag performances, and campy, non-mainstream works, the two most notable of which may be Vampire Lesbians of Sodom and Die, Mommie, Die!
Dramashop regular Marilee Warner plays Marjorie. She is joined by newcomers to this stage Stuart Siegel as Ira; Sue Ellen Wojciechowski as Lee; Doris Becker as Marjorie's overbearing mother Frieda; and Giovanni Ciminella as the doorman. Dramashop has added a narrator to the production to help the audience visualize the action and changes taking place, since a reading doesn't have props or actor interaction.
Veteran director Michael Weiss is at the helm, with an assist from Carolin Lynn. Weiss says it's a good comedy and a great cast. "It's an interesting story that deals with middle age and the aging process. And it does contain some colorful language, mostly from the 80-year-old," he says with a laugh, promising a good laugh and a fine evening of entertainment. 
Artistic Director of Dramashop, Zach Flock agrees, saying "Allergist's Wife is a really funny, slightly offbeat comedy that definitely pushes some boundaries." He says that they chose it as part of this season because it fit well with the other productions in terms of content, themes, tone, available roles and other considerations. It also allows Dramashop to showcase the actors of different ages and experience. "The cast includes people with decades —maybe half-centuries — of experience performing alongside first-timers. It's a really great mix of talented individuals," says Flock.
Overall,  Allergist's Wife is provocative, funny, and smart – all the things you want in a comedy. — Mary Birdsong
8 p.m., May 5 // Free // Renaissance Centre, 1001 State St. // dramashop.org