Matt Boland's Big Day
Busy, like a bee.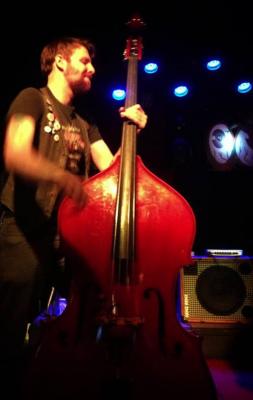 Broke Boland – or Matty B, or Mr. Pickle, or whatever he calls himself nowadays – has a very busy day lined up, and if you're a fan of the local singer/ songwriter/ guitarist/ bassist/ harmonica player, you've got no excuse not to see him at least once tonight.
In fact, depending on your route tonight, it may seem as if he is following you.
His big day begins at the Bayfront Convention Center, where he'll perform solo from 5 to 6 p.m.; then, after a just a short break, his new band, "Pothole," will take the very same stage from 6:30 to 7:15 p.m.
After that, he'll have some time to relax and recharge or do whatever it is this high-energy all-around sound machine does to keep up the intensity of his oft-manic stage show; seriously, this guy moves around on stage so much and is so energetic, I often get exhausted just watching him.
But he won't have too much time for recuperation; after a mad dash up State Street, he'll be opening up for the Whiskey Daredevils at the crooked i, probably around 9 or 10 p.m. And, there's an extra added treat for hardcore devotees of the Matty B sound – he'll be performing with the original Dirty Pickles lineup you all know and love.
After that, he'll probably collapse, spent, in a heap. Or maybe not, I don't know. Maybe he's just like that all the time – full of half-growled vocals and deeply bent harp notes, wailing away with grimy abandon on that stand-up bass of his.
Whatever the story, be sure to head out and catch some live loud and local music tonight. And if at some point tonight you feel as though Matt Boland, Broke Boland, Matty B, or Mr. Pickle are following you, you're probably right. Or maybe it's the lazy cakes.