Meet the Band: Frame and Mantle
Erie music is getting a fresh injection of talent this Saturday, take the time to familiarize yourself with Frame and Mantle.
December 9, 2014 at 11:30 AM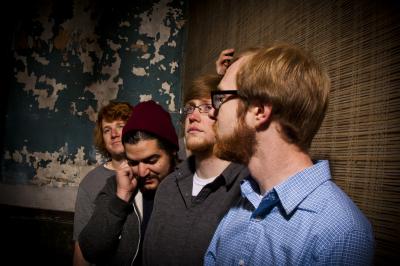 The Erie music scene is going to get a little bigger this Saturday, when Frame and Mantle makes their debut at Basement Transmissions.

I recently sat down with most of the band for an interview. They told me stories about late nights spent on unlit docks. We laughed about Matthew McConaughey's penchant for bad movies and how True Detective and Interstellar changed that.

Despite their rugged outward appearance, the guys of Frame and Mantle are equal parts amicable and serious, laid-back and passionate. Quite frankly, they are some of the most driven people I've met in the least assuming way imaginable. Think Buddhist monks crossed with the life of the party and you start to get an idea of what hanging out with Frame and Mantle is like.

The four-piece band is comprised of brothers Brian and Mark Thompson, Richie Colosimo, and Brad Osbourne. Though it would be easy to simplify their sound to being a derivative of post-rock, it would not do the band justice. "We take a wide range of influences, like Title Fight, Pinback, Pelican. We all come from different places, but I think it blends together uniquely," says Brian. "We touch on themes of uncertainty, restlessness, loss of self and purpose. Just kind of reflecting on where we're at with our lives."




A few months back, Frame and Mantle played in my basement just off Allegheny College's campus. It was a small show, the crowd was comprised of around fifteen friends and acquaintances, but that in no way hindered their performance. Taking advantage of the personal nature of the show, the band made sure to interact very closely with the crowd. On multiple occasions, Brad, while still playing his bass, joined the small mosh pit that had formed. The other members made sure to never stop moving, their state of constant flux mirroring the dynamic shifts present in their music. In short, seeing Frame and Mantle live is less about simply hearing live music, and more about the entire experience of being at a show.

All four members are originally from Bradford, where Brian, Richie, and Brad were members of the hardcore band Skylime. However, their time spent playing music together dates back to elementary school. According to Richie, "Everyone in our band was in the trumpet section of marching band. From there, we were like, 'hell yeah, we like heavy music' and started playing together."

CS: So I'll start it off either really easy or really hard: who are you guys and what do you do?
BT: I'm Brian Thompson and I play guitar.
RC: I'm Richie Colosimo and I play guitar and sing.
BO: I'm Brad Osbourne and I play bass and trombone.
BT: Our drummer Mark Thompson, my brother, couldn't make it today.

CS: If I remember correctly the three of you have played Warped Tour at one point. Coming from a bigger band, how was it been to start over and what do you think the experience of, say, playing Warped Tour brings to your shows at Basement Transmissions?
BT: Well, it was beneficial to gain exposure, grow a bigger fan base, and kind of get a taste of what it's like out there for bigger bands that are touring. From that, I think, we just needed to take a step back and double down. We left the old band, Skylime, and started this new band with the intention of getting a little more serious with our songwriting. Now that we live together, we've been able to put a lot more time and energy into this band.
RC: We have a little bit more of an idea of what we have to do to get where we want to be. We were kind of going into it blind with Skylime and now we have friends, know what to do.
BO: It definitely developed us as individual musicians and songwriters too.

CS: How would you guys describe your music?
BT: It's easy to generalize and label us as particularly post-rock.
RC: It's kind of an umbrella term.
BT: But I feel like we offer something different. Like you said, we balance the loud, up-tempo with the soft, more introspective kind of stuff. We take a wide range of influences, like Title Fight, Pinback, Pelican. We all come from different places, but I think it blends together uniquely. As far as the content, we touch upon themes of uncertainty, restlessness, loss of self and purpose. Just kind of reflecting where we're at in our lives, taking a snapshot of where people we know and love are at in their lives as well.
RC: Where we are and where we've been, and how we've felt. How we came to where we are now and what needed to change.

CS: So, who have you been listening to recently?
BT: Well, if we want to go with stuff that I've been listening to that's come out recently, the new This Will Destroy You album, the new Gates album. We've been big into Real Estate and Tycho.
RC: Cloudkicker just came out with a new album.
BT: I've also gone back and listened to my Yo La Tengo collection a lot lately; they just reissued Extra Painful. I also picked up Slint's Spiderland album.
RC: I've been listening to Nothing, Whirr, and some older stuff like Slowdive. Real Estate too, I'm really into them. Even some old Hatebreed.

CS: When are we going to be able to listen to you guys?
BT: We've done a bunch of different sessions for our upcoming record. We wrapped it up at some point in October. Our producer and his family own a private island up in Canada, out on Georgian Bay, so we went up there.
RC: We spent four or five days up there recording. It was definitely…being in a place like that where you're cut off everything else, it's kind of a little Zeppelin III; we were in this cottage in the middle of nowhere, and we had some ideas going into it, but then we left a lot of it to just what happened.
BT: We wrote a song there; I don't know if it'll be on the album.
RC: Yeah, we wrote a little electronic thing—it's kind of neat. But the album right now is being mastered and mixed, and we're waiting. Ballpark would be early Spring, but we have shows coming up people can hear us at.

CS: Spring Spring or Northwest PA Spring?
RC: (laughs) Real people Spring—calendar Spring. That's a lot sooner.
BT: June: early Spring in Erie (laughs).

CS: How does your songwriting process work? Does someone come in with a riff that gets built around or is it written out beforehand?
RC: Most of it's someone coming in with a riff. We'll have a progression or a little lick or something that someone will come to the table with, and we'll jam it out and build off of it. Some of it happens in the moment.
BT: With the set of songs we have now, we just sat down one session at a time and cranked out a song per session. Within two months we had a full EP's worth of stuff we could record.

CS: I recently saw that you guys were playing at Basement Transmissions on Dec. 13; any other shows in the area for people that want to see you?
BO: Jamestown at the Renaissance Center on Dec. 20.
BT: It's gonna be a heavier lineup. Hopefully a lot of deathcore—something to throw down to.
RC: There will be a lot of deathcore (laughs). No, I think the other bands are pop-punk.
BT: Oh yeah, Carousel Kings is a pop-punk band.

CS: Is there a story to the band name?
RC: All we're going to say is there was a pistol duel to the death.
BO: It was between Farm and Market and Frame and Mantle (laughs).

In case I haven't convinced you already, you should check out Frame and Mantle. Come see them make their debut in Erie this Saturday. Otherwise, be sure to check them out on Facebook, Twitter, and Instagram.

Chris Sexauer is excited by the recent rebirth of the Erie music scene. He can be reached with any questions, comments, or concerns at csexauer@ErieReader.com.