Mike Kelly and The Ghost of Joe McCarthy
The story of the car salesman-turned congressman.
October 15, 2014 at 8:00 AM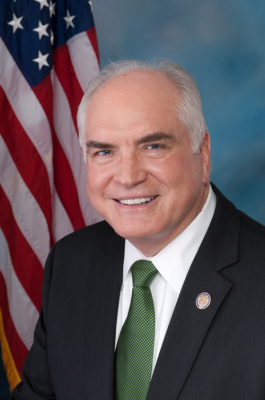 Mike Kelly was elected to congress thirty years too late.
His dichotomous us vs. them, good vs. evil Cold War-style rhetoric would have aligned him well with the Reagan presidency.
Kelly was elected to represent the third congressional district in 2010 in the reactionary wave that followed the Obama-led Democratic "change" races of 2008. Kelly easily secured re-election in 2012 and has amassed a large war chest of campaign funds and political capital within the GOP in preparation for his 2014 contest against Democratic newcomer Dan LaVallee.
Cold Warrior
Politicians by nature are drawn to the spotlight. Times of extreme fear or prejudice seem to cast a brighter light than others.
During the course of Mike Kelly's life, the national spotlight was tinted Red. He was born in Pittsburgh in 1948, just three years after the end of World War II and two years after Winston Churchill declared an "Iron Curtain" drawn between communist eastern Europe and the democratic western world.
In 1950, Senator Joseph McCarthy forged a witch hunt in the federal government predicated on fear when he announced in Wheeling, W.Va. that he was in possession of "a list of 205 [State Department employees] that were known to the Secretary of State as being members of the Communist Party and who nevertheless are still working and shaping the policy of the State Department."
Today, the war on terror has politicians like Kelly using similar rhetoric in an attempt to pursue a familiar agenda in the lexicon of American politics.
In mid-September, Kelly announced on his Facebook page that "nefarious characters with security clearances have been able to obtain and maintain employment within our government, which has ultimately resulted in tragedy and treason."
Kelly was introducing the Enhanced Security Clearances Act of 2014. Those nefarious characters he made reference to were Aaron Alexis, the civilian contractor who killed twelve people at the Washington Naval Yard in 2013, and NSA whistleblower Edward Snowden.
But the rhetoric exemplifies the exception over the rule and feeds a culture of fear that has impeded upon the democratic process for more than a century. Like McCarthy's brand of speech, Kelly's rhetoric is designed to quell debate on policy-related issues. 
The political communications scholar Robert L. Ivie wrote in 1997 that such rhetoric portrays freedom as "weak, fragile, and feminine – as vulnerable to disease and rape. The price of freedom is necessarily high because the alternatives are reduced symbolically to enslavement and death." 
Men like McCarthy in the 1950s and men like Kelly today act as "salesmen of infamy"...undermining "the American system of fair play," as the late Sen. Richard Russell referred to such firebrand ideologues.
Kelly, however, isn't likely to unhinge in the sensational way that McCarthy did. He's become the Republican Party's sharp-tongued talking head in the House of Representatives.
Commenting in the House of Representatives in May on a bill that would authorize appropriations for Defense programs in 2015, Kelly was granted extra time on the floor to admonish the sale of French amphibious assault vehicles to Russia, resurrecting the bear metaphor made popular during Ronald Reagan's reelection campaign in 1984.
"Zoos often have signs saying, 'Don't Feed The Bears' because it's just common sense," Kelly began. "Similarly I'd like to say now, 'Don't feed the Russian bear.' But with the advanced sale of warships, France isn't just feeding the Russian bear, it's serving up fine dining on a silver plate."
It seems he's willing to say just about anything in the advancement of his party's agenda and for that he has reaped great reward.
Kelly in Congress
Kelly came to congress in 2010 with a freshman class of Representatives that returned control of the House to Republican leadership just two years after the election of President Obama helped create Democratic majorities in both the U.S. House and Senate.
Kelly, now in his second term in office, is a member of the powerful House Ways and Means Committee, just as the last Republican to hold his seat had been.
Representative Phil English – elected during Newt Gingrich's "Republican Revolution" of 1994 – was appointed to Ways and Means in 1995 during his freshman year in Congress. By his last term in 2007-2008, English earned a coveted spot as the ranking member on the Subcommittee on Select Revenue Measures.  
Congress, as a whole, operates on a system of seniority, so those representatives who have the longest tenure generally have the greatest power. Kelly was appointed to Ways and Means in his second term. Given the fact that he is now 66 years old, and his relative lack of seniority in Congress, it is unlikely that he will ever become a ranking member on the Ways and Means Committee. He may, however, be rewarded by his party's leadership with a subcommittee chairmanship for his particular brand of rank and file cheerleading.
The fact that Kelly and English both sat on Ways and Means is somewhat paradoxical.
For the Reader readers who remember Phil English's time in office, you'll recall that he was an Ivy League policy wonk, somewhat introverted, who could effortlessly recite the minutiae of legislation and connect it to the work of other committees and to the Congress as a whole.
"Phil was the guy that everybody in Washington wanted to go to," says Brad Moore, who worked as Congressman English's Director of Public Liaison from 2003-2006. "He's read everything on every issue. He knew the legislative rulebook – how to navigate through the House – inside and out. It made him an extremely effective legislator."
Moore now serves as the District Director for Mike Kelly and is based in Erie. He spoke to the Erie Reader on behalf of the Kelly camp.
"Mike's effectiveness as a legislator is based on the people part of it," Moore says. "He's not a wonk and I think Mike would tell you that."
Not a wonk, indeed.
In a November 2010 interview with C-SPAN's Steve Scully, a fresh-off-the-campaign Kelly had difficulty articulating the legislative priorities he and other freshman Republican members of the 112th Congress had been elected to carry out.
"Going back to specifics," asked Scully, "where do you reduce the deficit?"  
"Specifics are something that everybody keeps talking about," Kelly responded. "The specifics come into the process. The process is where you get the specifics. You've got to tear everything apart. See what's working. See what's not working."
More recently, Rep. Kelly has been labeled by former Arkansas governor and Fox News host Mike Huckabee, among others, as "one of the leading voices rallying against the war on coal."
The southern part of the third congressional district is what you could call "coal strong." Businesses connected to coal mining and coal processing are prevalent throughout the region north and northeast of Pittsburgh.
Amerikohl Mining, Inc. is headquartered in Butler, Pa, where Kelly has lived and done business for most of his life. The firm has international clients in regions ranging from Canada to Japan. 
Given the presence of coal in the southern part of the congressional district, it's not surprising that Kelly has become such a champion of the industry. He's appeared in national media, including Fox News. He's been invited to speak at conservative think tanks like the Heritage Foundation, and he's introduced some of his party's biggest names, including Senate minority leader Mitch McConnell, all in the name of "coal."
In this effort he's developed an enthusiastic mantra about President Obama as Superman and coal as his kryptonite. But like the deficit, he's light on facts. That's his style.
"He looks at things from a macro perspective," Moore contends. "He thinks [elected officials] overcomplicate things."
A major component of Kelly's communication on coal has been his insistence that the Environmental Protection Agency's regulation of industry, including coal and power generation, is tantamount to terrorism. 
In an appearance on Fox Business, Kelly said, "You talk about terrorism — you can do it in a lot of different ways. But you terrorize the people who supply everything this country needs to be great, and you keep them on the sidelines. My goodness, what have we become?"
The incorporation of the war on coal into public discourse began more or less in June 2014 when Senate minority leader McConnell misquoted EPA Administrator Gina McCarthy, who had appeared on Real Time with Bill Maher the week before. In a Senate floor speech, McConnell told his colleagues "Administrator McCarthy conceded that a war on coal is quote 'exactly what this is.'"
According to FactCheck.org, a nonpartisan project of the Annenberg Public Policy Center, "McConnell is putting words in her mouth...McCarthy never said the new [EPA] plan is 'a war on coal.'"
Nevertheless, that idea, and that phrase "war on coal," have become the centerpiece of the Republican Party's characterization of EPA regulation. It has also become Mike Kelly's brand.   
The rhetoric of terror extends beyond the business world.
Kelly regularly uses Franklin Roosevelt's "day which will live in infamy" to describe events as disparate as the terrorist attacks on the U.S. Embassy in Benghazi, Libya and the implementation of the Affordable Care Act. 
Kelly is a vehement anti-abortion Catholic who equated the birth control mandate for private insurance companies to Pearl Harbor and 9/11, when the mandate went into effect on Aug. 1, 2012.
At a press conference on Capitol Hill, the Huffington Post reported that Kelly told the audience, "I know in your mind, you can think of the times America was attacked. One is Dec. 7, that's Pearl Harbor Day. The other is Sept. 11, and that's the day the terrorists attacked. I want you to remember Aug. 1, 2012, the attack on our religious freedom. That is a day that will live in infamy, along with those other dates."
The "Hobby Lobby decision" handed down by the U.S. Supreme Court struck down the contraception mandate for closely held corporations earlier this year, but the subjective classification of Obama Administration policy as terroristic remains a common conservative meme. 
Magic Mike Kelly
For the polemic political figure Mike Kelly has become in Washington and in the district, it appears that he is universally loved in his hometown. If there are people in Butler who dislike him, they're not talking.
He coached a kids' football league, acted as the town ombudsman, and "he remembers the name of everyone he's ever met. He's like an elephant," says Matt Anderson, a former employee at Mike Kelly Automotive.
Anderson worked for Kelly Automotive for 18 years handling the financing for new auto loans.
"If I was stuck at my desk, he'd put on an apron and bring me lunch," Anderson says. "Once I told him that I was having trouble paying my college tuition and he wrote me a check so I could stay in school."
The 66-year old father of four, served on the Butler School Board from 1992-1995, sat on the board of the Housing Authority of Butler County, the Redevelopment Authority of Butler County, and even the local Boy Scout Council. In 2001 the Mayor of Butler declared Oct. 26 "Mike Kelly Day" for his local civic and charitable efforts. When the powers that be tapped him to run against Democrat Kathy Dahlkemper in 2009, he was in his third year as a member of the Butler City Council.
"I met Mike the first time when I was working for Congressman English," recalls Brad Moore. "If you needed to get something done in Butler, you called Mike Kelly."
Kelly graduated from Butler High School in 1966, where one might imagine him as the quintessential charismatic jock. He likely won over most of his teachers with a big grin and a nice comment about their appearance, much in the same way he interacts with constituents today when he visits the Albion Fair or a lunch for truck drivers. He attended Notre Dame University on a football scholarship and graduated in 1970, when he returned home to join the family business.   
Mike Kelly Automotive is a multi-brand auto franchise in Butler. His father started the business in 1953 and he took it over in the 1990s.
His success in both athletics and in the car business is a big part of his rhetorical success in politics, locally and nationally. In fact, it shapes his political identity.
Speaking about the passage of the federal budget during a House session in his first term, Kelly said, "'I can't believe you guys put yourselves behind the eight ball.' That's what my football coaches used to say whenever our team botched a play...I'd like to say to our friends in the Senate, 'I can't believe you folks have put us behind the eight ball...' Passing a budget is the responsibility that the Congress has and the Senate leadership has taken a knee." 
In his first term, Kelly frequently used automotive metaphors like "getting under the hood" and "tearing things apart to see what's wrong" when referring to his work in Congress. It was a simple way to describe what he thought he would be doing in his new role in Congress.
Now as he campaigns for what seems to be a guaranteed third term in the House of Representatives, Kelly still talks about governmental operations as a business. He still correlates his work in Washington to his "time on the blacktop" or "in the showroom" selling cars in Butler, Pa., but his rhetoric has evolved.
In the last year, he has more or less abandoned the soft metaphors for anecdotes in which he recalls the names of people who work for him and people with whom he's done business, like when he complained about governmental "red tape" during a legislative session by talking about a manager at Kelly Automotive, who told him how expensive the tape they used in automotive repairs had become.
It's this – often mismatched – simplification of complex issues and his reliance on party line platitudes that has made him a conservative media darling. He's appeared on Fox News sixty-six times, giving the junior congressman a major national presence. 
In Kelly's personal narrative, he was motivated to enter the national political fray in 2009 because of the federal government's bailout of the American auto industry the year before.
"It was a wake-up call," Kelly told Steve Scully on C-SPAN in 2010.
President George W. Bush provided an initial infusion of $50 Billion to keep the American auto industry – and specifically General Motors – from shuttering its factories permanently in 2008.
If GM had closed, it would have meant the loss of nearly 2 million jobs, according to the Center for Automotive Research. If the entire industry came to a halt, it would have meant the loss of nearly 5 million jobs.
When President Obama came into office in 2009, his administration initiated a restructuring of GM, which included the closing of several GM affiliated dealerships.
Kelly calls this "a call to action for his generation."
The Kelly Automotive Cadillac franchise was on the list.
Kelly Automotive took legal action against GM, settled the claim, and kept the Cadillac dealership. But it forever cemented his campaign against the ills of "big government." It's a recurrent theme in fiery speeches on the House floor, during campaign stops, and at Republican rallies in Washington and Pennsylvania.
Mr. Kelly Goes to Washington
The car dealerships have been lucrative for the Congressman. His net worth is between $8 million and $20 million, making him the 39th richest person in Congress in 2012, according to the Center for Responsive Politics.
Personal financial disclosures are reported in income ranges, so detailed information is not available. Nevertheless, members of Congress are required to disclose outside earned income over $200 and investment assets over $1,000.
Kelly's income, outside of his $174,000 government salary, comes primarily from investments.
The majority of his investments are in the financial, insurance, real estate, and energy-related industries, according to his personal financial disclosure.
These also happen to be the top contributing industries to his 2014 re-election campaign, according to federal election commission filings.
Ballotpedia.com, which compiles and analyzes data from the Center for Responsive Politics, reports that Mike Kelly's net worth grew 63 percent between 2009 and 2012.
Of the 18 members in the Pennsylvania delegation in the House of Representatives, Kelly ranks fifth in Political Action Committee, or PAC, contributions. Of the 14 Republicans in that delegation, he ranks third in PAC funding and sixth in overall fundraising.
His opponent, Democrat Dan LaVallee, is the fifth most well funded challenger with total campaign contributions of more than $230,000 as of June 30.
At that time, Kelly had raised $1,131,373, of which more than 61 percent came from PACs.  Individual contributions accounted for just over 36 percent of his campaign funds.
Why the warchest?
The answer is simple: Congressional campaigns are expensive.
On average, a successful campaign for the U.S. House of Representatives requires more than $1.5 million, according to the Federal Election Commission. A Senate race could cost more than $10 million.
Historically, the third congressional district is expensive in contested election cycles despite the fact that Erie is a relatively inexpensive media market. Because of the size of the district candidates also have to purchase media in Pittsburgh and Youngstown, Ohio making the race much more costly.
Phil English had a routine. He generally outspent his opponents seven-to-one in re-election campaigns until 2008. In that race against Kathy Dahlkemper, English raised more than $2.6 million – more than double Dahlkemper's campaign funds. But it wasn't enough.
In 2010, Dahlkemper raised nearly $2 million to Mike Kelly's $882,779, of which a third was funded by the candidate. 
Now Kelly seems poised to maintain his seat with a preponderance of capital, both financial and political.
Dan LaVallee has raised one-fourth of the campaign funds that Kelly has taken in. While that is a significant feat for an opponent in any congressional race, it likely won't be enough to unseat Kelly.
A political challenger with the ability to raise any money in a House race is normally a threatening scenario to an incumbent. Nevertheless, Mike Kelly's seat remains safe in 2014 because of congressional redistricting – otherwise known as gerrymandering – that occurred after the 2010 census. The congressional district lines drawn by the Pennsylvania General Assembly brought Butler and Crawford counties – both predominately Republican areas – entirely into the third district while dividing heavily Democratic Erie County in half by placing eastern Erie County in the fifth congressional district, represented by Republican Glenn Thompson.
Kelly's core constituency is in the southern part of the third congressional district and Thompson's core constituency is in the eastern part of the fifth district. No one's minding the heavily Democratic northern tier. Both Kelly and Thompson have greater interests in coal and natural gas production, even though water – not energy – is shaping up to be the great natural resource battle of the twenty-first century.
On the campaign trail this essentially means that any serious threat to Kelly's incumbency would have to come from a candidate with an established political organization that is adept at fundraising as well as messaging directed at moderate Republicans.
As for Kelly, despite his lauded partisan flippancies, he's campaigning for re-election as a relatively ineffective member of the most ineffective Congress in recent history.
During his first two terms in Congress, Kelly has sponsored 18 bills in the House, that's less legislation than either Congresswoman Dahlkemper or Congressman English sponsored in their respective first terms in Congress, according to GovTrack, a government transparency initiative.
To be fair, the partisan nature of the 113th Congress has been debilitating to the legislative process. Kelly's Twitter feed is littered with tweets about bills passed in the House and stalled in the Democratic-led Senate, although the Republican-led House is equally guilty of legislative logjamming.
Kelly works well with his Republican colleagues in both the House and the Senate, of that there is no doubt. For a guy who's spent his life rallying the team on the field and making deals on the lot, he should also be able to cross the aisle for the good of the country he claims to have gone to Washington to save.
But he hasn't.
The Republican leadership has mistaken compromise for contrition and Congressman Kelly has chosen the path of the lemming, not the leader. He's followed his political bosses into a vapid rhetorical rabbit hole where only fear and despair await.
Unless something changes in November and Dan Lavallee makes significant gains on the electoral warpath, the third congressional district will remain mired in the "win one for the gipper" –isms that have thus far defined the Kelly years in Congress.