Missing the mark
Why the EDDC's game plan for North Park Row needs adjustment
I was pondering how the Erie Downtown Development Corp. had fouled up the rollout of its plans for North Park Row when a pithy Al McGuire quote popped into my head: "The world is run by 'C' students."
If only Gannon College had hired McGuire as its basketball coach decades ago, maybe the people calling the big plays in Erie today would be incorporating McGuire's wisdom into their decisions.
McGuire's observation means that it's not enough to be book-smart. You also need common sense and the human touch to succeed, and it helps to respect your roots. For McGuire, the son of an Irish bar owner in Rockaway, Queens, that meant recruiting ballplayers from neighborhoods with "cracked sidewalks" rather than gilded pathways.
Sportscaster Dick Enberg explained McGuire's philosophy when he gave the 2009 commencement address at Marquette University, where McGuire had honed his legend as a masterful basketball coach and astute observer of life.
"'C-plus' students who have people skills become outstanding leaders," said Enberg, who wrote a one-act play about McGuire. "To underline his point, half in jest, Al would suggest that if you want your master's and doctorate in 'humanism,' tend bar for six months and then drive a taxi for six months."
"The message: Study those around you, friends and rivals. Know them well enough to anticipate their needs and actions. In his words, 'Know the ripple below the surface of the water,'" Enberg said.
The leaders of the EDDC likely did not anticipate the ripple effects when plans leaked to create a $30 million culinary arts district in the historic properties the EDDC bought on North Park Row, across from Perry Square.
Instead of garnering positive PR, the EDDC has had to play defense to explain why it was evicting three restaurants, all started by immigrants, and why it intends to demolish two historic structures.
Under the terms of the leases, the EDDC explained, the businesses technically had 30 days to vacate, but the EDDC had "graciously" extended the leases until October. Still, it's ironic that the restaurants and their employees are being displaced so that the EDDC can renovate its properties into a new food market, arcade and food hall. In other words, to replace eateries with eateries.
Instead of garnering positive PR, the EDDC has had to play defense to explain why it was evicting three restaurants, all started by immigrants, and why it intends to demolish two historic structures.
"I think we did our best to be good stewards of the leases and trying to work with them," Matt Wachter, EDDC vice president, told the Erie Times-News. "That is not something to be ashamed of."
Maybe "ashamed" is too strong, but how about chagrined? By evicting Khao Thai, Casablanca Hookah Lounge and Café and Tandoori Hut, the EDDC gave the impression that it didn't care about small businesses started by new Americans (the lease for Tandoori Hut, it turns out, doesn't expire until 2021).
Those of us who treasure Erie's built environment were also stunned to learn that the EDDC plans to tear down the former Greyhound bus station and Marlena's Place, replacing them with "an arcade-style building made of brick and glass," according to the May 12 Erie Times-News.
As the 1982 book Erie Style points out, the former bus depot at 28 North Park Row is "Erie's only pure example of the Art Moderne style." The EDDC justifies demolishing the bus station because that spot on the block had originally been occupied by the Park Opera House.
It's true that the bus depot, built in 1939, isn't one of the original structures, most of them designed in the "Commercial Italianate" style, according to livingplaces.com. But the fact that the bus station was preserved is one reason why this entire block, known as West Park Place, is on the National Register of Historic Places, according to those who produced Erie Style, including Tom Weber, editor; Alexandra Potous, art director; Ron Norman, principal photographer; and Terrence P. Cavanaugh and Janice M. Earick, Old Erie Press directors.
"The glazed exterior surface, the sleek curvilinear floor plan, the liberal use of glass brick and aluminum, make this Moderne building take on a streamlined, machinelike appearance expressive of America's newfound fascination with high-speed highway transportation," the book states.
Some Erie people have asked why Alkeme Restaurant at 18 North Park Row and the new Andora's Bubble Tea Shop at 516 State Street haven't been asked to vacate. That's because those two restaurants are in the Exchange Building, which the EDDC does not own.
But all of the buildings on North Park Row and along State Street share a rich history, things that could be mined and celebrated as part of the EDDC's efforts to generate excitement and attract visitors, locals, and newcomers of all ages to downtown Erie.
Consider, for example, that one of the buildings once housed a business called the Kitty Hawk Bicycle Shop. I learned that from David VanAmburg, an Erie entrepreneur, software developer, market researcher and former city planner, who operated Friendship Imports and Domestics in the Exchange Building in 1973-74.
VanAmburg, 71, attributes his love of historic architecture and his appreciation for Erie's sense of place to the way he grew up. As a "Bay Rat" on Erie's west side, he had the freedom to explore his neighborhood at an early age, then to venture beyond those boundaries. He recalls when Downtown Erie was full of red brick Victorian buildings.
"Twice a week, I'd go downtown with my mother and grandmother. I remember being three years old and crying because they were tearing down another building," he said.
As a student at Gannon College, he helped to form a nonprofit to run the InnSecure, a coffeehouse, in two of those Victorian buildings. The coffeehouse was a big hit, until Mario Bagnoni announced his bid for City Council outside the building in 1971. "He declared it was a den of iniquity," VanAmburg said. The Erie Redevelopment Authority tore the buildings down to make way for the Erie Sport Store.
VanAmburg is also a guitarist who plays at various Erie venues four or five nights a week. He used to hold jam sessions in the basement of the Exchange Building and he knows the history of the retail shops that once existed under these historic buildings. They were connected to other buildings across State Street by a labyrinth of tunnels, all of them now filled in.
If Erie had preserved more of its original architecture, "We could have become a Williamsburg of the Victorian Era," he said. Or if we hadn't blocked off those tunnels, we could have boasted a subterranean cultural scene, like in Atlanta or Montreal, he said.
VanAmburg reminded me that Carter's Little Liver Pills were invented by Dr. John Carter, a pharmacist, in one of the buildings on North Park Row.
According to The History of Pharmacists and Pharmacies in Erie County, Pennsylvania, published in 1978 by Thomas Groner and Thomas Will, the four-story Carter building was built in 1859 at 20 N. Park Row. This is in the building that housed Sherlock's, which the EDDC purchased in September of 2018.
The goings-on in that building literally created an aura of magic around North Park Row, according to a 1951 booklet on Erie history published by Security Peoples Trust.
"A boy was engaged by Carter's (Drug Store) to help prepare 'proprietary remedies.' He may have assisted in the alchemy of a world-famous remedy. He learned much of chemistry. He grew restless," the booklet says.
That boy was Harry Kellar, who became known as the "Dean of American Magicians," according to the historic marker in Griswold Plaza, site of Kellar's childhood home. Kellar was friends with Houdini. Both magicians might have been astounded by the disappearing acts in the West Park Place Historic District over the years.
For example, according to Erie city directories, 20 North Park Row is also where the Avalon Restaurant stood. Famed soft-sculpture artist Lisa Lichtenfels created "Avalon Restaurant" to immortalize the characters who frequented that restaurant, which closed in the early 1980s.
"I knew every one of those people," recalled VanAmburg.
Actually, I could picture Al McGuire striking up a conversation with the Avalon patrons — the hippies, the harried parents, the hung-over guy, the preacher, the society matron, the Amish family, the waitress, the proprietor and the cook. McGuire had a fondness for characters, and he had visited Erie to interview for the Gannon basketball coaching job for the 1963-64 season. Gannon hired Jim Harding instead.
"While he had some supporters on the hiring committee, McGuire was considered a risk because he was a bit flamboyant and extremely colorful," the late Jim LeCorchick wrote in a 2014 Erie Reader story.
Despite being rejected by Gannon, McGuire later returned to Erie to give a talk. "Someone set up a time for him to come on my radio show and he had some time to kill, so we took a two-hour stroll around lower State Street and the lower east side of Erie," LeCorchick wrote. "Not many knew that he was an expert in the field of architecture and loved older cities, especially Erie. His knowledge of the old buildings in Erie simply amazed me," he wrote.
McGuire died in 2001, LeCorchick in 2016, and Enberg in 2017. I can only guess what the EDDC might have learned by examining their Perry Square project through the lens of a philosopher-character like Al McGuire, who would have sought out information about the people and the places that once populated North Park Row.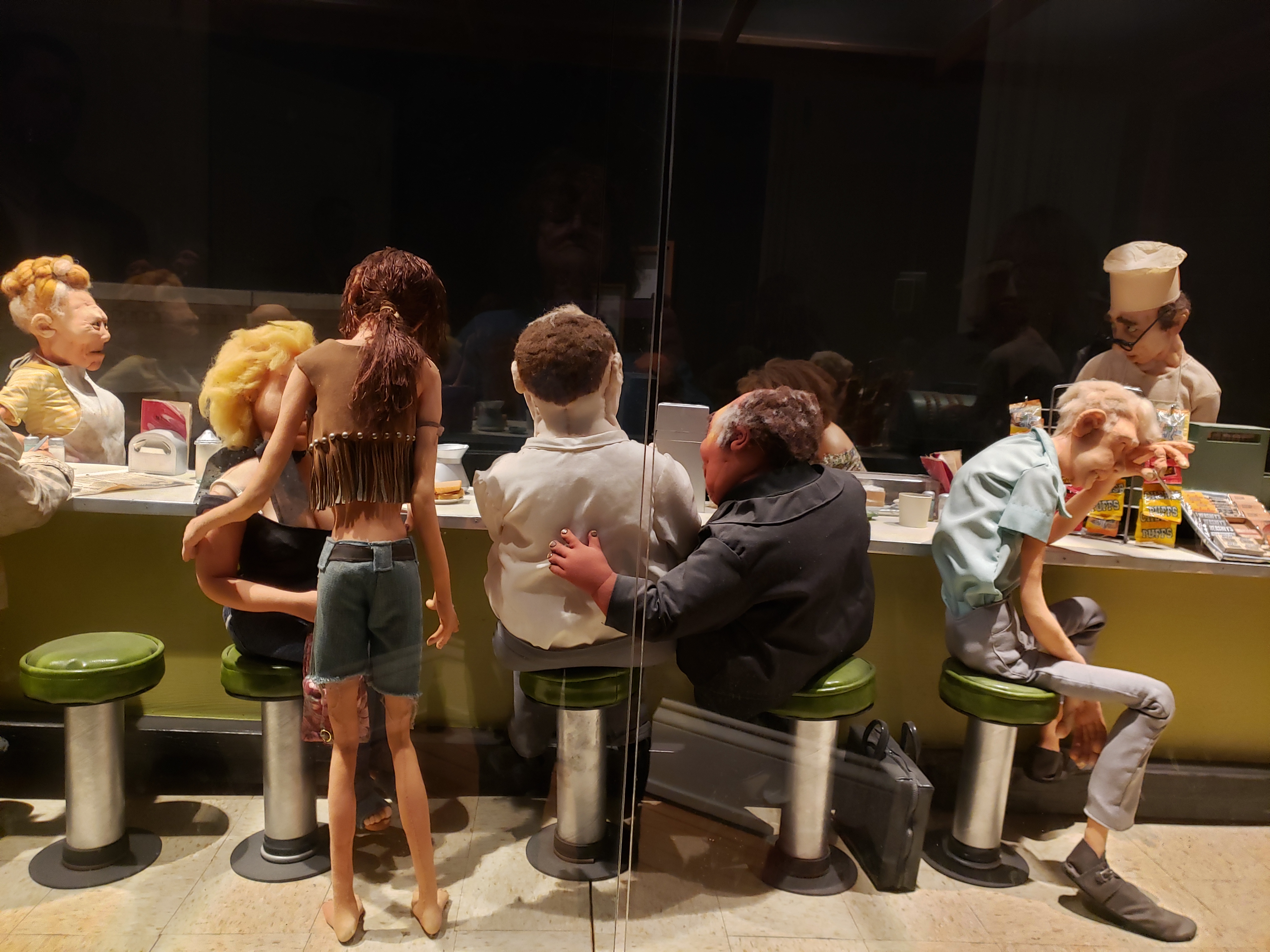 Displayed as part of the Erie Art Museum's permanent collection since 1983, The Avalon is a work by soft-sculpture artist Lisa Lichtenfels
Even The Avalon art exhibit won't be on view to provide inspiration and context. The Erie Art Museum recently decided to "de-install" the exhibit, according to Josh Helmer, the museum's executive director. Helmer said the room in the Old Customs House where the soft sculpture had been on permanent display since 1984 sustained water damage on the ceiling and needs to be repaired.
Helmer said each piece of The Avalon will be measured, photographed, assessed for damage, cleaned and subject to "preservation measures," if needed, before the exhibit is eventually re-installed, possibly in a different space.
I can't picture The Avalon characters patronizing a "culinary district" with fresh-food stands, but there's a lot to be said for giving us a slew of restaurants that serve healthy foods in downtown Erie, instead of meat-and-potatoes fare.
But the EDDC would have earned an "A-plus" grade from me if the staff had talked to regular Erie people, including the diverse patrons of Khao Thai, Tandoori Hut and the Casablanca Hookah Lounge and Café, about what they would like to see in this cluster of historic buildings before steaming ahead with their ambitious revitalization plans.
That way, they might have elicited a really clever idea from Debbi Lyon, the always-helpful clerk in the Heritage Room at Blasco Library, who helped me research this story.
When she works with young people on genealogy or other history projects, Debbi starts by asking them what old objects they have at home. "Why did you keep that? What does it mean to your family? What's in your neighborhood? What do you see when you walk down the block?" she asks.
This is what Debbi envisions when she goes by the sleek Greyhound station on Perry Square: party buses, lined up in the old bays, available to rent for special occasions, such as a child's birthday party.
Debbi says the buses wouldn't be mobile.
But I can picture at least one bus rumbling down the street from the old depot. Debbi Lyon would be giving tours of her — and our — beloved old Erie.
The world should be run by "see" students, too.
Liz Allen grew up as a Gannon basketball fan long before she attended Marquette University and rooted for Al McGuire's Warriors.
Did you know?
According to old Erie city directories, businesses in the cluster of buildings that comprise the West Park Place Historic District included, at one time, Kokko's Lock & Key Service, Little's Dance Studio, the Robert Whitford Piano School, an art school, the Gannon College Alumni Club, a donut shop, F & D diner, the Brownstone Apartments and Park Coin Laundry, on North Park Row; Dispatch Printing and Dahlkemper's Wholesale Co., on West Fifth Street; and the Busy Bee Tavern, Purcell Hardware, the Jack Parris Steak House and Supper Club, a pizza shop, a barber shop and Fischer & Scheller drugs, on State Street.
Fun fact
After Gannon turned down Al McGuire for its men's basketball coaching job in 1963, Marquette University hired McGuire. He led the team to an NIT championship in 1970 and an NCAA championship in 1977.Gannon does have a Marquette basketball connection, however. In 1989, Gannon University hired Bob Dukiet when Marquette fired him after three seasons. Dukiet coached at Gannon until 1996, when he retired to make his living playing the piano.