More Than Just a Soup: Pho, From Vietnam to Erie
Saigon Nights spurs reflection on refugee history
November 11, 2022 at 9:00 AM
Heading towards Presque Isle at 2430 W. Eighth Street, in the building formerly occupied by Khao Thai, Erie will soon have a new option for nourishment: Saigon Nights. As the name implies, the restaurant will offer patrons Vietnamese cuisine with options for dine-in or takeout. For owner Nga Rastatter, who some may recognize from Nail Creations in the Village West Plaza, opening this eatery is a bucket list item that can finally be checked off.
"This has been my dream for so many years," she said, adding that she has always loved to cook for family and friends, in particular the meals that she grew up eating. "I wondered, if I'm a good cook, why can't I open a Vietnamese restaurant in Erie?"
This was especially important to Rastatter because, despite a sizable Vietnamese and Vietnamese-American population in Erie, there hasn't been a Vietnamese restaurant in Erie since Pho 78 closed on West 12th Street some years ago.
"When I came to Erie 17 years ago, I was always hungry for Vietnamese food," she recalled. "But we don't have any [Vietnamese] stores or restaurants in Erie, so I'd always have to go far away to get it."
Remodeling of the restaurant was finished a few weeks ago and the plan is to open in mid-November. While not new to business, this is Rastatter and her husband's first time operating a restaurant, which she admits with a gentle laugh is not easy. Yet she is clearly passionate about the food and is excited to discuss it, which she promises will be different, delicious, and fresh.
On the menu for Saigon Nights will be numerous rice and noodle dishes, but perhaps the most exciting is the inclusion of bún bò Hue — a spicy, salty, and savory soup originating in the city of Hue in Central Vietnam. She notes that the meal is a "hidden Vietnamese gem" that hasn't quite caught on in the U.S. yet.
"It's a very special soup that we have to cook for 10 to 12 hours," she explains, recounting the various spices and use of lemongrass. "The beef is very moist and very tender. It's delicious. My husband, who is American, loves it. And my kids love the bún bò Hue. They love pho, too."
Familiar to many, of course, will be the menu's authentic Vietnamese pho, the noodle soup that is the national dish of Vietnam and has grown significantly in popularity stateside. I'm not remotely a food writer, so forgive me here, but if I had to describe pho to someone who has never tried it: it's a mouthwatering eruption of flavors and sensations.
In The Pho Cookbook by Andrea Nguyen (an actual food writer), she describes how after her family came to the United States in 1975 as refugees of the war, pho became a "gateway" to their cultural roots — and, as she explains, not all pho is created equal. Pho differs regionally in Vietnam and those regions take great pride in these differences. The origins of the soup are both debated and somewhat mysterious, but she says that it is a relatively new cuisine, developed sometime in the early-1900s and was most likely a result of numerous cultures "rubbing shoulders" as its popularity spread throughout Vietnam.
Anthony Bourdain, a self-described American pho enthusiast (but not expert), wrote in his 2010 book Medium Raw that despite the differences among regional pho dishes, there were commonalities. Pho is always "a balanced meeting of savory, sweet, sour, spicy, salty, and even umami [and] a gentle commingling of textures as well: soft and giving, wet and slippery ... light and heavy, leafy and limp, crunchy and tender."
"[Pho] is a sophisticated and deceptively subtle thing," added Bourdain. "I do not pretend to fully understand and appreciate its timeless beauty."
Nguyen, while writing for NPR in response to the backlash over a popular food magazine calling pho "the new ramen," wrote that pho is more than just a trendy food. It's not a chic meal for foodies to snap photos of and post to their socials, but a Vietnamese staple that is representative of the history of the country and its people. "Treating pho as merely a fashionable food negated its rich role in Vietnamese, Vietnamese-American, and now, American culture," wrote Nguyen.
For many in the United States, one's food and access to that food can be taken for granted when they are easily accessible, but when Vietnamese refugees first began arriving in the United States (including Erie) in 1975, food access was a significant adjustment for their life in a new country. Food is, after all, central to one's culture and identity.
In 1986, a study of 50 families conducted by Amy Tong for the Family Economics Review found that the unfamiliar American food culture was still an immediate problem for Vietnamese refugees and immigrants. For one, Vietnamese diets consisted of significantly less fat, dairy, and sugar and relied more on starches and fibers. Almost universally, the families self-reported that they did not like American foods such as apple pie, potato salad, macaroni and cheese, cheeseburgers, barbecue, or spaghetti — although about half enjoyed hot dogs.
In Tong's study, about 30 percent reported having changed their eating habits. Their reasoning was mostly due to having less time for the labor-intensive cooking of traditional Vietnamese meals. For those who hadn't budged, Tong found, they continued their culinary traditions because it provided "stability and reassurance during the period of great uncertainty."
Ultimately, the study concluded that eventually Vietnamese-Americans "may even in the long run enrich America's diverse dietary patterns and culinary heritage."
Meanwhile, to understand the rich history of Vietnamese refugees and immigrants specifically in Erie, one must go back further. By 1977, Erie was home to 200 Vietnamese refugees. For some of these, their journey began in January 1975, only months before the fall of Saigon and the collapse of the South Vietnamese government. Tens of thousands were already fleeing the country. The Saigon government was still ordering airstrikes on North Vietnam, but the situation was increasingly desperate (and extremely complex, deserving far more words and nuance than can be offered here).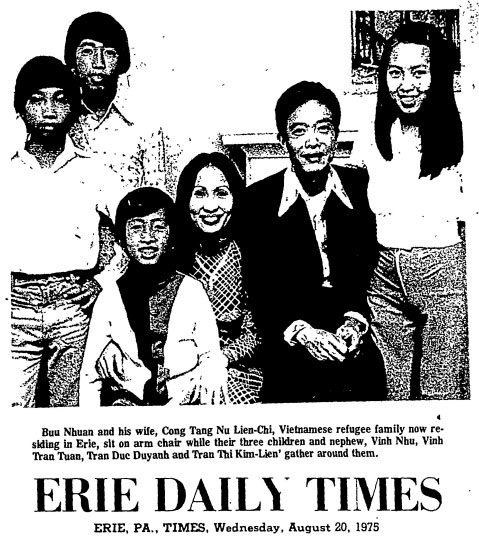 This clipping from the Aug. 20, 1975 edition of the Erie Daily Times shows some of Erie's earliest Vietnamese refugees.
In late April, the remaining Americans were evacuated from Saigon. Hundreds of Vietnamese arrived outside of the U.S. embassy hoping to be evacuated too. There were initial plans to evacuate 130,000 Vietnamese who might be in danger if they remained, which U.S. leadership felt was a moral obligation. About 40,000 initially made it to Guam, Wake Island, and the Philippines as tent cities were being prepared in California, Arkansas, and Florida. Processing centers were soon overwhelmed. According to reports, members of Congress were flooded with letters and calls from constituents voicing opposition to the impending influx of refugees. "How do we know that there aren't any North Vietnamese communists in the crowd?" one letter stated. Some had concerns about an already shaky unemployment situation in the United States. Others were implicitly and explicitly xenophobic and violent.
"They say it's a lot colder here than it is in Vietnam," an American woman picketing one of the camps told United Press International. She then added sadistically, "With a little luck, maybe they'll take pneumonia and die."
As the tent camps on U.S. soil filled to capacity, some refugees regretted leaving Vietnam. They feared the picketers. They worried about the cold winters. Many hadn't wanted to leave in the first place but had felt they had no choice. Others were thrilled and described America as being like Disneyland. Some were simply bored. "I eat, I walk outside, I sit down, I go to toilet, I come back inside, I sit down," a 41-year-old refugee stated after weeks of idleness in a camp.
In May, the first plane of Vietnamese refugees landed at Harrisburg International Airport in Pennsylvania. They were the first to arrive at a camp at the military barracks in Fort Indiantown Gap. Elected officials and a military band greeted them, prepared deliberately in an attempt to make arrivals feel at ease. Many had heard about the hostility and protests outside of other camps.
A professor of engineering at Gannon College wrote to the Erie Times-News saying that protests claiming refugees would take jobs were bogus. "Although some immigrants will possibly become producers of goods, all of them certainly will also be consumers. If they earn money, they will also spend it and thereby create jobs for others." There were many other letters of support.
"We're responsible for them being refugees," humorist Art Buchwald wrote in a Washington Post op-ed published in the Erie Times-News. "The least we can do is take in whatever huddled masses escaped to our teeming shore … Please don't turn your back on them."
By mid-June, there were 15,000 refugees now at the Fort Indiantown Gap camp. In Erie, the local Red Cross invited an Army major to a public meeting at Erie City Hall to explain how U.S. citizens and local organizations could sponsor refugees, a requirement before they could leave the camp for a new home. "The longer these families are in camp," the major told Erieites, "the more tendency there is to get beaten down."
On June 20, the first family from the camp arrived in the Erie area, sponsored by a Wattsburg man who initially kept their names private due to fears of "crackpots." The father of the family had been a captain and paratrooper in the Vietnamese Army and was fluent in English. He was hired for a job quickly, although the sponsor said it was one for which he was overqualified. A second family arrived a few days later, followed by two more families in early July. Ten Vietnamese nuns were then sponsored by the Diocese of Erie and housed at the Villa Maria Convent, Mercyhurst Mother House, and Gannondale.
The International Institute of Erie assisted with helping these families adjust to life in Erie. By August, local school districts were preparing accommodations for their new students. Nine new students were set to attend the city schools, and 11 were expected to attend parochial schools, numbers that were expected to grow in the following months. A furloughed French teacher was brought back, as many of the Vietnamese students already spoke French and an adult Vietnamese woman was hired as an assistant.
These early years in Erie were challenging for many of the families, the Erie Daily Times reported. In 1976, there were around 150 refugees living here. In Vietnam, they had been lawyers, teachers, bankers, farmers, and fishermen — but in America, they were taking entry-level jobs far beneath their ability. Many suffered from depression.
The refugee crisis reemerged in the late '70s with those who were often referred to as the "boat people" by the media, paving the way for thousands more to be granted asylum in the United States. By 1979, there were around 200 Vietnamese refugees living in Erie (as well as displaced Laotians and Cambodians).
In July 1979, the Erie Daily Times interviewed Chung and Lan Nguyen, who spent five months at sea and in refugee camps in 1975 before settling and marrying in Erie. Chung, 34, was an apprentice at General Electric and Lan, 24, had been enrolled at Mercyhurst College, but was now staying home to take care of their two-year-old daughter. They were grateful to be here, as Chung said he likely would have been imprisoned had he stayed, but they also often felt depressed and missed Vietnam. Chung had attended Saigon University, graduated from Vietnam's Naval Academy, spoke English, but initially could only find employment as a dishwasher in Erie.
Buu Nhuan was a lieutenant colonel who fought alongside the American military before escaping Vietnam with his wife, Cong Tang Nu Lien-Chi, and their four children. "The children are not worried about being in a new country," he told the newspaper. Thanh Nguyen had been a pilot in Vietnam, but when he arrived in Erie, he didn't receive any offers. So, he accepted a job making frozen hamburgers on an assembly line to support his family of seven while he dreamed of flying again. Meanwhile, he encouraged his children to learn English as quickly as possible and, outside of school, they spent time watching educational programs on WQLN-TV 54 (PBS). "The children love Sesame Street," he told the Erie Daily Times.
A young couple from Saigon and their two children arrived in Meadville with only 10 dollars in their pocket and an extra change of clothes. They were both graduates of Saigon University. He had owned and operated a pharmacy while she had been a French teacher. There were adjustments (for instance, they'd never felt temperatures below 60 degrees), but overall, they were happy to not be living in fear.
These are only a few of Erie's hundreds of stories of those who were relocated or immigrated to Erie from Vietnam. In the decades since, they have contributed significantly to Erie and its surrounding region both culturally and economically. Nationwide, there are now 1.4 million Vietnamese immigrants in the United States.
For Nga Rastatter, the opening of Saigon Nights is a full-circle moment and it serves to highlight the importance and influence of the Vietnamese population in Erie.
"I believe we will be very busy at our restaurant," she told me earnestly. It undoubtedly will — and remind yourself, as you slurp down those spicy, savory noodles, that what you are tasting is more than just a soup.
Jonathan Burdick runs the historical blog Rust & Dirt. He can be reached at jburdick@eriereader.com