Moutin Factory Quintet Returns to Erie
Return visitors to Erie, though this time with a different name
August 19, 2015 at 3:20 PM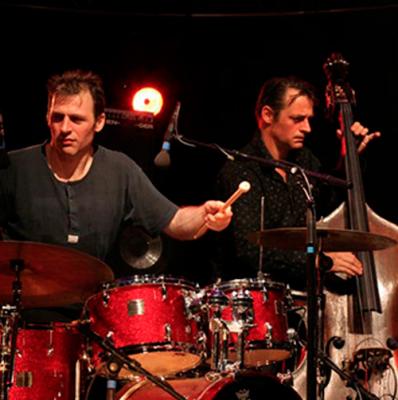 Return visitors to Erie, though this time with a different name, the Moutin Factory Quintet is such a distinctive ensemble in so many ways that it defies the usual labeling and/or comparisons with other jazz groups.
Previously Moutin Reunion Band back in 2003 when they played the Erie Art Museum as they will again Aug. 31, the band was and remains co-led by French-born identical twin brothers Francois (bass) and Louis (drums) Moutin.
The band is a rarity – even in theses days, when jazz musicians must travel extensively to make a living, in that it is bi-continental, moving back and forth periodically between Paris – where Louis lives – and New York City, where Francois calls home.
Filling out the quintet are pianist Thomas Enhco, multi-saxophonist Christophe Monniot, and guitarist Emmanuel Codjia.
"For us, music has always been fun," said Francois by phone from Paris back in '03. "Then it became a passion, so we knew we had to do it to be more in touch with ourselves, although we realized our lives would be less comfortable."
By the way, as with so many jazz musicians and fans, the Moutins learned jazz and its history from listening to their parents' extensive record library, starting to play what they heard at age 5 as they learned various elements from great players.
The result? Their music—mostly acoustic except for the occasional use of electric piano—is completely original, kinetic, as well as lyrical, free-wheeling (i.e. a 7-minute bass-drums solo, a nearly as long, intense soprano solo), and highly interactive.
However it is described, Francois says the band's music is about "intimacy and sharing our emotions with one another and listeners. After all, music expresses life."  – Bob Protzman
7 p.m. // Erie Art Museum, 20 E. Fifth St. // JazzErie.com // General Admission: $15; JazzErie members: $10; students: $5