NBA TV to re-air Bayhawks game featuring Lin
Before becoming a New York sensation, Jeremy Lin donned a Bayhawks' jersey. Now we get a chance to watch him again.
February 18, 2012 at 2:56 PM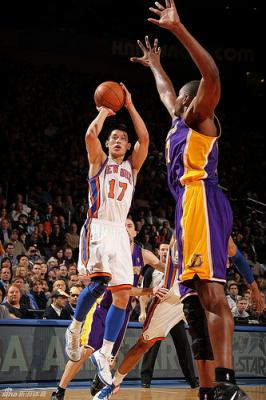 ESPN undoubtedly let some air out of the swelling media balloon known as "Linsanity" with some accidental racism, as Jeremy Lin, the NBA's first American-born player of Chinese or Taiwanese descent, turned the ball over nine times in the Knicks' loss to the New Orleans Hornets. Lin scored 26 scores and notched five assists in the 89-85 loss.
Prior to last night's loss, the Lin-led Knicks had won seven straight games, which the sports world largely credited to success and outstanding play of the little-known Lin, a young man who spent his college career playing for Harvard University and then spent some time in and out of the NBA's Development League.

Hey, wait a minute... Erie has that D-league thing! And wait another minute, it's the D-league team for the Knicks! Which can only mean...

Yes, that's right, Erie. Before the mania, before the shirt sales, before the winning streak, before the racism, the stand-out point guard played in Erie once. Sunday, Feb. 19, fans will get the chance to see the up-and-coming star Erie got to call its own--if only for a brief stint.

NBA-TV will re-air the January 20 Bayhawks game when Erie netted a W against the Maine Red Claws. The game will air at 11 a.m., so be sure to tune in to see Lin record Erie's only triple-double of the season as he put up 28-12-11.