New Year's Eve Roundup 2015
Eight great ways to ring in a sweet '16.
December 23, 2015 at 9:45 AM
Down in the dumps that you're about to be dumped by 2015? Don't wake up in strange, unfamiliar 2016's arms without first properly introducing yourself. The Reader presents eight ways to commiserate over a year that (taking into account average human life expectancies) you'll probably far outgrow anyway. Whether you're the type to ease into things or you subscribe to the doctrine of "going hard or going home," there are options. Options you might not have even known you had. 
Feeling too old for this? Noon Year's Eve at the Erie Children's Museum allows parents to relive their glory days vicariously through their offspring with a countdown to midday, a "toast," and a balloon drop. E'rybody in the club getting tipsy Libby's ® (or Juicy Juice™ equivalent).
10 a.m. to 2 p.m. // 420 French St. // eriechildrensmuseum.org // $7 or free with membership
Feeling alive with the sound of music? Do-re-mi-fa-so-la-ti-go get yourself tickets to The New Year's Eve Gala at the Erie Playhouse, featuring the tunes of Broadway composers Richard Rodgers and Andrew Lloyd Webber unless you'd rather stay in with your (lowercase non-titular) cats instead.
7:30 p.m. // 13 W. 10th St. // 454.2852 // erieplayhouse.org // $30.50
Feeling suspicious? Join Charles Corritore & In All Seriousness for Motel Mayhem: Dead & Breakfast at Riverside: The Inn at Cambridge Springs. Something smells fishy about the disappearance of a bed-and-breakfast owner in a recent angling accident, and it's up to you to help solve the case … "before there's no one left to serve the soup" (please remember to tip your servers).
6 p.m. // Victorian Room, One Fountain Ave., Cambridge Springs // showclix.com/event/MotelMayhem // $55
Feeling like this is all one big joke? Well, you're not alone. Comedian Greg Hahn will headline both sessions of a New Year's Eve Special Event at Junior's Last Laugh. The earlier session consists of the standup show with complete range of menu offerings available (plus surf-and-turf). An all-inclusive late session ticket provides standup, the music of the Breeze Band, champagne, and a hot breakfast after midnight (apologies to cold and/or tepid breakfast lovers).
Early session 6 p.m., Late session 9 p.
m. // 1402 State St. // 
461.0911 // Early $20, Late $37.50 single or $75 couple
Feeling like NYE is your jam? Join Aqueous at the King's Rook Downstairs Concert Complex for two extended sets of amoebically funky/proggy/dubby/psychedelic grooves. Party favors, munchies, and champagne will be dispersed amongst all subjects gathered within the King's walls as tokens of his favor.
10 p.m. - 3 a.m. // 1921 Peach St. // facebook.com/kingsrookclub // $10
Feeling thirsty? The New Year's Eve Ball at Resolution Nightclub should quench your need for a sweet '16 – without asking Daddy to open another offshore account to fund your festivities. Watch the ball drop in Times Square with your besties on Resolution's massive 30-foot LED screen as 1,000 balloons rain from the ceiling. Just 10 dollars gets you that, champagne, party favors, and hors d'oeuvres. I'm no stockbroker, but this seems like a shrewd investment to add to any celebrant's portfolio.
9 p.m. - 2 a.m. // 28 North Park Row // 455.4705 // facebook.com/ResolutionNightclub // $10 ($20 V.I.P.), $3 after midnight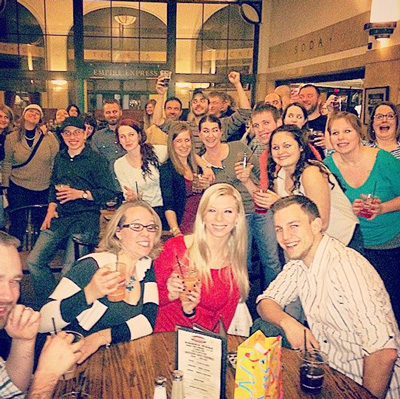 Feeling thirstier? Brew Year's Eve at the Brewerie may entice you, then. Optimists and pessimists can refill their half-full or half-empty glasses as many times as they please during this four-hour soiree. While you're processing all that liquid bread (and hors d'oeuvres!), you can listen to the Ruby Port Band on the concourse or dance to DJ John's playlist in the rotunda. Both Debbie Downers and Joyful Jebediahs are reminded not to drink and drive. The future is NOW — even if your Uber driver not arriving in a flying car leads you to believe otherwise.
9 p.m. - 1 a.m. // 123 W. 14th St. // 454.2000 // facebook.com/BREWERIE // $45
Feeling like the thirstiest lad or lass in all the land? Succumb to your vices one last time before you resolve to give them up FOREVER (i.e., approximately two weeks) at the NYE Bash at the Ambassador Hotel. DJ Matt Barnes will be dropping the beats in the Crystal Ballroom, you'll be dropping your requests in the Hemingway Ballroom (remade in the image of a Miami-style lounge), and – if necessary – you'll be dropping into your choice of soft or firm pillow(s) with an optional overnight package should you overindulge at the open bar. New year, new you? Your liver begs to differ.
9 p.m. - 1 a.m. // 7794 Peach St. // ambassadorerie.com/nye // $64 for party; overnight packages start at $249 (includes two tickets, call 217.5350 to reserve)
Matt Swanseger can be reached at mswanseger@eriereader.com. You can follow him on Twitter @SwazzySwagga or read his blog at squanderoza.com.