NFL and NBC Make Much Awaited Announcement
Huge breaking NFL news!
December 5, 2011 at 6:00 PM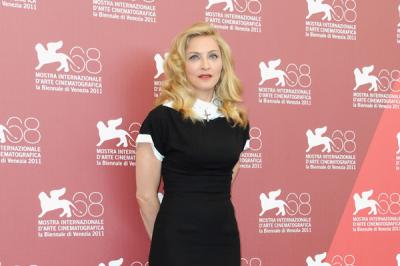 So if you were like me, you turned in early last night since you already knew the Saints would top with Suh-less Lions--who would think that stomping on a guy after slamming his head repeatedly into the turf could get you a two-game suspension?
Anyway, we were in bed. Not the same bed. I think. But it's certain, we weren't watching football.
Why the concern for turning in early, you ask? Because boy, oh, boy, we missed a big'un, as the water cooler was abuzz this morning--and this time not just about Saint Tim Tebow. Apparently, we made a horrible decision to head to bed early, and thus suffered the consequences, as the NFL and NBC announced who will star in the Bridgestone Super Bowl XLVI Halftime Show on NBC on Sunday, Feb. 5, at Lucas Oil Stadium in Indianapolis.
Oh no! Who was it? Who's the big star that'll entertain over 160 million viewers on the most-matched musical event of the year?
Wait for it. Wait for it. Wait for it...
Madonna.
NFL.com made the annoucement with much anticipated fanfair with the headline: "Super Bowl XLVI Halftime show will feature the Madonna," and reported:
Madonna joins an esteemed list of recent halftime acts that includes The Black Eyed Peas, The Who, Bruce Springsteen & The E Street Band, Tom Petty and the Heartbreakers, Prince, the Rolling Stones, Paul McCartney and U2.   
Now, if you're like me, you immediately resorted to middle school habits and tried to answer the "which-one-doesn't-fit" question coming to the conclusion that aside from The Black Eyed Peas, Halftime acts as of recently apparently have to be double the age of the those playing the game.
Okay, so I can take the cheap way out and make a joke about that not working in 42-year old Brett Favre's case... until this year with Madonna! Buzz-zing! Oh yeeeaahh! But I won't. Instead, I'll tell you ESPN reported Favre suggested he'd entertain the notion of playing for the Bears if they contacted him. This season. As in next week. Enjoy that thought for a minute.
Okay, but seriously, Madonna? Yes, Madonna. But why? Well, for starters, it's another safer bet: she's about as famous as they come, is known by practically everyone, fits the over-40 demographic (by over 20 years, by the way), and will still be a big draw regardless of the heavy criticism that she's drawing right now based on the fact that, well, she's Madonna.
But still, one has to wonder when will those booking the Halftime shows take a chance on a younger artists "to be featured" during Halftime again. After all, we're quite removed from Nipplegate--the clearest reason for booking older acts, like The Who, The Rolling Stones, etc., who will likely not end up topless at the end of a song. That's right--horrible, out of place, older acts like U2 and Bruce Springsteen and The E Street Band instead of the likes of Janet Jackson and Justin Timberlake, which would be so much better and more in line with football.
Oh, wait a minute...