Northern Scoop
Here's the scoop on the region's newest ice cream company. 
January 4, 2017 at 1:15 PM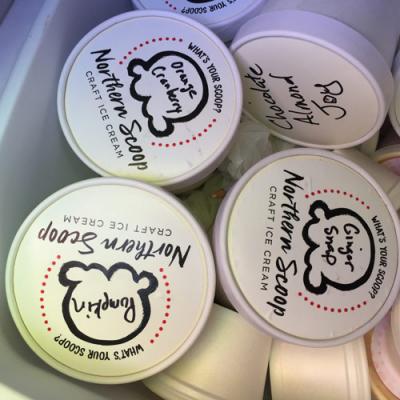 Karey Elliott is a Boston Marathon competitor, mother of four, and now ice cream entrepreneur.
Elliott has been known in the North East area as a runner, logging hundreds of miles on regional roads as she trained for Boston and the Oil Creek 100. She is also mom to three young sons, Levi, Sawyer, and Brady, and an adult daughter, Kelsey, a Mercyhurst University graduate.
A mother-daughter road trip for Kelsey's move to Los Angeles in 2015 inspired the newest cap that Elliott wears as founder of Northern Scoop Craft Ice Cream, which she makes in North East – using local ingredients when possible – and sells from a cart around the Erie area.
"I loved the culture, the food trucks," Elliott said of her trip to Los Angeles. "The variety was fascinating."
And inspiring. Having worked part-time at a local coffee shop after her youngest went to school, Elliott was sweet on the variety of ice creams offered on the West Coast. "What would it be like to work my butt off for my own dream?" Elliott said she asked herself after the trip.
Her original plan was a wood-fired pizza oven food truck. Time, investigation, and a passion for ice cream combined for a change of plans. As a young mom with limited resources, Karey had enjoyed ice cream as a treat and celebration with her daughter. They'd shared it again while in Los Angeles, which "has amazing ice cream places."
The new plan was to work with Tambra Sabatini, from Titusville, as an Erie extension of Sabatini's ice cream business. Just as Elliott expected to be announcing a launch in July 2016, Sabatini sold the business.
The competitor in her kicked in.
"Literally, in a day, I went from tears lying on my bed to what am I going to do about it," she recalled.
What she did was launch Northern Scoop. Over the next couple of months, she lined up suppliers, tested recipes, found equipment, and located commercial kitchen space to make ice cream. She took the Erie County Department of Health food safety classes, became certified and licensed. Sabatini helped along the way.
"She's also been one of my biggest fans, offering encouragement as I was gathering info over the summer," Elliott said.
When possible, she uses local ingredients, such as grapes from Mike Moorhead from Moorhead Farm. She used berries from Earth and Vine Farm, owned by her sister-in-law, Wendy Elliott, in blackberry lemon sorbet.
"The really cool part of this is the people you meet along the way," Elliott said. She cited the Mazza family, who own South Shore Wine Company, where Elliott leases kitchen space. Bushels of peaches and apples are from Klenz Farms. Charlie Rahal, of North East, gave her a ride in a grape picker for photos she uses on Northern Scoop's website.
Northern Scoop's ice cream mix is typically 10 to 12 percent butterfat, which is what gives ice cream the rich mouth feel. Government standards call for 10 percent to be labeled ice cream. Penn State Creamery is 14 percent. Gelato is typically 4 to 9 percent. For Northern Scoop's vegan flavors, Elliott uses coconut milk.
The ice cream connection between mother and daughter didn't end with the drive to L.A. Kelsey is the graphic designer behind the signage and packaging, which is typically sold in 4-ounce servings for $2.
When Kelsey is in town, she's with her mother dishing up one of the 14 or so prepackaged flavors of ice cream.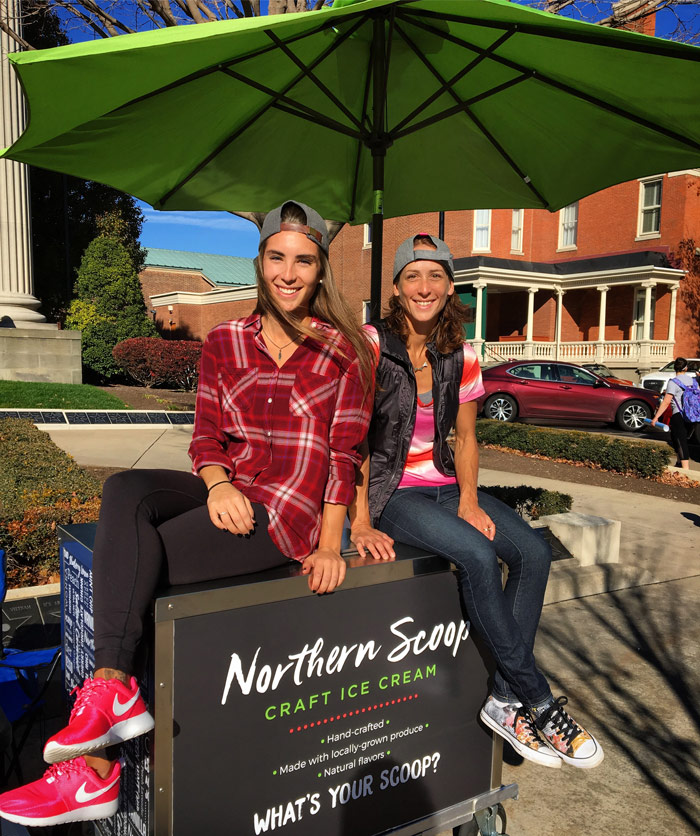 On a glorious November afternoon, when the temperature was 70 degrees at lunchtime, the two women rolled the cart through Perry Square and set up outside the Erie County Courthouse. Once the umbrella was popped and the cash box open, the first Facebook share with their location went out.
"I like things fresh," Elliott said of the day's flavors, which included seasonals such as grape, pumpcinnapple crunch, and cranberry orange – along with timeless favorites such as coffee Oreo, peanut butter cup, and chocolate.
For now, Elliott said she is starting small. To find her cart, follow Northern Scoop on Facebook. She will deliver for free in North East. Customers can contact her by phone, email, and via the company's website.
She plans to grow beyond the cart, perhaps to a storefront. "When I started the business, I had a vision of becoming large, but carefully expanding."
As a marathoner, both traditional and ultra varieties, Elliott knows how to go the distance.
For locations or more information, visit northernscoopcraft.com, message Northern Scoop Craft Ice Cream on Facebook, or contact owner Karey Elliott at karey@northernscoopcraft.com or 602.2386. Call for delivery in the North East area.
Marnie Mead can be contacted at marnie@marniemeadmedia.com and you can follow her on Twitter @makeiterie.