Obnoxious! Six Potholes You DO NOT Want to Meet
A list complete with appropriate curses for each culprit
February 28, 2018 at 4:22 PM
Ever feel as if you're on the verge collapse? Before you throw yourself a P. Diddy-sized pity party, think about how our infrastructure feels this time of year. Like the most of destructive self-doubts, water seeps through cracks in roadways, freezes and expands, pushing upward and leaving voids that only the Pennsylvania gas tax can fill … in due time.
That's right, folks — potholes. Potholes are THE worst, and if you aren't aware of that yet, perhaps your next popped tire, bent wheel, or mangled sway bar will enlighten you. PENNDOT and municipal works crews are no doubt out working to smooth things over, but for now it's okay to vent. Our sources have released the names of six potholes you absolutely DO NOT want to meet, their locations, and prepared an appropriate curse to utter for each encounter.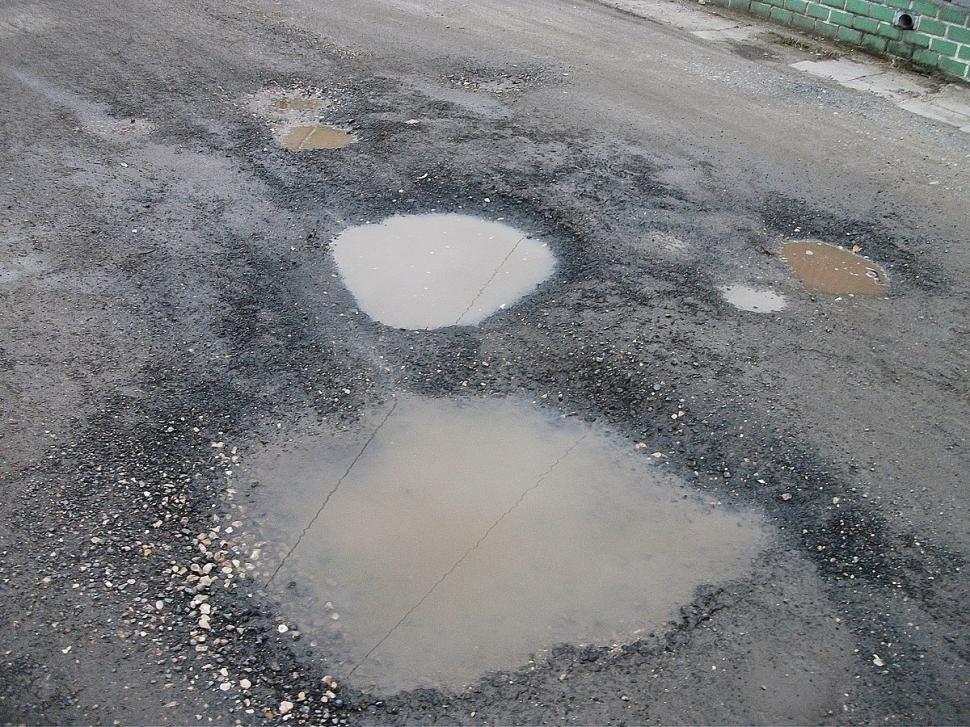 Oswald, W. 26th eastbound (between the I-79 exit and Greengarden)
Meeting Oswald, who has settled himself in the right lane of one of Erie's major thoroughfares, has drawn comparisons to a ride on the Ravine Flyer. It may just be for fun at Waldameer, but it's not so much fun calling the insurance company after a run-in with this portly pothole.
 
APPROPRIATE CURSE: Fie thee, Oswald! Spoiled nectarines in your every orifice!
  
Esther, E. Lake Road (exact whereabouts unknown)
Route 5 makes for one of the more scenic drives in our region. Esther, foul viper that she is (in addition to pothole), is lying in ambush to add her own splash to the scene — some combination of your tears and fluid from your severed brake lines.
 
APPROPRIATE CURSE: Ham hocks! There's a cold patch in Hell for you, Esther.
  
Bartholomew, W. 38th and Liberty (just past Liberty Plaza)
Freedom is not free when you're paying for repairs. This perfidious pothole will be quick to remind you of this fact.
 
APPROPRIATE CURSE: A thousand beestings upon thee, Bartholomew, for undermining my Liberty!
  
Patrice, Perkins St. (between W. Grandview and Zimmerly)
The largest crater on the moon, the South Pole-Aitken Basin is as wide as the distance between London and Athens and measures 3.7 miles deep in spots. In comparison, Perkins Street covers about half a mile from end to end. Nonetheless, it has been equated to the lunar surface.
 
APPROPRIATE CURSE: Patrice, I loathe thee to the moon and back. And then probably back to outer space again (because you forgot to disappear into a black hole for all eternity).
  
Reginald, W. Eighth and Weschler (near Strong Vincent)
Colonel Strong Vincent lost his life in the Battle of Gettysburg during the Civil War, long before automobiles paved roads were commonplace. That said, no wound is so gaping as this pothole arbitrarily named Reginald.
 
APPROPRIATE CURSE: To the quarry with thee, Reginald! Go stuff yourself!
  
Phyllis, McClelland Ave. (between E. 38th and E. 42nd)
I have a personal grudge with Phyllis. Despite reflexes on par with a X-Wing pilot, I've had difficulty avoiding her, her convoy of smaller potholes, and their attendant fissures. Ruined suspension or head-on collision? Decisions, decisions.
 
APPROPRIATE CURSE: Oh hey, Phyllis. May you and your children wither, die, and harden to asphalt.