Oliver's Beer Garden Set to Open July 30
Scott Enterprises banking on concept of open-air Presque Isle 'Bay'varia
July 27, 2021 at 10:00 AM
Historians remember Commodore Oliver Hazard Perry as a man who could put 'em down — British naval invasions, specifically. Documentors of your personal exploits might also know you as someone who can put 'em down — although they're more than likely referring to alcoholic beverages. 
But regardless of whether it's British morale or ice cold brewskis being drained, life's victories are worth celebrating. In that spirit, Scott Enterprises has announced the opening of Oliver's Beer Garden later this month, a new outdoor venue that will lie between the Erie Maritime Museum and the Hampton Inn & Suites (which houses Oliver's Rooftop) alongside Presque Isle Bay's east basin. It is the latest addition to Scott's multimillion-dollar Harbor Place development, which will also eventually encompass office space, a parking garage, an extended stay hotel, a skating rink, retail shops, water fountains, condominiums, and apartments.
Although Perry himself perished before ever visiting a traditional Bavarian Biergarten, Scott is setting up a little taste of Bayvaria in his honor, within a stone's throw of where Daniel Dobbins constructed Perry's fleet. The $1 million Oliver's Beer Garden will feature 16 beers on tap, including those from regional breweries such as Erie Brewing, Lavery, Voodoo, Riverside, Five & 20, and Southern Tier, as well as its flagship beer "Shipfaced," produced in partnership with Rusty Rail Brewing (Mifflinsburg, Pa.).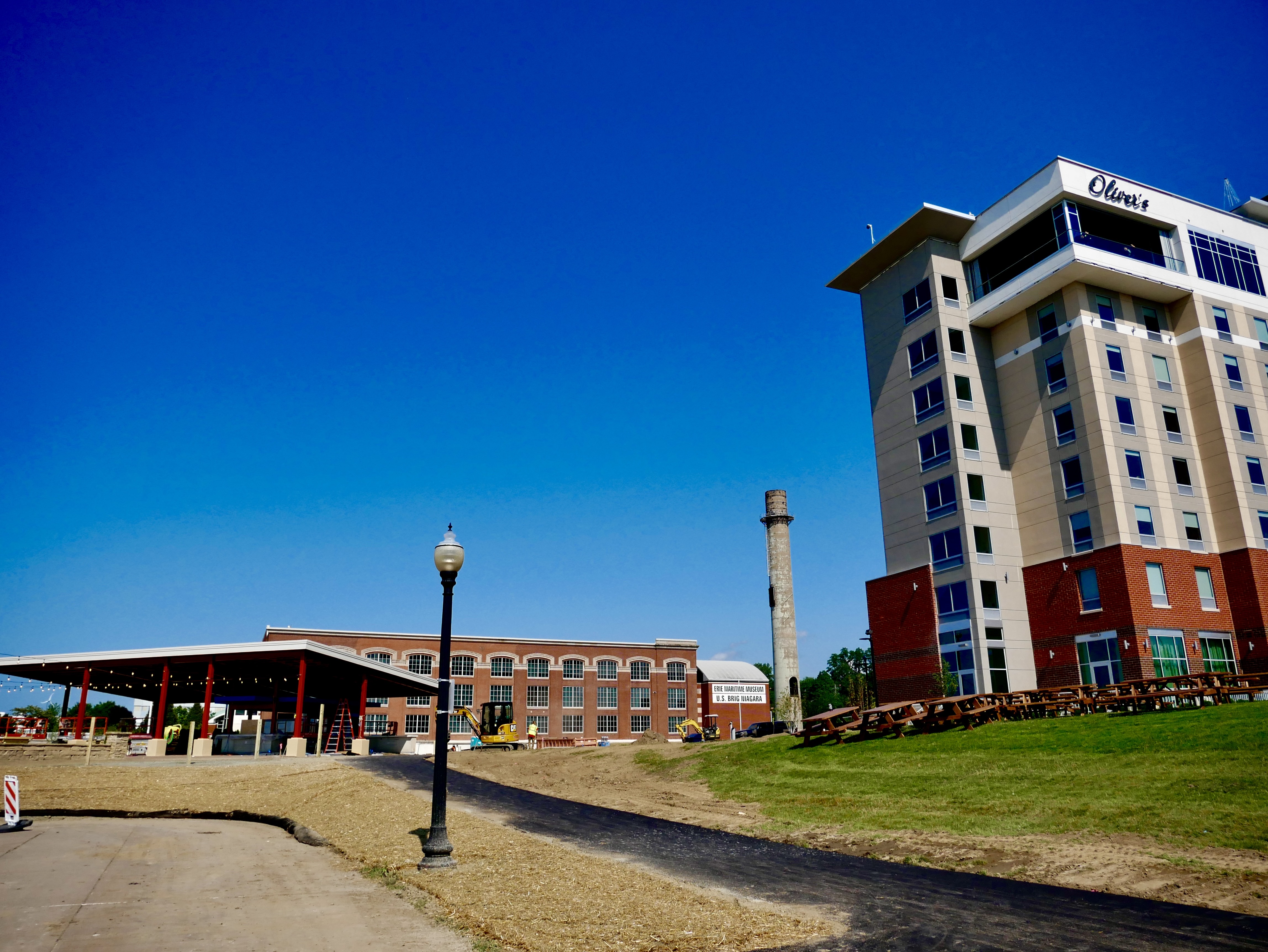 Those who are not fond of fermented grain water need not give up the ship — a full bar will serve up cocktails, mixed drinks, and hard seltzers as well. In fact, you need not drink at all to enjoy Oliver's company — an on-site food truck will offer Smith's hot dogs, Italian sausage sandwiches, lobster and seafood rolls, gyros, salads, and other specialties. Take a seat around a fire pit, at an umbrella-shaded patio table, or play a round of bocce or cornhole — under the partial roof cover or in the open air, with or without libation in hand. 
Starting on July 30, the beer garden stage will play host to live music every Friday and Saturday evening. Slated to perform that weekend are Chris and Julie Moore on July 30, and The Rooftop Project on July 31. For the full entertainment schedule, visit oliversbeergarden.com
History will ultimately tell the tale, but it's a dining concept that Erie should find highly sessionable.
Matt Swanseger is especially fond of fermented grain water and can be reached at mswanseger@eriereader.com